By Mahsa Alimardani | ( Globalvoices.org) | – –
Some good news reached Canada this week when Homa Hoodfar, an Iranian-Canadian anthropologist, was released after months of incarceration in Iran. Hoodfar is known for her research on women and Islam, especially women's participation in Iranian elections.
Her arrest highlighted two particular areas of sensitivity for Iranian hardliners: the presence of dual nationals, and any activity related to women's rights in Iran. Hoodfar was therefore particularly problematic amongst the hardline Iranian institutions of the Iranian Revolutionary Guards and the judiciary. These two bodies have been responsible for the arrests and incarceration of many activists, journalists, and dual nationals. They operate independent of the elected government, and often work to undermine the relatively progressive tendencies of the moderate Rouhani administration.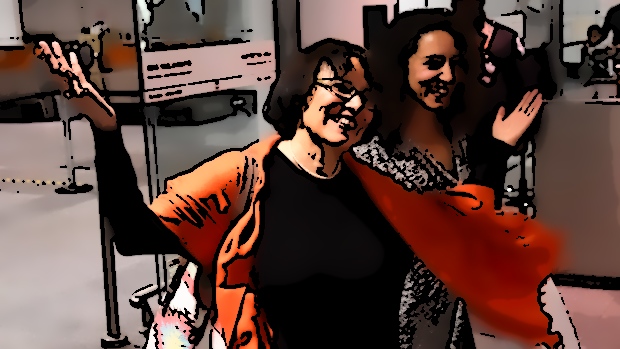 Hoodfar's status and persecution as a dual national has been widely discussed. However, what has been given less focus is the Iranian government's recent crackdown on activism and discourse around women's rights, in which Hoodfar's case was also entangled.
Women's participation in Iran's parliamentary elections in February 2016 was unprecedented since the 1979 Islamic Revolution. Women won 17 of the 209 parliamentary seats. These gains for women marked the first time since the revolution that there are more female politicians than clerical politicians in the parliament and signalled a shift in public support away from hardline Islamic conservatives. This female participation was the subject of Hoodfar's research when she spent time scouring the Iranian parliament's library on her February visit to Iran.
Following the beginning of her detainment in June, Tehran's prosecutor general gave a media interview stating that Hoodfar's "criminal" case was connected with "her entry into fields concerning feminism and national security offences". Days earlier, media outlets affiliated with the Revolutionary Guards ran articles claiming that the 65-year-old Concordia University professor was "the Iran agent of a feminist network building operation" and the Campaign for Changing the Male Dominated Face of Parliament was "her latest project".
Hardliners see feminism as a Western-orchestrated plot
The Campaign for Changing the Male Dominated Face of Parliament worked to promote women's participation within parliament; it is not clear if Hoodfar has any direct affiliation with them.
Those who participated in it belong to a large network of women in Iran with a solidarity network from within the Iranian diaspora, including prominent activists inside Iran such a Noushin Ahmadi Khorasani, who has previously faced arrest and imprisonment for her women's rights work on campaigns such as the One Million Signatures Campaign to Repeal Discriminatory Laws and the Feminist School.
The Feminist School explained on its website that its goal was to move beyond the right to vote towards the right to be elected — women only held 3% of the seats in the Iranian parliament before the February elections:
We need our parliamentary representatives to be committed to equal human rights for women and other citizens. It's because of this that we have initiated our campaign for changing the male-dominated face of the parliament. […] Women hold critical responsibilities at all levels of society from the household level to economic, social and cultural arenas. It's now time for the place of women in the legislative body to change commensurate with the responsibilities they hold.

Participation in the political management and legislative processes is a justified demand that has been stipulated in clause 25 of the Islamic Republic's constitution: "All citizens irrespective of their gender are protected by the law and enjoy political, economic, social and cultural rights consistent with Islamic standards".
The campaign's goal was to elect 50 female parliamentarians. While the total of 17 women elected fell short, they had significant success in generating an unprecedented amount of candidates. Official numbers calculated 1,234 women registered to run for parliament — a three-fold increase compared to the previous parliamentary elections in 2012 — and at least 16 women applied to become candidates in the Assembly of Experts. There were mass disqualifications by the Guardian Council, the body that vets all candidates running in different elections in Iran, and no woman was vetted to run for the Assembly of Experts, the body that will be responsible for electing the country's next Supreme Leader.
As the February elections neared, the Revolutionary Guards started an intensive campaign of repression against women's rights activists. In January, they started linking any collective initiatives in the field of women's rights to criminal activity, much like Hoodfar's case. Many with associations to the Campaign for Changing the Male Dominated Face of Parliament were summoned for interrogations by the Revolutionary Guards, according to Amnesty International. Their efforts promoting female political participation were cast as Western-orchestrated plots — Iran's hardline elements often view the expansion of a woman's role beyond the home as stemming from Western influence, as opposed to a homegrown desire by Iranian women to have a stake in their country's laws and policies.
In an interview with Basij news agency — the Basij being the volunteer militia under the authority of the Revolutionary Guards — Zahra Nasiri, a female member of the women's branch of the hardline Islamic Society of Students, explained that she was dismayed that elements within the Rouhani government were encouraging these "Western" derived efforts to promote women in parliament:
It's not surprising to see feminists popping up every once in a while and shouting slogans about equal rights, but what's unfortunate is seeing government officials supporting these ideas and allowing them to creep into government positions…These days it seems like the Arrogant Powers [Western governments] are trying to infiltrate our country through feminist forces.
President Rouhani and members of his administration had expressed their encouragement of women's participation in the February elections on numerous occasions, such as this December 2015 statement:
Women should be present in the elections for the Assembly of Experts and especially for [Parliament] because their presence in the mix is important for us…We are not doing women a favor [by bringing them into government]. This is their natural right…There's no difference between women and men as far as Creation, art, intelligence and closeness to God are concerned.
Nasiri's opinions however, were echoed amongst many other hardline figures, including the Supreme Leader Ayatollah Khamenei, whose notable theories on women include the following from May 2013:
One of women's greatest responsibilities is to bear children. That's the art of being a woman.
Khamenei's many speeches concerning women often discourage women from participating in activities outside of the home.
Many women however are hopeful that the election of the new female parliamentarians, mostly from within the more progressive reformist camp, will indeed push back against traditional policies regarding women through parliamentary legislature.
The crackdown inside Iran continues
These hardline sentiments were indeed the reason for the mass disqualifications by the Guardian Council, and the crackdowns on members of the Campaign before and after the parliamentary elections.
The interrogations the women faced had to do with their affiliation with both the Feminist School and Campaign for Changing the Male Dominated Face of Parliament. As a result, many working on the initiative either suspended or heavily self-censored their activities. The Campaign told Amnesty many of its active campaign members have ongoing national security-related cases against them.
The most tangible outcome of these crackdowns can be seen in the fact that neither the Feminist School website or Facebook page have been updated since February 2016. Additionally, Iran's renowned women's rights magazine Zanan-e Emrooz ceased its publication after years of struggle with the government over its content. The magazine was shut down in April 2015 and reopened again later in the year, only to be finally shuttered for good in July 2016.
While Hoodfar's release as well as the international attention are in large part due to her status as a Canadian academic and dual national, the continued persecution of women's rights activists with ties only to Iran should not be forgotten.
——
Related video added by Juan Cole:
CBC News: "Homa Hoodfar arrives in Montreal: 'It's wonderful to be home'"