Ma'an News Agency | – –
JERUSALEM (Ma'an) — Israeli Nature and Parks Authority forces demolished several graves inside a Palestinian cemetery in occupied East Jerusalem on Tuesday morning, according to local sources.
Sheikh Omar al-Kiswani, the director of the Al-Aqsa Mosque compound, told Ma'an that forces from the Nature and Parks Authority raided the Bab al-Rahma cemetery — which runs along the eastern wall of Jerusalem's Old City — and demolished six Palestinian graves and crumbling tombstones.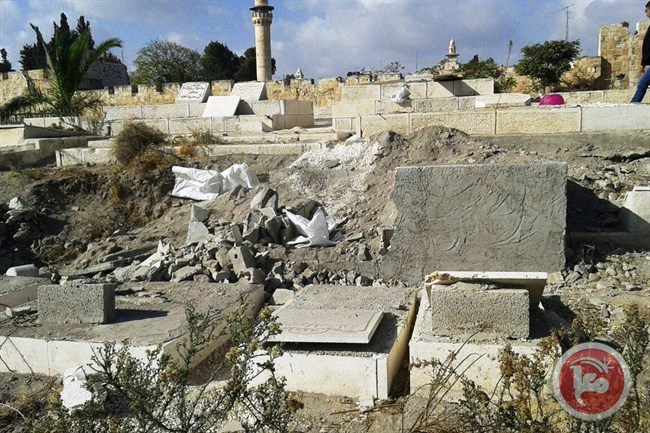 According to al-Kiswani, the authorities claimed the graves and gravestones were constructed on "confiscated land" belonging to the Israeli Nature and Parks Authority.
Al-Kiswani countered the claim, citing official documents that state the graves that were demolished were owned by the al-Husseini and al-Ansari families.
An Israeli Nature and Parks Authority spokesperson was not immediately available for comment.
This video filmed by locals shows the aftermath of the demolitions at the cemetery.
Al-Kiswani highlighted past efforts of Israel's Nature and Parks Authority to confiscate parts of the cemetery's land, and to prohibit Palestinians from digging grave plots in the so-called "confiscated zones," as part of a larger aim to turn the area into a tourism park surrounding the Old City.
Mahmoud al-Habbash, a Palestinian Authority (PA) adviser on religious and Islamic affairs, condemned Tuesday's grave demolitions in a statement.
Al-Habbash called the demolitions a sign of "Israeli political confusion" following the recent UNESCO resolution denouncing Israeli violations at the Al-Aqsa mosque compound that cause a political and media uproar in Israel, with Israeli Prime Minister Benjamin Netanyahu claiming that the UN agency had "denied the over 3,000 year old connection between the Jewish people and its holiest site in Jerusalem."
Al-Habbash added that the demolitions were "a crime that Israel must be punished for, in accordance with international law." He stressed the sanctity of the the Bab al-Rahma cemetery, as it is considered an Islamic heritage site and part of the Al-Aqsa compound.
He concluded his statement by demanding that the Arab League, and other international organizations, specifically UNESCO, "to hold Israel responsible for its crimes against Palestinian and Islamic heritage in Jerusalem."