TeleSur | – –
U.S. concern over alleged Russian foul play in this year's election is ironic given decades of Washington's deadly foreign intervention.
Revelations surfaced on Friday that a leaked document from the CIA has allegedly found that the Russian government had intervened in the U.S. election to help to elect Donald Trump.
For many, such a scenario seems unthinkable, but for decades successive U.S. administrations and the CIA have been meddling with other countries' affairs backing foreign right-wing leaders across the world, with disastrous effects. We look at just some of the many examples.
Honduras
In 2009, President Manuel Zelaya was preparing for a non-binding referendum to ask the electorate if they would support a change to the constitution. The right-wing with the support of the military and U.S. backing from Secretary of State Hillary Clinton helped to support a military coup against the center-left leader.
Guatemala
In 1954, the CIA helped launch a coup against Guatemalan President Jacobo Arbenz, the country's only democratic government. The brutal intervention is estimated to have led to the deaths of at least 200,000 people and decades of genocide.
El Salvador
At least 70,000 Salvadoran are thought to have been killed in the country's civil war from 1979-1992, where the majority of deaths were attributed to right-wing security forces and deaths squads, which were again given U.S. backing.
Cuba
Not only has Washington's blockade stripped the island of a massive US$753.7 billion since it was imposed in 1960, but the CIA helped to lead a band of Cuban mercenaries in their failed attempt to invade Cuba in April 1961. Late Cuban leader Fidel Castro is thought to have survived over 600 assassination attempts.
Indonesia
The U.S. along with other western powers supported former President Suharto for his anti-communist stance. Known as the Indonesian Genocide, Suharto carried out a national purge against suspected communists, with an estimated death toll reaching as many as 3 million. The CIA was known to supply the names of suspected communists to the Indonesian army and provide them with arms.
Iran
In 1953 the CIA along with help from the U.K. executed a coup known as "Operation Ajax" against Iran's democratically-elected Prime Minister Mohammad Mossadeq. Mossadeq "crime" was that he wanted to nationalize the country's oil industry.
Laos
Amid the raging U.S.-led war in Vietnam, Laos became the scene of a CIA "secret war" to cut supplies they believed were flowing to North Vietnamese communist troops. From 1964 to 1973, Laos became the world's most bombed country per capita. While Obama this year apologized for "secret war," the country is still plagued by unexploded landmines.
Chile
Again allegedly fearing communism, the U.S.-backed military dictator Augusto Pinochet overthrew democratically-elected president Salvador Allende in 1973 with the help of the CIA. Pinochet then ruled for 17 years and more than 3,200 people are thought to have been killed or disappeared, while more than 28,000 are estimated to have been tortured by his forces.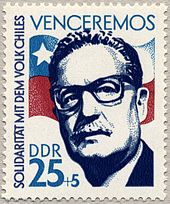 Via TeleSur