Ma'an News Agency | – –
BETHLEHEM (Ma'an) — The Palestinian Liberation Organization (PLO) slammed the United States for objecting to a proposal by the United Nations to appoint former Palestinian Prime Minister Salam Fayyad to head a UN mission, calling the move "a case of blatant discrimination on the basis of national identity."
After learning of a plan by United Nations Secretary-General Antonio Guterres to appoint Fayyad to lead the UN political mission in Libya, US Ambassador to the UN Nikki Haley said on Friday that the US was "disappointed," claiming the move showed bias against US ally Israel.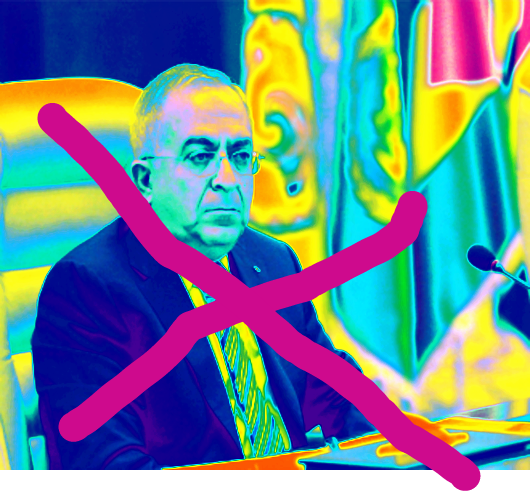 "For too long the UN has been unfairly biased in favor of the Palestinian Authority to the detriment of our allies in Israel," Haley said, noting that the US does not recognize a Palestinian state nor does it "support the signal this appointment would send to the United Nations."
Palestine is a non-member observer state at the UN and its independence has been recognized by 137 of the 193 UN member nations.
The United Nations Security Council released a statement on their website on Saturday defending the proposal to appoint Fayyad, saying it was "solely based on Mr. Fayyad's recognized personal qualities and his competence for that position."
"United Nations staff serve strictly in their personal capacity. They do not represent any government or country," the statement explained.
The UNSC statement also noted that "no Israeli and no Palestinian have served in a post of high responsibility at the United Nations. This is a situation that the Secretary-General feels should be corrected, always based on personal merit and competencies of potential candidates for specific posts."
It remained unclear whether or not the US objection had ended Fayyad's candidacy for the post.
Saturday morning, PLO Executive Committee Member Hanan Ashrawi denounced the US attempt to block Fayyad's appointment, calling it "unconscionable" and "a case of blatant discrimination on the basis of national identity."
"It defies logic that the appointment of the most qualified candidate is blocked because it is perceived as detrimental to Israel. It constitutes a blanket license for the exclusion of Palestinians everywhere," Ashrawi said in the written statement.
She went on to express hope that "saner voices will prevail and that the US will take back this irrational and discriminatory decision immediately and not deprive the UN of such a highly qualified individual. Rather, they should block petty acts of bigotry and vindictiveness and the further victimization of the Palestinian people for the mere fact of their existence."
Fayyad served as the Palestinian Authority's prime minister from 2007-2013. According to UN officials cited by Reuters news agency, Fayyad has the support of 14 Security Council members.
Meanwhile, the UN Security Council is reportedly set to discuss the Palestinian-Israeli conflict on Wednesday, the same day US President Donald Trump is scheduled to meet with the Israeli Prime Minister Benjamin Netanyahu at the White House.
The Israeli government has welcomed Trump's presidency, as right-wing politicians believe they will more easily advance plans to expand Israeli settlements since Trump came forward as a vocal supporter of Israel and expressed opposition to a recently passed UNSC resolution that harshly condemned illegal settlements.
However, more recently, Trump has made statements critical of settlements, telling an Israeli newspaper on Friday that, "I am not somebody that believes that going forward with these settlements is a good thing for peace."