TeleSur | – –
A far-right Israeli minister said Lebanese civilians must be direct targets in a future war over Hezbollah's rising political sway in Lebanon.
The next war Israel will launch against Lebanon must take the country back to the "Middle Ages" and should target civilians in the country, far-right Israeli Education Minister Naftali Bennett said over the weekend expressing concern over the rise of Hezbollah within the political scene in Lebanon.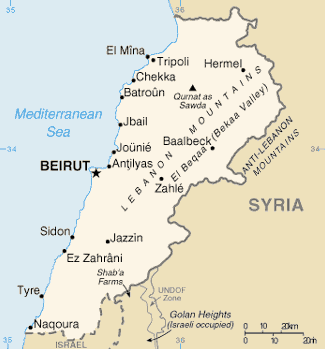 "Today, Hezbollah is embedded in sovereign Lebanon. It is part of the government and, according to the president, also part of its security forces," Israeli newspaper Haaretz quoted Bennett Saturday.
Bennett was referring to comments made by Lebanon's newly-elected President Michel Aoun to Egyptian media last month saying Hezbollah was a "major part of Lebanon's defense," and that his government would not seek to disarm the resistance group "As long as Israel occupies land and covets the natural resources of Lebanon."
The head of state added that Hezbollah complemented the Lebanese military, which "lacks the power to stand up to Israel." Aoun became president as part of a breakthrough deal struck between Hezbollah and other political factions in the parliament after a two-year vacuum.
But Bennett saw Aoun's comments as legitimizing the Israeli targeting of Lebanese civilians. Bennett said should war break out with Lebanon, "its infrastructure, airport, power stations, traffic junctions, Lebanese Army bases — they should all be legitimate targets," according to Haaretz.
"If Hezbollah fires missiles at the Israeli home front, this will mean sending Lebanon back to the Middle Ages," he said, adding that "Lebanon's civilians … will understand that this is what lies in store for them if Hezbollah is entangling them for its own reasons, or even at the behest of Iran."
Hezbollah was formed in 1985 as a Shiite resistance group born out of repression against the Islamic sect and defines itself through its struggle against the 1982 Israeli occupation of southern Lebanon which ended in the defeat of Israel and its having to withdraw from the country in 2000.
Many experts on the region say Hezbollah managed to defeat Israel for the second time when Tel Aviv launched a campaign against southern Lebanon in 2006, which lasted for 34 days, claimed the lives of more than 1,000 Lebanese civilians and displaced about a million people in Lebanon.
The Israeli army was dealt major losses and could not achieve its objective of "disarming Hezbollah," with former senior defense officials calling the campaign "a failure" and saying that Hezbollah gained more strength and popularity in the country as a result of the war.
The group maintains close ties with the Iranian government and has remained a close ally of Syrian President Bashar Assad. A few years ago the group joined Syrian Army forces in their fight against extremist rebel groups affiliated with al-Qaida and the Islamic State group.
Via TeleSur