By Juan Cole | (Informed Comment) | – –
Pew Research Center has found that the confidence of the world public in the US willingness to do the right thing has plummeted in just the few months Trump has been at our helm. Last fall, 62 percent of people throughout the world said they trusted Obama to do the right thing, and 64 percent had a favorable view of the US. (US favorability ratings were even higher before Bush invaded Iraq; nobody likes aggressors).
Now, 22 percent trust Trump to do the right thing (which means a fifth of humankind are nincompoops).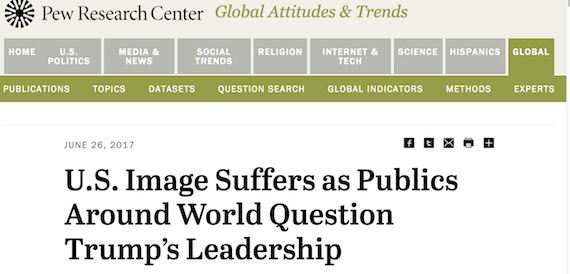 And US favorability has fallen to 49%, though 58% still like Americans. That's only fair of them. A relatively small proportion of us just made a fateful mistake.\
In fact, as much as Americans like a cold brew in the summer, a majority of them say they would give up alcohol if only Trump could be impeached! (See the full study here).
So the question all this raises is, does it matter if the rest of the world has a low opinion of the United States?
You betcha.
Despite the go it alone cowboy tough guy rhetoric that plays so well to the Republican base, the world system is not a frontier town and one sheriff can't clean it up. 7.4 billion people are an incredibly complex puzzle to solve. The US can project influence and power only if it has powerful allies. It is only 5% of the world population, and while its GDP is 22% of the world's, that still means that nearly 80% of the global economy is in the hands of others. The US has more high-tech weapons than others, but those haven't done it much good; it hasn't won a war since 1945.
Ironically, the recent president who perhaps best demonstrated the value of diplomacy was a Republican, George H. W. Bush, who orchestrated an enormous global coalition (it included Argentina, Syria and France) to kick Iraqi occupation troops back out of Kuwait in the Gulf War.
Exhibit A is what George W. Bush did to American prestige with his gotten-up war on Iraq, which involved a great deal of lying about intelligence findings to allies. Although the Bush crew often maintained that that the rest of their allies' intelligence was the same as that of the US, this is not true. First, the French tried to tell them they were wrong and they would not listen. Second, it is a phony excuse because most allies of the US at least used to take their lead from US intelligence, so Washington was shaping the narrative of what was plausible, biasing e.g. German intelligence.
So Bush dragged Britain and Australia and Czechia into Iraq on false pretenses, and the British public really minded having been taken for a ride. British politics is somewhat less corrupt than that of the US, and many of their television journalists ask dogged questions of politicians with a tenacity and frankness that would get them fired at compliant corporate news channels in the US. The British public take their own soldiers' atrocities 'way more seriously than Americans typically do, and there were several embarrassing inquiries that hit the front pages. The British also seems less suggestible than Americans, who apparently will believe 24 impossible things before breakfast. This is not the fault of the American public. It appears to me that the wealthy and corporations have for decades deliberately been interfering in the quality of public education, in hopes of producing pliant dupes rather than citizens with a critical faculty. Betsy DeVos is a poster child for such ruination of good public education, and she now finally has a chance to screw over the entire country . The number of Americans who are unable to understand simple principles of science such as that carbon dioxide in the atmosphere produces a greenhouse effect is deeply embarrassing to this country. But that is exactly the sort of 'citizen' Exxon-Mobil and Big Gas want you to be.
In any case, the British were duped by Bush into a long national nightmare.
So then, remember that President Barack Obama established a red line that the Syrian regime should not use chemical weapons? And then the regime allegedly did. It isn't important to the story I am telling you whether they did or not. Obama believed they did and a UN investigation backed him.
So Obama was in the position, in 2013, of being forced by his own rhetoric to consider bombing Syria. But he did not want such an act to be seen as another rogue American policy. He wanted a partner.
So he went to UK Prime Minister David Cameron and asked for support. He didn't know that Cameron was the worst British leader since Ethelred the Unready. Cameron wanted a vote in parliament before committing to bombing Syria, which was itself a side-effect of the Bush lies, since parliament had felt badly used by Tony Blair.
And parliament voted the proposal down.
Obama was left hanging out their alone. And then the Republicans in Congress made it quite clear to him that they wanted a vote on any Syria action, and that also they did not intend to authorize one.
Obama was rescued by Russian foreign minister Sergei Lavrov, who pointed out that Russia could sequester Syria's chemical weapons. They did not 100% follow through on that pledge, but they also did not do nothing. Obama took the deal, having been left in the lurch by the Mother of Parliaments and by the US Congress.
Obama has been attacked ever since by the very Republicans who told him they would not authorize a Syrian bombing campaign. They jumped up and down for joy when Trump acted alone over the Shuayrat base in Syria and the alleged launching of chem from it. But they would have impeached Obama for the same thing. Both Obama and Trump are presidents. Gee, I wonder what the difference is between them, that causes the GOP to adore the one and abhor the other?
Anyway, folks, for anyone who cares about the American security position in the world, the Pew findings should be terrifying. Because as long as Trump is there, there won't be any major joint initiatives, and if we need our allies, it isn't clear that they will show up, since they think we were idiots to put a bull in a China shop in charge of the world's most powerful country.