By Anne-Ruth Wertheim | (Informed Comment) | – –
(This essay irst appeared in Dutch in De Groene Amsterdammer)
Inexplicable sounds entered our internment camp
Seventy years ago this year the Netherlands began its first so-called 'policing operation' – an attempt to bring down the Indonesian republic by force. As is clear from Wim Wertheim and Hetty Wertheim-Gijse Weenink's memoirs, negotiations on a peaceful transition had mainly failed because the Dutch underestimated the extent of support for the nationalists.
Wim and Hetty Wertheim at their first posting in south Sumatra (1931)
15 August 1945
Couldn't sleep. I now realise that hunger can drive you mad. In the middle of the night Sarah comes to our kollong (plank bed) and says "The war's over!" "Come on, don't be so silly" – we've heard it all so often before.
17 August 1945
Suddenly double portions of everything. Incredible! There's something in the air. In the evening a tremendous amount of noise outside the camp – like a fairground. And all the loud voices over the loudspeakers. What's going on? "Oh, it's just some native festival", say the other inmates. But no, native festivals as we know them are generally very quiet. I want to hear what's being said. In the evening I go to the gedèk (fence) and stood listening for a long time – but it's too far away, I can't make it out. Yet I'm sure something unusual is going on.'
These are fragments from my mother's diary from the ADEK camp where she lived with me, my sister and my younger brother. The camp had originally been built for 'coolies', labourers recruited for the tobacco plantations in Sumatra. We had been imprisoned there, 2,500 women and children, a hundred to a room. Everyone was allocated an 18-inch-wide section of the plank bed along the wall. The last months in ADEK were very hard. On 31 July 1945 we were forced to stand in the tropical sun because Indonesian guards had escaped in our fellow inmates' clothing. The Japanese beat the captured Indonesians bloody before our eyes to find out which of us they had swapped clothes with for food – and they eventually succeeded. If only we'd known that our liberation was so close at hand…
What my mother describes in her diary is intriguing. She could understand, speak and write Indonesian very well, but couldn't make out what was being said over the loudspeakers. Yet she instinctively felt that something historic was taking place: at ten o'clock that morning, 17 August 1945, two days after the Japanese surrender, Soekarno and Hatta were standing with a small group of supporters on the veranda of the house where Soekarno had come to live after his years of imprisonment and exile, very close to the ADEK camp. Planted in the front garden was a stick of bamboo with a red-and-white flag – the forbidden symbol of independence – that had been hurriedly sewn together the night before. With Hatta at his side, Soekarno read a brief statement from a piece of paper. The festivities would last well into the evening.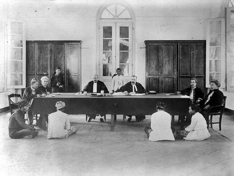 A Landraad, Court for Indonesians in session around 1910
Our mother's diary continues:
22 August 1945
We hear we have to stay in the camps for a while longer. Our Dutch commander wanted to raise the Dutch flag, but she wasn't allowed to. "The population aren't to be trusted," we're told. Best to keep as quiet as possible. Is this peace? And where are our husbands? Are they still alive?
30 August 1945
At last reports from the Red Cross. Thank God, Wim's alive! But Ans's husband is dead, and so is Mia's, and so is Judith's. Oh, how awful it all is … How can we celebrate now? And we have to stay in the camp. Protected by the Japanese … from enemies they've suddenly become protectors and friends.
31 August 1945
We read in an Indonesian-language newspaper, which has finally come in, that Soekarno and Hatta proclaimed an Indonesian republic on 17 August. Most of us are just angry at this "ridiculous to-do", or else make fun of it. "Our men will soon put an end to it," they say. So that was the voice over the loudspeakers on the evening of 17 August. That was the "native festival" no-one paid any attention to!'
My parents had gone to the East Indies in the 1930s for economic reasons. The economic crisis in the Netherlands had made the colony one of the few places where recently graduated young men could find a job. Their memoirs and diaries reveal that at first they took colonialism for granted. Although in the Netherlands they moved in progressive circles – for instance, they played music together to mark the golden jubilee of Aletta Jacobs's doctorate in 1929[1] – even there it was considered reasonable for whites to rule over coloured peoples.
Thus, as inexperienced newcomers on the boat to the Netherlands Indies they were an easy prey for the indoctrination of those returning from leave, who knew what they were talking about when they described thieving Indonesian servants and the need to maintain their distance. When on arrival in Batavia's[2] Tanjung Priok harbour they were welcomed by an old uncle who had married a Eurasian woman there, my mother caught herself briefly hoping that their new shipboard friends had not noticed the group of coloured cousins.
But at their first posting in South Sumatra their open-minded attitude to the Indonesians and Eurasians soon led to painful collisions with the walls between the races, and their doubts grew. My father worked for the Landraad, the Court where Indonesians were tried and discovered that they provided much less guarantees for fair trial compared to the Court where Europeans were tried. He discussed with my mother, who had also studied law, his increasing disturbance at these differences. Their eyes were further opened when my father became a professor at Batavia's University of Law in 1936. They came into contact with Indonesian intellectuals who sympathised with the independence movement. Every two weeks they received a dozen Indonesian students at our home, and my father told my mother 'Nearly all the good students are nationalists!'
My mother joined the Hutspotclub ('Hotchpotch Club', from the name of a Dutch dish of potatoes mashed with carrots and onions), a women's club that organised communal meals. On the board the three 'races' – Indonesian, Chinese and European – were equally represented and the seating of the members at the meals was also a 'hotchpotch': as racially mixed as possible. At first the European women took it for granted that the evenings should be chaired by a Dutchwoman; but when a request came 'from the eastern side' to take it in turns, this was finally accepted.
In 1941 my father was appointed to the Visman Committee, whose seven members – three Dutch, three Indonesian and one Chinese – had been asked to study constitutional reforms in the distant future, after the mother country back in Europe had been liberated. 'The Indonesian members are manageable,' he quotes the conclusions of the final report in his memoirs, 'otherwise they would not have been appointed to the committee. Every one of them is competent, but they are not people who take firm stances on things. They've learned that in the colonial bureaucracy.' The final report lists the wishes within the various population groups about Indonesia's future constitutional arrangements. All their wishes? No, the idea of 'the East Indies separated from the Netherlands' was not mentioned. After the war my father was to write 'The critic in 1946 thinks back with shame to a signature in 1941.'
Only in the camps – as they always emphasised – did my parents separately conclude that the Indonesian people were entitled to independence. Their own experiences of humiliation, racism, injustice and hunger in the Japanese camps played a primary part in this. They did not want to do the same thing to others. The camps also sharpened their minds. They read books that prisoners had brought into the camp and were swapped among them, and had discussions with the other inmates. My father above all learned a lot from the socialists Bernard van Tijn and Jaap de Haas, who both supported Indonesian independence (Van Tijn had been the secretary of the Visman Committee, and De Haas had done important work for health care in the East Indies as a paediatrician).
My father also spoke to the then still left-wing Jacques de Kadt, who was convinced that Indonesia would become independent when the war was over. My father's doubts about whether Indonesians were already capable of running their own country were self-confidently dismissed by De Kadt: 'Oh, maybe they won't make such a good job of it, but so what? In South America there are plenty of republics where things aren't going too well – but they're still independent states.'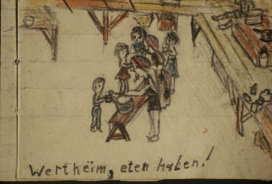 Distributing food, drawing made in the camp by Marijke and Anne-Ruth Wertheim
In mid-September 1945 my father and his good friend Jaap de Haas concluded 'The Dutch are firmly convinced that the Indonesian republic is nothing but a Japanese invention to annoy the Allies, and especially us Dutch. But we are both convinced that the situation is much more complicated than that. At the urging of a group of young nationalists, the republic had been proclaimed by Soekarno and Hatta just a few days after the surrender, precisely in order to prevent the Allies from assuming that Japanese machinations were involved. However, a number of high-ranking Japanese officers who did sympathize with the Indonesian struggle for independence gave some clandestine support to the proclamation – but this does not mean the republic was a Japanese creation!'
On 30 August 1945 my father and a friend walked out of their camp near Bandung and caught a train to Batavia. Later he always said grinning that such things are not at all difficult in times of confusion – they had simply walked out through the gate without the Japanese being able to do anything about it. They hastily set up the Batavian Red Cross and found out where their wives and children were. On 9 September I suddenly saw him arriving at ADEK on a ramshackle bicycle – you could hear the pedals creaking. He was wearing shorts, what you would now call a T-shirt and sandals on his bare feet, and we recognised each other at once. We children and my mother were soon allowed to spend the weekend with him in turns in the house of the Chinese friends who had hospitably given him shelter in their garage. Not long afterwards my father found a temporary place for our family to live in Java Street. Our own home had been stripped bare, down to the electric wiring. Meanwhile contact had been made with our family back in the Netherlands, who of course were overjoyed that we had survived the war.
In his memoirs my father writes of his first impressions of Batavia 'The appearance of Batavia had changed considerably in the three and a half years that I had been imprisoned. But most striking in the first weeks of September were the anticolonial slogans on walls and trams, usually in English. These were clearly meant to make clear to landing Allied troops that the Indonesian people did not want colonialism to be restored.'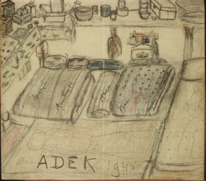 Where we slept, drawing made in the camp by Marijke and Anne-Ruth Wertheim
In mid-November 1945 my father had a discussion with the personal envoy of the Dutch minister for overseas territories, in which he called for contact to be made with the Republic of Indonesia's prime minister-designate Soetan Sjahrir. 'I explain that with the coming into power by the Sjahrir cabinet a few days ago a unique opportunity has arisen for negotiations, and that the Netherlands should seize this opportunity with both hands,' he writes in his memoirs. 'I argue why de facto recognition of the Republic is in my view politically inevitable. I urge that Sjahrir should be offered far-reaching political concessions before his government is confronted next Sunday (25 November) with the republican representative body, in order to strengthen his position against terrorists and extremists. This will not prove easy, for personal contacts between the Dutch and the Indonesians have become almost impossible this November.' My father was instructed to try and make contact with Sjahrir.
One hot November afternoon I was playing with my sister and my little brother behind our house in Jakarta. The soil was warm and damp, and perfect for building a big castle. We made stones that represented knights running back and forth, and were shouting loudly at each other. Suddenly our mother ran out of the house. She whispered to us that an Indonesian was coming to visit, and because no-one was supposed to know about it he would park his car in the back garden. Bewildered, we sat on the edge of the veranda, wondering if our castle would be spared. A black car hurtled into the drive, turned sharply left into the back garden and stopped… just in front of our castle. Soetan Sjahrir got out and was quickly led inside.
The non-conformist intellectual Sjahrir had broad support among young people. He was a left-wing socialist and anti-fascist who had always refused to work with the Japanese, and so the Dutch authorities saw him as the only acceptable representative of the nationalists. He had briefly studied Law in the Netherlands in the beginning of the thirties, where he had made friends with socialists such as Jef Last, Sal Tas and Jacques de Kadt, who despised the social-democratic SDAP party's 'champagne-drinking hypocrites'. Sjahrir and Tas's wife Maria fell in love, and in 1932 she followed him out to the Netherlands Indies, where they married in the Islamic religion. They walked hand in hand through the city of Medan in Sumatra, both dressed in traditional garb. This was more than the Dutch whites could stand, and five weeks later Maria was shipped back to the Netherlands. The couple would not see each other again until after the Second World War.
Shortly afterwards, because of his nationalistic speeches, Sjahrir was interned without any form of trial, in the notorious Boven-Digoel prison camp in New Guinea – deliberately built in the midst of the impenetrable jungle, which was ridden with malaria mosquitoes – and then exiled for years to the remote Banda islands, from where he wrote long, literary letters to Maria. As early as 21 February 1936 one of these revealed his prescience:
'Of one thing I am sure: that this colonial government and, still more, the colonising Dutch will one day regret never having pursued a wide-ranging, far-sighted policy adapted to the modern, changing structure of the world – that they have never ever, not for one moment, thought about a deliberate cultural policy for the Indonesian population! As for me, I am convinced that this short-sightedness, this famous Dutch degelijkheid ["soundness"] and lack of imagination and boldness will henceforth start to take its toll … Eventually, of course, they will have to move in that direction; but by then it will be too late. As an exile I can only say: we shall see.'
Sjahrir was also critical of the independence movement itself. He felt that the pure nationalists had a lack of 'open-mindedness and must rid themselves of suspicion, hatred and their inferiority complex'. Only then could there be equality. He soon saw the rise of fascism as the greatest threat to world peace.
In 1938 he stated in an open letter from his place of exile that 'once the war in the Pacific comes, the popular movement must help defend the country'. To achieve this, the Dutch authorities would have to transfer some of its power to the popular movement. They would have to treat it as an equal partner.
Sjahrir and my father had several mutual friends and acquaintances, and the conversation proceeded smoothly.
My father writes about this visit: 'We move on into my study. The statesman, now the prime minister, proves highly interested in what I have to tell him. Of course, he cannot give final answers to any of the questions without consulting his cabinet. But his reaction is not negative from the outset, and he does not dismiss a priori the possibility of negotiations. The conversation, which lasts over an hour, gets round to terror, which I come into close contact with through my Red Cross work. Sjahrir is horrified by what I tell him – had no idea of the scale of it all. My contact with Sjahrir was not without its dangers, especially for him. As recently as 21 November a former student of mine and member of Sjahrir's staff, Moh. Roem, had been attacked, perhaps by extremist elements opposed to negotiations with the Dutch; Roem narrowly escaped death. '
But then comes the disappointment. He writes: 'Early the next morning I climb onto my bicycle and ride to the palace to make my report. I am expected to reproduce the contents of an hour-long conversation in just a few words. Rather disconcerted, I comply with the request; but I no longer have much faith in my mission.' After the Dutch authorities show even more signs of indifference, my disillusioned father concludes that they evidently no longer need his assistance in carrying out their policy. 'Thus ended my first and last political mission.' In early 1946 we returned to the Netherlands.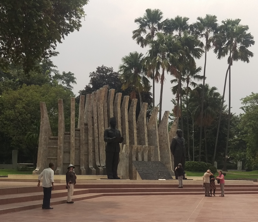 The Proklamasi ('Proclamation') monument in 2016 © Bregje Wertheim
Yet contact has been established between Sjahrir and the Dutch authorities. Difficult talks and negotiations follow. In the leaflet my father wrote early in 1946 Nederland op den Tweesprong ('The Netherlands at the crossroads') he sighs 'And so the government keeps making it almost impossible for Sjahrir to make clear to his opposition that there is still some point in negotiating with the Dutch. Are people in certain circles still wary of the socialist Sjahrir? Do they still not realise that, if he goes, there will be no-one left in Indonesian society for the Dutch to do business with?'
On 15 November 1946 talks eventually led to the Linggadjati agreement, in which the Netherlands undertook to acknowledge the republic's authority over Java, Madoera and Sumatra; the republic would become part of the United States of Indonesia, which would become part of the Dutch-Indonesian Union, headed by the Dutch monarch. From the outset this compromise was controversial on both sides, and on 20 July 1947 the Netherlands withdrew from the agreement. One day later the first so-called 'policing operation' began – and Indonesia's secession thus finally degenerated into colonial war.
---
Consulted literature
– Wim Wertheim and Hetty Wertheim-Gijse Weenink, Vier wendingen in ons bestaan, Indië verloren, Indonesië geboren ('Four turning-points in our lives: the East Indies lost, Indonesia born'), 1991
– W. F. Wertheim, Nederland op den Tweesprong: tragedie van den aan traditie gebonden mensch ('The Netherlands at the crossroads: the tragedy of people bound to tradition'), 1946
– W. F. Wertheim, Indonesië, van vorstenrijk tot neo-kolonie ('Indonesia: from princedom to neo-colony'), 1978
– Sutan Sjahrir, Indonesische Overpeinzingen ('Indonesian reflections'), 1966
– Rudolf Mrázek, Sjahrir: Politics and Exile in Indonesia, 1994
– Anne-Ruth Wertheim, the childrens' drawings in this article are published in: De Gans eet het brood van de eenden op, mijn kindertijd in een Jappenkamp op Java (published in English as 'The Goose snatches the bread from the ducks: my childhood in a Japanese internment camp on the isle of Java'), 1994
---
[1] A nineteenth-century physician and feminist who was the first Dutchwoman to be awarded a university doctorate, in 1879.
[2] Before independence the Indonesian capital Jakarta was known as Batavia.