Ma'an News Agency | – –
BETHLEHEM (Ma'an) — Over the past few days, Israeli settlers have reportedly stolen the harvest of hundreds of Palestinian olive trees in the northern occupied West Bank, according to Palestinian sources.
Official Palestinian Authority (PA)-owned Wafa news agency reported that Israeli settlers from the illegal Kedumim settlement, stole the harvest off of Palestinian-owned land in the Qalqiliya-area village of Jit.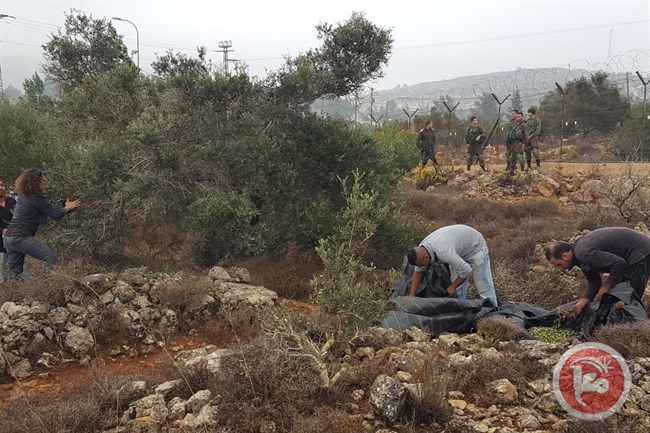 According to Wafa, landowners from Jit went to harvest their olives after obtaining Israeli permits to access their land. But when they arrived, they discovered that the olives had been harvested and "many fully grown trees were damaged and dry after being sprayed with toxic chemicals."
The landowner reportedly told Wada that he also discovered sewage water being pumped from a settler's mobile home into his land.
Meanwhile, Ghassan Daghlas, an official who monitors settlement activity in the northern West Bank, told Ma'an in Saturday that over the past few days, dozens of Israeli settlers had stolen olives from more than 700 olive trees in the Nablus area.
The majority of the thefts, according to Daghlas, took place on Palestinian lands around the illegal Elon Moreh and Itamar settlements.
Several reports of Israeli settlers stealing olive pickings from Palestinian lands have emerged since the beginning of the harvest season, with NGO Rabbis for Human Rights reporting on a "massive wave" of thefts, which they described as "hate crimes."
The Palestinian government has no jurisdiction over Israelis in the West Bank, and acts carried out by Israeli settlers often occur in the presence of Israeli military forces who rarely act to protect Palestinian residents.
The majority of settler thefts committed against Palestinians are met with impunity, with Israelis rarely facing consequences for such thefts.
Only 1.9 percent of complaints submitted by Palestinians against Israeli settler attacks or theft result in a conviction, while 95.6 percent of investigations of damage to olive trees are closed due to failures of Israeli police, according to the Israeli human rights group Yesh Din.
Yesh Din, along with Israeli rights group B'Tselem, have previously condemned Israeli authorities for failing to protect Palestinians from settlers violence or investigate attacks, particularly during olive harvest season, when incidents of attacks on harvesters and their olive groves have been a near daily occurrence in past years.