By Juan Cole | (Informed Comment) | – –
A massive explosion went off outside a mosque in the small town (pop. 2500) of Rawdah 12 miles west of El Arish on the Mediterranean coast of Egypt's Sinai peninsula yesterday, and then the mosque congregation was targeted by gunmen, killing at least 235 and wounding dozens more. Locals said it was a roadside bomb which was detonated after Friday Prayers.
Eyewitnesses said that the terrorists also shot at bystanders and set cars afire, attempting to block the road to the mosque so that ambulances could not arrive there.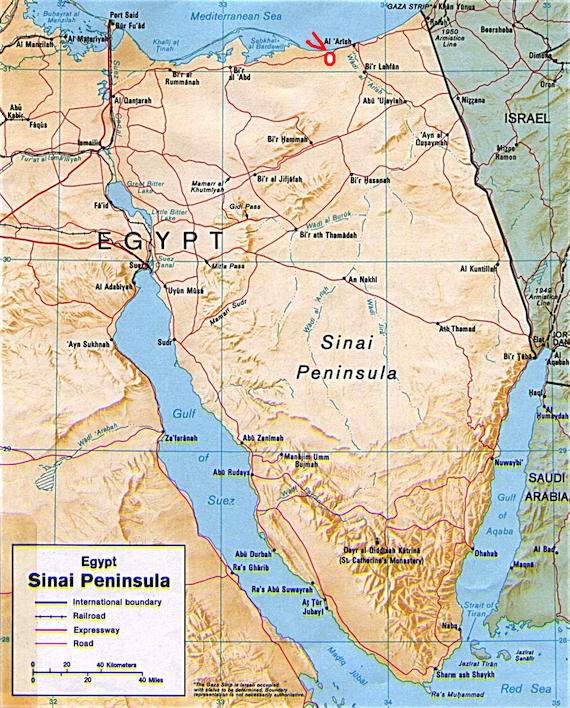 There has been a longstanding set of guerrilla movements in Sinai against the central government, which have taken different forms over the years. Some groups have in recent times franchised from Daesh (ISIL, ISIS), but that may not amount to much–they have local Sinai grievances and have never shown interest in Syria or Iraq where ISIL had made its now-failed state.
The population of North and South Sinai is about 600,000, while Egypt is a country of 95 million. The central government does not do much for the people of Sinai, who are of predominantly Bedouin background. And being at the head of the Red Sea, and sandwiched between Egypt and Israel, they have lots of ways to get weaponry. Egypt blames their militancy on the influence of Hamas and Lebanon's Hizbullah, which have smuggling routes through the Sinai to the Gaza Strip.
Sahar Aziz writing at Brookings Doha explains that Israeli occupation authorities 1967-82 settled a lot of the pastoralists into low wage artisanal work. When the Egyptian government took over, it re-ruralized many families but forced on them inferior land for farming in the interior of the peninsula. The most lucrative economic activity is serving the tourist resorts, but persons of Bedouin background are actively discriminated against for such jobs. So in other words the Israelis transformed the local economy in colonial ways that were not probably sustainable and then Cairo came in and pushed people around with a combination of arrogant social engineering and malign neglect.
So the conflict may resemble a bit that between the US Federal government and Western white nationalists in e.g. Nevada and eastern Oregon– local people unhappy with policy being set for them by a distant central government often run by other ethnic groups.
The odd thing here is that the extremists hit attendees at a mosque. Since the mosque was built by members of the Haririya Ahmadiya Sufi order, the local Jarir family, it may well have been hit for this reason. If so, the perpetrators were members of the militant Salafi movement, which abhors Sufism and the extremist branches of which have often targeted Sufis for death.
I caution that most Salafis are not violent and that even in Saudi Arabia, which is dominated by the ur-Salafis, the Wahhabi movement, there is a Sufi revival in the Hejaz.
Sufi Islam is a quest to attain union with the divine beloved through prayer and chanting of spiritual formulas. It can sometimes involve dancing and hyperventilation. Sufis most often revere past mystic masters and attend at their tombs or shrines.
There is no saint's tomb in the environs of the Rawda mosque, and it cannot be assumed that the worshipers were all Sufis. People go to the mosque that is convenient for them.
Hard line Wahhabis of Saudi Arabia and Salafis consider Sufism to be a form of polytheism.
The dispute is not so very different than that between hard line Protestants and traditionalist Catholics. Extremist Protestantism, which jettisoned the idea of saints and intercession with God by a holy person, despised traditional Catholicism, which was all about reverence for saints and hopes for their intercession.
How exactly the two dimensions of social and class discontent in Sinai and of religious fanaticism intersect would only become clear from field work on the ground, but it is likely that there is such an intersection.
The main problem, however, is not that there are extremists– they are ubiquitous. It is that the central government in Cairo isn't doing enough for people in Sinai, including providing them security.
Moreover, the current government's banning of the Muslim Brotherhood and tagging its members terrorists destroyed a middle path in Egypt between secular nationalism and extremist Salafism, perhaps pushing some people into the latter.
The immediate response of the Egyptian government was an aerial bombardment of suspected extremist sites. Bombing a guerilla group from the air is most often completely useless and a sign that the government isn't willing to commit key land army resources.
——
Related video added by Juan Cole:
BBC News: "Egypt attack: More than 235 killed in Sinai mosque – BBC News"