Ma'an News Agency | – –
BETHLEHEM (Ma'an) — The number of injured Palestinians continues to climb on Thursday as clashes with Israeli forces continue to escalate across the occupied West Bank, East Jerusalem, and Gaza Strip, in response to U.S. President Donald Trump's announcement recognizing Jerusalem as the capital of Israel.
Palestinian and world leaders warned Trump against making the announcement, for fear of instability and violence across the region, that is now expected to continue in the days to come.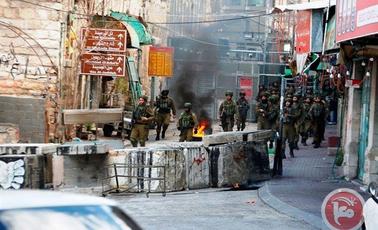 9 injured with live ammunition
According to the Palestinian Ministry of Health and a spokesperson for the Palestinian Red Crescent, there are upward of 50 injuries in total, nine of which are injuries with live ammunition.
Of the live-bullet injuries, four were reported to be in the central West Bank city of Ramallah, and five from the Gaza Strip. Also in Ramallah, eight Palestinians were injured with rubber-coated steel bullets.
In Gaza, four Palestinians from the southern district of Khan Younis were injured with live ammunition, and one Palestinian from northeastern Gaza was injured. The injuries were reported as light to moderate.
Clashes erupt across West Bank
In the West Bank city of Bethlehem, medics told Ma'an that at least three Palestinians were injured with rubber-coated steel bullets while two, including a young boy, were treated for severe tear-gas inhalation.
In the Kafr Qaddum town of the Qalqiliya district in the northern West Bank, five injuries were reported, four of which are tear-gas related, and one with a rubber-coated steel bullet.