Ma'an News Agency | – –
BETHLEHEM (Ma'an) — An Israeli military court on Monday indicted 16-year-old Palestinian activist Ahed Tamimi on 12 charges, including assaulting an Israeli soldier, interfering with a soldier's duties, and two past instances of stone throwing.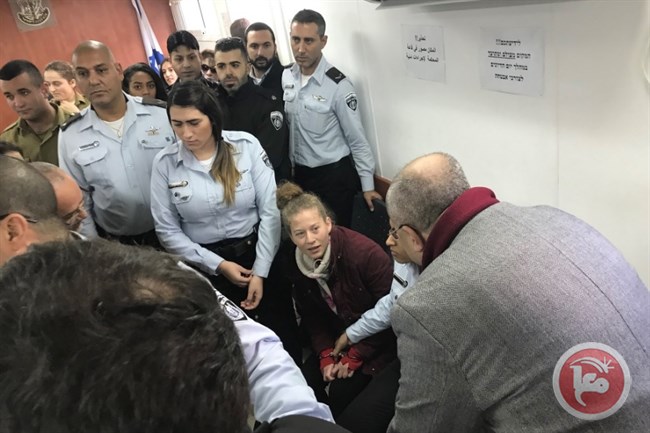 Ahed Tamimi (center) in Israeli military court
Tamimi, who along with her family is well-known internationally for her fierce opposition to the Israeli occupation, was detained last month after a video went viral of her slapping and kicking two Israeli soldiers near her home in the central occupied West Bank village of Nabi Saleh.
Since her arrest, Tamimi has had her detention extended several times, until charges were finally presented against her on Monday.
Ahed's mother Nariman has been charged with "incitement" for livestreaming the altercation, while her cousin Nour, who also appeared in the video, was charged with assaulting a soldier and interfering with a soldier's duties.
On Thursday, Manal Tamimi, who is related to the women, was arrested during a demonstration outside the Ofer detention center near Ramallah demanding the release of her relatives.
Ahed Tamimi is well-known across Palestine and the Arab world for videos of her, since her childhood, defiantly resisting Israeli soldiers who clash with Palestinians in her village nearly every week.
Two years ago, her family made headlines when an Israeli soldier violently attempted to arrest her younger brother , who had one arm in a cast at the time. Ahed and her mother manager to pull the soldier of her brother and free him.
Israeli military raids into Palestinian cities, towns, and refugee camps are a near daily occurrence.
Nabi Saleh is one of a number of Palestinian villages in the occupied West Bank and East Jerusalem which are known for their weekly Friday protests against the Israeli occupation.