By Sam Morgan | EURACTIV.com
The Dutch government has begun to follow through on its renewable energy pledges by awarding Swedish firm Vattenfall two contracts for what will be the world's first wind farms to be built entirely without public money.
The Dutch government has announced that its call for tender for zero-subsidy offshore wind bids had paid off and that Vattenfall would build two facilities in the North Sea by 2022.
Although the government has taken on certain risks like connecting the wind farms to the country's power grid, the successful tender means that the farms will sell the electricity they generate on the wholesale market rather than relying on revenue stabilisation schemes.
Fresh EU analysis makes case for higher renewables, energy saving goals
A new analysis by the European Commission's energy directorate, seen by EURACTIV, updates existing scenarios for renewables and energy efficiency, taking into account the rapidly falling costs of solar and wind power.
The farms look to have a bright future as the Dutch authorities have already given some guarantees about the likely volume of power generation that will be required from the facilities.
WindEurope CEO Giles Dickson praised the government for minimising risks and committing to a carbon floor price. He added that "this news shows zero-subsidy bids are possible for some developers in some markets not where governments take on a share of the project risk".
EU member states are still in the process of drafting national energy plans that will be crucial to fulfilling the Paris Agreement and calculating post-2020 targets. Negotiators are due to meet on 27 March to discuss the update to the bloc's renewable energy law and national plans will play a significant role in its implementation.
Bosnia's first wind farm comes online as hydropower struggles
Bosnia's maiden wind farm began producing electricity on Wednesday as part of the country's efforts to cut greenhouse gas emissions and meet the renewable energy standards of the European Union it aspires to join.
At trade association SolarPower Europe's annual summit last week, Energy Union boss Maroš Šefčovič called on member states to "do your homework" and start making progress on the plans. The Slovak Commissioner is currently in the middle of a bloc-wide tour to EU capitals pushing for more effort from national governments.
Dickson said that the falling price of renewables should convince member states to "revise their ambition upwards in their national energy plans and offshore wind is a great way to help them do this".
Germany was actually on track to be the first to start operating subsidy-free wind, after a similar landmark tender last year. But those contracts will only be realised in 2024-2025, some three years after the Hollandse Kust Zuid farms are supposed to be online.
But both countries will still struggle to meet their 2020 renewable targets. According to Eurostat data released in January, the Netherlands' only sourced 5.8% of its energy needs from renewable sources in 2015, against a target of 14%.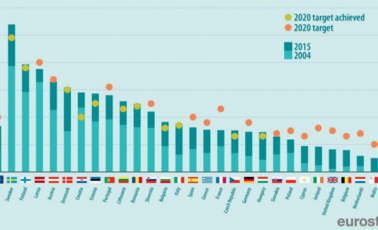 Renewable energy target performance across the EU. [Eurostat]
Germany is only fairing slightly better, at 14.6% with an 18% goal in mind. Luxembourg and Malta are the worst performers in terms of mere percentage but the EU's statistical office pointed out that the Netherlands is actually the furthest from its target overall.
EU law means that countries that look unlikely to meet their targets can buy surplus capacity from better-performing member states, at least at a statistical level if not in an actual energy-providing sense.
Luxembourg was the first to take advantage of this option in October 2017, when it paid around €10 million to Lithuania, which already smashed its 2020 goal in 2015.