BETHLEHEM (Ma'an) — Palestinian diplomats have filed an official complaint against Israel, alleging breaches of Israel's obligations of the United Nations' anti-racism treaty.
The 350-page document was handed to the Geneva office of the United Nations that is responsible for monitoring the implementation of the UN Convention.
Palestinian ambassador to the UN, Ibrahim Khraishi accused Israel of being in breach of the Convention, stating that Israel's policies illustrate a "common aim of displacing and replacing the Palestinian people, for the purpose of maintaining a colonial occupation."
The document mentions specific breaches of the convention, contributing to "apartheid" in Gaza, as well as the the occupied West Bank, and East Jerusalem, with the sole purpose of maintaining "a Jewish demographic majority in the entirety of historic Palestine."
"Not only is the purpose of the settlement regime discriminator in itself, it is further maintained by a system of discriminatory measures, severely depriving Palestinians of their fundamental rights."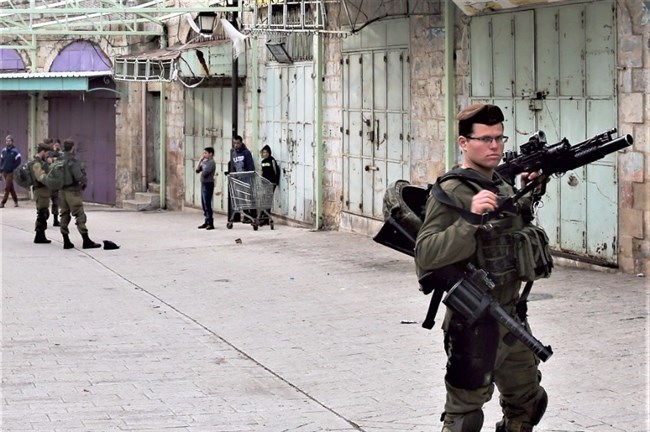 An Israeli soldier stands guard as others ID three Palestinians on March 21, 2017, in the city of Hebron (File) via Ma'an
According to the 350-page document, Palestinians are not afforded the same rights and freedoms that are awarded to Israeli settlers, which are routinely perpetuated by the "confiscation and seizure" of their land.
The complaint went on to state that: "It is clear that Israel's acts are part of a widespread and oppressive regime that is institutionalised and systematic; that accords separate and unequal treatment to Palestinians."
In addition to the submitted complaints, the document states that Israel is in clear violation of Article Three of the Convention, which prohibits racial segregation and apartheid. Article three declares: "States Parties particularly condemn racial segregation and apartheid and undertake to prevent, prohibit and eradicate all practices of this nature in territories under their jurisdiction."
The summary of the complaint called for the dismantling of current Israeli policies
Speaking in an interview on Monday, Khraishi said that "the system of racism and discrimination by the Israelis must not [be] recognised as a legal system."
If the complaint is responded to by the UN, it could trigger a high-profile and independent investigation into the alleged breaches of the UN convention. The convention is overseen by the Committee on the Elimination of Racial Discrimination, which consists of a body made up of eighteen independent monitors.
Israel's most recent report on the state of racism stated that it had successfully "maintained a consistent policy prohibiting such discrimination." If the complaint is picked up by the respective UN committee, Israel will be required to submit written explanations and evidence of the contrary within the next three-months.
Israel ratified the Convention on the Elimination of All Forms of Racial Discrimination in 1979, while Palestine became a signatory in 2014; two years after receiving status as a UN observer state.
By permission via Ma'an News Agency