By Kaouther Larbi | – –
Monastir (Tunisia) (AFP) – Decked out in a striking blue suit and white shirt, matching his political allegiance, Simon Slama rubs shoulders with fellow candidates ahead of Tunisia's municipal elections.
Nothing unusual about that — except he is the only Jewish candidate, standing for the Islamist Ennahdha party.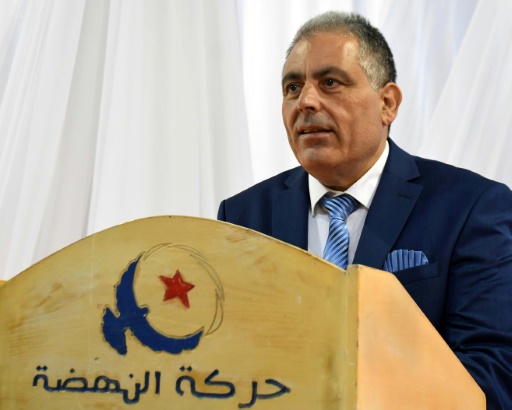 AFP / BECHIR TAIEB. Simon Slama, a Tunisian Jewish candidate for the Islamist Ennahdha party, speaks during a press conference in Monastir on April 14, 2018.
A public relations stunt for some; a sign of genuine liberalisation for others. But even if Slama fares dismally come the May 6 poll, his candidacy has become a major story in the nation.
This will be the first municipal vote since former dictator Zine El Abidine Ben Ali fell from power in 2011.
And while Slama looks at ease, joyously clapping hands on the campaign trail in the coastal town of Monastir, the 54-year old sewing machine repairman's decision to run drew fierce initial opposition from loved ones.
"All my family were against my choice. My brother was angry and my wife went days without speaking to me," the candidate tells AFP, with a timid smile and a nervous fidget of the hands.
"But I managed to convince them."
Slama and his relatives are among the small number of Jews still living in Tunisia. The community in the North African nation has shrunk from several hundred thousand before independence in 1956, to just 1,200 today.
While Jews in the country, which is overwhelmingly Muslim, once served as lawmakers and even ministers, they have long since slipped to the margins of politics.
Slama believes his candidacy is helping to change all that and has already "removed fears for Jewish Tunisian citizens".
– 'Ancient family' –
Comrades in the Ennahdha party insist Slama is the right man to stand for office in Monastir — a symbolic town for Tunisians as it is the birthplace of Habib Bourguiba, the father of the country's independence.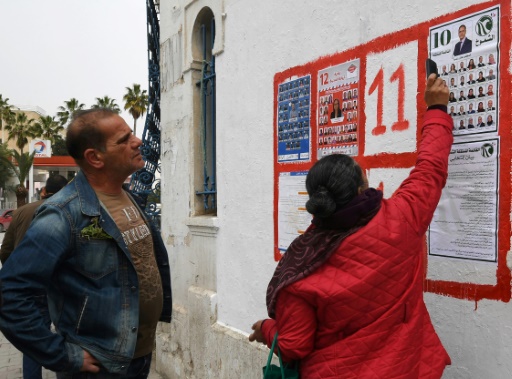 AFP / FETHI BELAID. "He comes from an ancient family. He has his roots in Monastir… and he knows the town's problems," says Chokri ben Janet, who heads the party's candidate list in the town.
Slama says that despite its history as an Islamist party he opted for Ennahdha out of political conviction, describing it as "the most active and the most serious on the political scene".
"Ennahdha has changed its strategy — it is no longer a religious party, it is a civil party," he says.
The party is a junior partner in a coalition led by President Beji Caid Essebsi and his Nidaa Tounes party.
Taking stock from its experience in power after the 2011 revolution, it has worked hard to modernise its image.
It opposed a project to criminalise any attempt to normalise relations with Israel; a vote on the proposal was dropped this winter.
Now some of its leading candidates are women who don't wear the Islamic veil.
All of these changes — including Slama's candidacy — have drawn derision from some political opponents who accuse the group of simple opportunism to bolster its vote.
Top Nidaa Tounes official Borhane Bassais called it a "political striptease".
– Torah and Koran –
Others say that interest in Slama's candidacy highlights that while Jews can practice their religion freely they remain an anomaly in Tunisia — and shows the country still has a long way to go on minority rights.
The media frenzy is testament to "this obsession we have of judging (people) on the basis of something so personal as their religious conviction," says Yamina Thabet, an official for Tunisia's Association for the Support of Minorities.
Some noteworthy figures have, nonetheless, thrown their weight behind Slama's bid for a seat.
"This candidacy brings pride for the Jewish community," says Rene Trabelsi, who organises the Jewish pilgrimage to Tunisia's famous Ghriba synagogue, on the island of Djerba.
"It has created a positive image of an open Tunisia that we can all share," says the businessman, who was once a contender to become tourism minister.
And as for the candidate himself — he appears comfortable with his identity and the attention his foray into politics has garnered.
If he wins, Slama says, he is ready to take the oath of office on "both the books" — the Jewish Torah and the Muslim Koran.