Ma'an News Agency | – –
GAZA CITY (Ma'an) — Israeli army forces killed three Palestinian protesters on Friday, and left more than six-hundred injured in another deadly day of the "Great March of the Return" demonstrations on the Gaza border.
Of the 611 injured, 154 were struck by live ammunition from Israeli forces, according to Gaza's health ministry.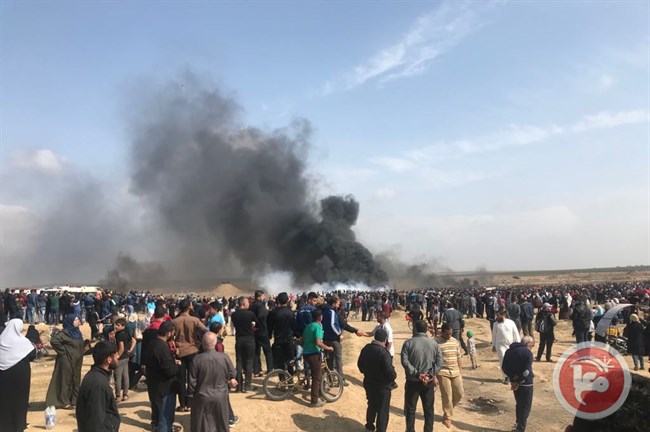 Via Ma'an Photos
Al Jazeera's reported that "Thousands of people stood right at the border, then we heard the Israeli forces opening live fire."
Ashraf al-Qidra, spokesman of Gaza's health ministry, said that the Israeli army successfully targeted several medical service points with an unknown gas that left demonstrators that were exposed with convulsions.
The demonstrations, entering their fifth-week, have left a total of 45 Palestinians dead, with a reported 5,500 injured. There have been no reports of Israeli fatalities.
Israel's response to the demonstrators has come under fierce criticism from the UN Commissioner for Human Rights, Zeid Ra'ad al-Hussein, who called for into question the Israeli army's use of "excessive force", adding that Israel should be held to account.
"The loss of life is deplorable, and the staggering number of injuries caused by live ammunition only confirms the sense that excessive force has been used against demonstrators – not once, not twice, but repeatedly," Zeid said.