By Jonah Mandel | – –
Jerusalem (AFP) – Israel has built a high-tech economy, forged the region's strongest military and fended off enemies surrounding it in the 70 years since its creation, but many think it faces a new threat: itself.
The 70th anniversary of the establishment of the state of Israel on May 14 comes with the country in a tug-of-war between those who want it modelled more on Jewish religious values and others who say that will put its future as a democracy at risk.
"Israelis are bound by fate. When our very existence is challenged, we're together," said Yedidia Stern, a law professor at Bar Ilan University and vice president of the Israel Democracy Institute think tank.
But once things are secure, "we become free to fight over our destination".
Legislation from Prime Minister Benjamin Netanyahu's right-wing government seeking to fortify Israel's Jewish identity has raised alarm among prominent voices in society.
The measures could be seen as part of attempts at self-definition by a young nation built in the biblical-era Jewish homeland in the wake of the Holocaust, some experts say.
Those promoting them say part of their aim is to give a voice to those outside the traditional elite.
But others see many recent moves as populist politics that will result in a less democratic society and, when it comes to the Palestinians, "apartheid".
Israel has fought repeated wars since its creation, but is not currently engaged in a major armed conflict.
The conflict with the Palestinians is ever-present, but has simmered at mostly low heat since the end of the 2014 Gaza war.
That has afforded Israelis the space of mind to delve into other issues, experts say.
– 'All its eulogisers' –
The soul-searching in Netanyahu's government has manifested in a draft law defining Israel as the nation state of the Jewish people, designating Hebrew as the language and anchoring "unified Jerusalem" as the capital.
It recently passed a preliminary parliamentary reading.
On Sunday, a ministerial committee advanced another bill limiting the ability of the Supreme Court to strike down laws it perceives as contravening democratic values.
Ministers supporting the legislation say the court has accumulated too much power in the balance between the parliament and judiciary.
Rulings that have angered them include those ordering rogue settlements in the occupied West Bank to be evacuated and the suspension of a plan to expel African migrants.
Separately, the culture ministry has in recent years sought the authority to withhold funding from institutions perceived as disloyal to Israel.
Members of the opposition, artists, academics and some former officials have criticised what they see as a trend of legislation harmful to Israel's democracy — though ministers say their claims are overblown.
"Israeli democracy is alive, breathing and kicking, and it is stronger than all its critics and all its eulogisers," Justice Minister Ayelet Shaked, of the religious nationalist Jewish Home party, has said.
– 'Not yet a home' –
An early landmark in the debate over Israel's Jewish nature occurred in 1947, before the state was even created.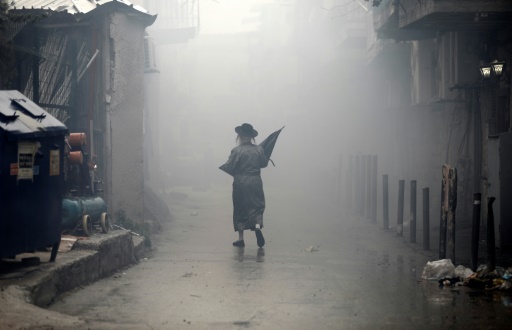 AFP / MENAHEM KAHANA. An ultra-Orthodox Jewish man walks down a street in Jerusalem on the eve of the Jewish Pesach (Passover) holiday.
That was when the secular Zionist leadership and ultra-Orthodox Jewish representatives agreed to maintain a status quo on matters related to religion and state.
It granted the ultra-Orthodox — strictly religious Jews — power over personal law such as marriage and instituted respect for the Sabbath, or weekly day of rest.
The agreement remained when Israel published its declaration of independence on May 14, 1948 reflecting the aspiration to embrace democratic values while stressing the newborn nation's Jewish nature.
Israel does not have a formal constitution, but does have a de facto one, called its "basic laws".
In 1992, parliament passed two basic laws enshrining Israel's values as "Jewish and democratic" and necessitating any legislation to conform to those terms.
"Increasing numbers of Israelis feel a need to choose between the 'Jewish' and the 'democratic', and feel that the manner in which these values are implemented in Israeli society is not sufficiently balanced," said Stern, whose think tank's surveys on the subject have demonstrated the trend.
For around the first 40 years of Israel's history, secular Jews of European origin with social democratic values dominated, he said.
But since then, other groups such as Jews who originated from Arab countries, religious nationalists and the ultra-Orthodox have asserted themselves and emerged as potent political forces.
Arab Israelis, who make up some 17.5 percent of the population and largely sympathise with the Palestinians, have also become more politically active.
Looming over the debate is the Israeli-Palestinian conflict.
An increasing number of Israeli right-wing politicians openly oppose a two-state solution and talk of wanting to annex most of the West Bank.
There are warnings that will lead to "apartheid" since, under those scenarios, Palestinians would presumably not be granted equal rights.
One of Israel's leading authors, David Grossman, argued in a recent speech that an "apartheid reality" had already been created through the occupation.
"Israel was established so that the Jewish people, who have nearly never felt at home in the world, would finally have a home," Grossman said.
"And now, 70 years later, strong Israel may be a fortress, but it is not yet a home."