Cannes (France) (AFP) – A jury led by Cate Blanchett will crown the winner of the coveted Palme d'Or for best film at Cannes Saturday, after a politically charged festival rocked by controversy and the #MeToo movement.
Movies by Spike Lee, South Korea's Lee Chang-dong, Italian Matteo Garrone and Nadine Labaki of Lebanon — one of three female directors among the 21 in contention — drew critical acclaim ahead of the famously unpredictable awards night.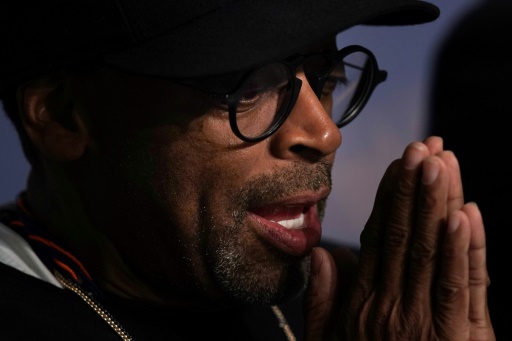 AFP / Laurent EMMANUEL. US director Spike Lee, in the running for the top brize at Cannes for his film 'BlacKkKlansman'
But more than the prize winners, the 71st Cannes festival may linger more for its off-screen moments in the first edition since the Harvey Weinstein sexual assault scandal broke.
Hollywood stars including Blanchett, Kristen Stewart, Helen Mirren and Salma Hayek and directors Ava DuVernay and Patty Jenkins joined a red-carpet protest to demand equal opportunity and a "safe workplace".
Two days later, festival organisers signed a pledge to encourage more diversity in its selection by 2020, saying they hoped it would set an industry standard.
Despite being one of the most sought-after tickets, the premiere of Danish bad boy Lars von Trier's slasher flick "The House That Jack Built" saw audience members walk out in droves, as reviewers slammed what they called a misogynistic orgy of violence.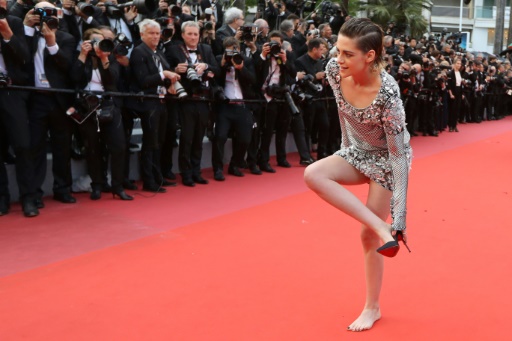 AFP / Valery HACHE. Kristen Stewart went barefoot on the famous Cannes red carpet in rprotest against a rule requiring women to wear high heels
Both its female stars, Uma Thurman and Riley Keough, were notably absent from the red carpet, where Stewart on another night staged a kind of protest of her own by kicking her high heels and climbing the vaunted Cannes stairs barefoot.
Even hardened critics shed tears for "Whitney", an explosive new British documentary on the tragic life of superstar Whitney Houston which alleges she was sexually abused as a child.
– Anti-Trump tirade –
The glamour-drenched festival spotlighted dissident directors including Jafar Panahi of Iran and Russia's Kirill Serebrennikov, who were barred by their governments from attending.
Their films drew lengthy standing ovations, while a single seat marked with their names remained empty.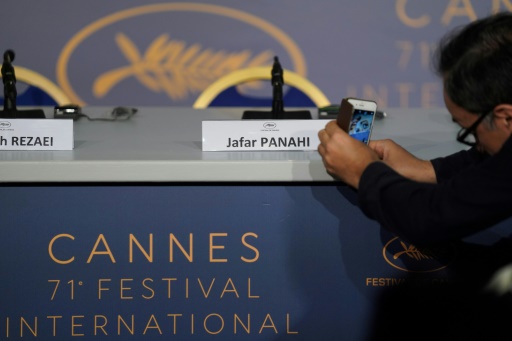 AFP / Laurent EMMANUEL. An empty seat for Iranian director Jafar Panahi whom Tehran barred from attending Cannes.
Polish Oscar winner Pawel Pawlikowski, who won the foreign-language movie Oscar for "Ida" in 2015, caused a scandal at home when he told AFP at the festival that the film had been "blacklisted" by the nationalist government. Warsaw denied the claim.
Critics swooned over Pawlikowski's latest, the slow-burn period love story "Cold War".
Political realities dominated the Cannes race, as Lebaki won hearts with "Capernaum" set among the poorest of the poor in Beirut and featuring a devastating performance by a 13-year-old Syrian refugee boy.
"While this is unquestionably an issue film, it tackles its subject with intelligence and heart," industry bible Variety said.
Spike Lee scored a hit with "BlacKkKlansman", the stranger-than-fiction story of an African-American police officer who manages to infiltrate the highest levels of the Ku Klux Klan.
The film, which several critics called a return to form for the "Do the Right Thing" director, explicitly links the tale set in the 1970s with white nationalism in the Trump era. Lee attacked the US president with an expletive-filled tirade at his press conference that quickly went viral on social media.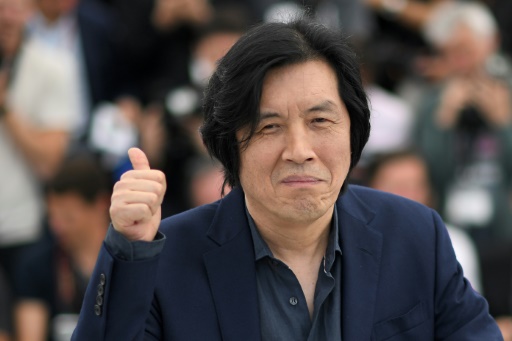 AFP / LOIC VENANCE. South Korean director Lee Chang-Dong film "Burning", set near the North Korea border, scored a record 3.8 out of 4 stars in a Screen magazine poll.
Critics fawned over Asian masters like Lee Chang-dong who scored a record 3.8 out of 4 stars in a Screen magazine poll for "Burning", about a young man's mounting rage over thwarted ambitions set near the North Korean border.
Hirokazu Kore-eda of Japan moved audiences with "Shoplifters", about a family of small-time crooks who take in a child they find on the street. Film website IndieWire called it "heart-wrenching".
– 'Less America-centric' –
Garrone, best known for mafia tableau "Gomorrah", later delighted them with "Dogman" about a soft-spoken Italian dog groomer who stands up to a local heavy.
In 2017, the top prize went to Ruben Ostlund's "The Square," an art world send-up that went on to bag an Oscar nomination.
There were less lavish parties this year and fewer A-list stars on the Croisette seaside boulevard.
However industry insiders dismissed talk of a festival in crisis, saying the sprawling annual event was returning to its roots in the face of showbiz "disruption".
US magazine Vanity Fair called 2018 a "pivot year", as movie studios plump for social media to promote their blockbusters instead of the splashy French Riviera promotions of old.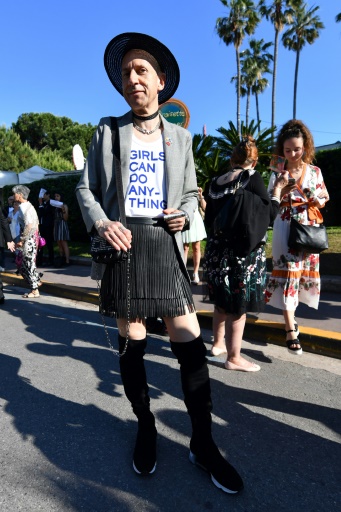 AFP / YANN COATSALIOU. Influencer "Lutin en folie" walks along the Croisette
"We've found a festival with a renewed spirit," Vanity Fair said.
"In making the festival a little less America-centric than it has been lately, Cannes has re-asserted itself as the premier destination for daring, provocative international cinema."
Variety noted that Cannes remained a "major hub" for the film rights trade and said "many projects for sale are embracing inclusiveness, with a raft of sales for female filmmakers".
Spike Lee told AFP that for directors doing provocative work, "Cannes is the greatest film festival in the world, there is no argument. This is the Mecca, this is the greatest stage."
Featured Photo: AFP / Anne-Christine POUJOULAT. Cate Blanchett heads the Cannes jury.
—-
Bonus video added by Informed Comment:
Wochit Entertainment: "Palestinians Hold Moment Of Silence At Cannes For Gaza Deaths"