Special Correspondent | Niqash.org | – –
(Baghdad) As Iraqi elections near, the epidemic of disturbing and divisive fake news on local social media only gets worse. But who exactly is behind it? And are they motivated by profit, popularity or a political agenda?
Last week, a rumour swept social media in Iraq: The authorities overseeing election campaigning in Iraq had prevented 75 female candidates from running in the election for unethical behaviour. There was even a sex tape posted, featuring one of the candidates.
Perhaps unsurprisingly, the rumour was not true. The sex tape appeared to be real but the fact that female candidates had been expelled, was not. Authorities at the country's Independent High Electoral Commission, or IHEC, denied it and the story was disproven fairly quickly. Nonetheless many Iraqis still believed the story.
A few hours later another rumour hit the news: The candidate in the sex tape had committed suicide, under pressure from rigid social rules and traditions. This too was untrue and the would-be politician even appeared on a television news show to deny it. But after all that, you do wonder which Iraqis are going to vote for that candidate – that is, if they even think the person is still running – and alive.
I discovered that some of the page admins had agreed to sell the page's work to one of the political parties for $5,000.
"False reports became a factor in creating a hostile environment for female participation in the political process," says Hanaa Edwar, the influential head of the Al Amal (Hope) civil society organization. "There were dozens of falsified reports and pictures and unfortunately a lot of Iraqis were deceived by these."
This is obviously not the first such incident on Iraqi social media platforms like Facebook and YouTube. Social media is an important source of information for many in Iraq, yet often the most viral pieces of information are not fact checked, nor is the provenance verified. There have even been incidents where false reports – or so-called "fake news' – have been seen to cause violence, even death. Some of the false posts are obviously fake, alerted in an unprofessional way. But there are others that have clearly been altered using programs like Photoshop in a very professional way, although these seem to be in the minority. No matter how well made they are, one thing many of the false reports have in common is that they have been posted with a clear political agenda. So the question is: Who is actually behind these kinds of posts?
Were the items being posted simply to increase follower numbers with some outrageous news story, such as that about the political candidate's sex tape? Or was the phenomenon a more dangerous one than that, especially as the Iraqi elections near? There are already rumours about so-called "electronic armies" – Iraq's version of the "troll factory", where human users of social media are employed in the service of a certain agenda to sew dissent or to spread misleading reports as part of a disinformation campaign meant to confuse.
Civil society activist Edwar believes they exist. "these organized electronic armies have prepared themselves very well for the Iraqi elections," she told NIQASH. "They are producing false posts and spreading them on social networks. This is what happens when there is a lack of transparency, when officials refuse to comment, and when the media itself is unprofessional because of affiliations with political parties. That is the real reason for this disastrous turn of events."
It is difficult to find the sources of the false reports although some Iraq-based Facebook pages are more likely than others to post misleading information. Contacting the administrators of these pages is tricky. Some of them blocked NIQASH's enquiries and others threatened to disrupt – or "hack" – the Facebook account from which the enquiries came.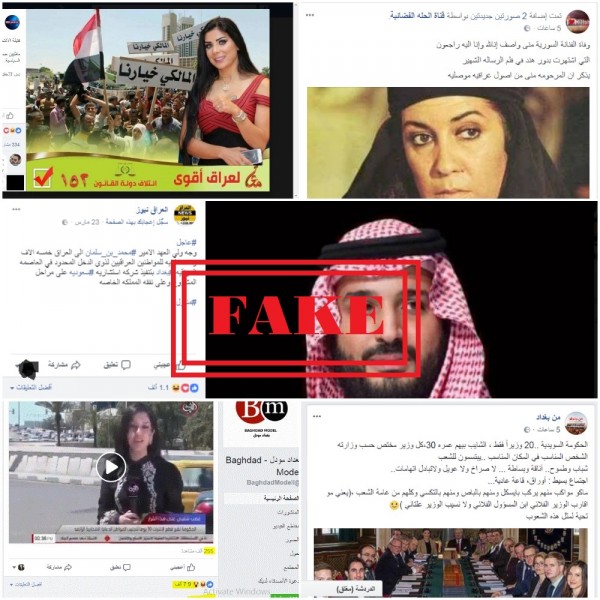 Examples of fake news debunked in Iraq this month.
In November 2017, one Facebook page catering to an Iraqi audience showed a large crater in the ground and said it was caused by a mid-November earthquake with an epicentre near the Iran-Iraq border. The photo of the crater was published on Facebook within ten minutes of the actual earthquake so it was there waiting for any Iraqis desperately searching for information about the natural disaster.
After verification, it turned out the picture was actually from an incident in Morocco and had nothing to do with the Iraqi earthquake. But it drew Iraqi eyes to that page, at a time when there were hardly any other photos from the earthquake area.
"I remember that news," says Haider Jalil, a 17-year-old administrator who works on the page in question; Jalil did not want to give his real name for fear of losing his job. "We found that picture and we quickly posted it on our page to get more followers."
His page doesn't always create news this way. Jalil, who works with around 10 colleagues, searching for exciting or interesting news items and sharing them on Facebook, says most of the time they take pictures from established news outlets. "We don't want to hurt anybody," he says. "We are just trying to be the best and most popular page we can be. Our aim is to get thousands of followers. In fact, we have half a million followers and we did this all without spending any money to promote ourselves."
The motivations for posting false reports on pages like Jalil's then, have more to do with increasing the page's popularity than changing the country's politics, although they may also inadvertently do this.
We don't want to hurt anybody. We are just trying to be the best and most popular page we can be.
However now it seems that Iraqi politicians are also using the popular Facebook pages, which have built up numbers of followers over time.
Arakan al-Shammari was one of seven administrators working on a Facebook page with 300,000 followers. However he withdrew from the role after he noticed some of his fellow administrators were starting to post more politically-based things, praising one political party and attacking others, and in particular with false reports.
"Then I discovered that some of the page admins had agreed to sell the page's work to one of the political parties for US$5,000, and they were paying US$500 monthly for each administrator who agreed to keep working for the page," al-Shammari explained to NIQASH.
Al-Shammari and three other colleagues refused to take up the offer. They were removed as administrators of the page. "I wanted to let people know what had happened and wrote about it on my personal page," al-Shammari continued. "But I was threatened – the remaining admins said they would get thousands of people to report my page to Facebook, which would get it closed down – and I was told to delete what I had said about [the sale of the page]."
Further research by NIQASH shows that al-Shammari's page is not the only one. Several other pages with a big followings have recently changed their names. Some have taken up the names of political parties or politicians. Some appear have increased access to funding as Iraqi users of Facebook are now getting a lot more advertisements asking them to follow or like certain pages, as the elections near. Some appear to be working together and often publish false posts at similar times (see NIQASH's story on Kurdish false content for more on this).
Samir al-Dulaimi works for a bank in Baghdad and he says that he and his colleagues have noticed an increase in demand for local credit cards – this is fairly unusual because many Iraqis don't even have bank accounts. "Our bank is one of the few in Baghdad to provide Visa cards," al-Dulaimi explains. "New customers can apply for the cards and must deposit at least US$1,000. When we distribute questionnaires asking customers why they want a credit card, the majority say they want to make online purchases and to use the cards on social networking sites."
"There is no doubt that political parties are behind some of the false news on paid Facebook pages, especially with the elections so close," says Iradah al-Jibouri, a spokesperson at the media department at the University of Baghdad. "They make use of people's preferences and they are frightening people with fake news. It's easy," he adds, "because unfortunately there are no laws about what is happening on social media."
His department has introduced a new course in media studies that is all about combatting fake news, al-Jibouri adds.
The country's 1968 Publications Law says violators can get up to seven years in jail for insulting the government and the country's penal code has a clause from 1969 that makes defamation a crime. But none of that really covers what happens online.
There is an urgent need for new laws on digital information sources, agrees Ahmed Hamdallah, a lecturer in the law faculty at the University of Qadisiyah. "There are ongoing efforts to pass laws related to online publishing and there is also a draft of an information crimes law, which could also solve some problems."
It's an important subject to students in his faculty, he adds, noting that many of them have chosen to do their thesis or doctorates on the law around fake and false news in Iraq. In fact, most recently he supervised a master's thesis by one female student at Nahrain University in Baghdad called: "Criminal responsibility for the promotion of false and spurious rumours on social media".
"In societies living in doubt, false news cultivate suspicion and makes use of tense political, security or social conditions," says Yousef al-Mousawi, a psychologist based in Diwaniyah. "Dozens of false reports are published on Iraqi Facebook everyday but only some attract a lot of attention – usually people react to those reports that relate to their own religious or political orientation. The social conditions help the spread of false reports and make mainstream news unimportant."
And all this is because of ignorance about the way social media is being used during the elections, al-Mousawi concludes.
Interested in this topic? Please read our second story here, focusing on fake news in Iraqi Kurdistan in northern Iraq.
This report was prepared by Mustafa Habib and Manar al-Zubaidi
Reprinted by permission from Niqash.org