Cairo (Middle East Monitor) – The climate change on Egypt's northern coast is expected to lead to the migration of at least five million people from the Nile Delta if appropriate measures are not taken.
Climate changes on Egypt's northern coast could force five million people to leave the country's Nile Delta area, Egypt's irrigation minister said yesterday.
In light of population estimates for 2025, annual water share per individual will shrink to 500 milliliters from today's 600 milliliters' share given the deteriorating quality of surface groundwater, Minister Mohamed Abdul Ati told a high-level Water for Sustainable Development conference, held in Dushanbe, Tajikistan.
Currently, there is an annual gap between water needs and available water. The gap is overcome by reusing wastewater and by relying on surface groundwater in the country's Delta and Wadi areas.
The Egyptian minister added that his country is a prototype model of the developing countries facing imminent climate changes on top of other major economic, social and environmental threats, Anadolu reported.
He noted that Egypt is threatened by rising sea level, saltwater intrusion into aquifers, in addition to the areas prone to drowning due to their low geographical levels such as the Nile Delta.
Millions of people in the Nile Delta are at risk of displacement and of losing their investments which are worth billions of dollars. The climate change on Egypt's northern coast is expected to lead to the migration of at least five million people from the Nile Delta if appropriate measures are not taken.
Climate change studies predict a reduction in the productivity of two main crops in Egypt, wheat and maize, by 15 and 19 per cent respectively by 2050. Moreover, about 15 per cent of the most arable land in the Nile Delta is expected to be salty, Abdul Ati said.
Given the country's complex situation, Egypt cannot afford to lose its historical rights of the Nile water's share, the minister said, adding that it is impossible to accept the Egyptian people's dying of thirst and famine.
The Egyptian minister pointed out that cooperation with the Nile basin countries must be based on mutual benefit and not harming others.
Cairo fears that the Ethiopian Renaissance Dam could negatively affect the flow of its annual share of Nile water, Egypt's main water source.
Ethiopia says that the dam will have many benefits, especially in the production of electricity, and will not hurt the downstream countries, Sudan and Egypt.
This work by Middle East Monitor is licensed under a Creative Commons Attribution-NonCommercial-ShareAlike 4.0 International License
—-
Appendix:
S Jeffress Williams and Nabil Ismail, " Climate Change, Coastal Vulnerability and the Need for Adaptation Alternatives: Planning and Design Examples from Egypt and the USA
," J. Mar. Sci. Eng. 2015, 3, 591-606; doi:10.3390/jmse3030591
Nile Delta Coast and 2010 Storm Effects
The coastal flooding in Alexandria on 12 December 2010 is a striking example of the more progressive severity of events since 2003. Egypt was hit by strong winds, exacerbated by heavy precipitation, up to 60 km/h with 10 h duration. These weather conditions resulted in waves of ~7 m height with a surge of 1.2 m, which forced the closure of Alexandria harbor. The typical significant wave height is 1–1.5 m. Maximum wave height during storm conditions averages 4.5 m. Typical values of storm surge on the delta coast are 40–50 cm. The storm had profound destructive effects on Alexandria, Abu Qir Bay as well as on shorelines between the two river Nile promontories, Rosetta and Damietta.
A comprehensive program has been underway since 1970 to gather data related to coastal erosion along the Nile Delta shore. Review of major coastal problems and general description of the recommended protective measures to address these problems are in the coastal Master Plan for Phase I. . .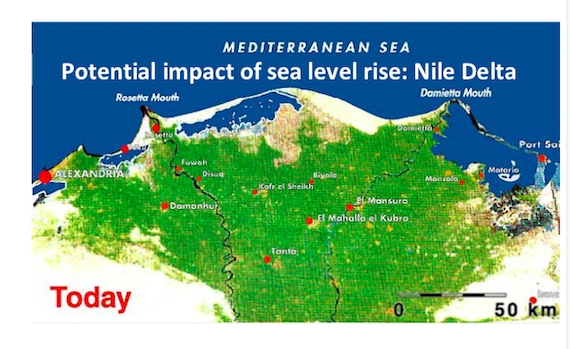 Egyptian Delta Today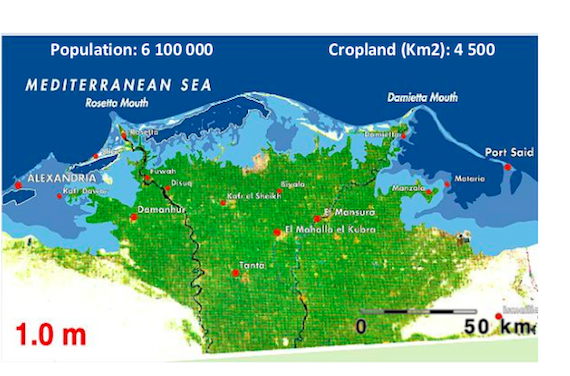 Egyptian Delta after 3 feet of sea level rise (expected by 2100)
(- Creative Commons License)