El Paso (United States) (AFP) – Children separated from their parents at the US-Mexico border "cry and scream" for their mothers, reaching out for them through the chain-link pens where they are being held, a pediatrician who has visited several Texas processing centers said in an interview.
Marsha Griffin, who has monitored conditions on the Texas border with Mexico for a decade, described her horror at what she found.
Approaching one facility, she said she heard what sounded like children playing or laughing.
"But when they opened the door, we saw around 20 to 30 10-year-old boys in one of these chain-link enclosures, and they were crying and screaming and asking for their mothers," she told AFP.
Their mothers, held in another enclosure just 15 meters (yards) away, were close but not close enough to console their children.
"Some of the mothers could see their children but couldn't get near to them, some of them couldn't see them. And the children were reaching their hands through the chain-link fences, crying and trying to reach out to their mothers," Griffin said.
"It was horrifying," she said.
– Desert camp –
Family separation is not new, but in the past it has been left to the discretion of border patrol agents.
Then President Donald Trump's administration embarked on a new "zero tolerance" policy in April, and since then the numbers of separations have soared.

GETTY/AFP / JOE RAEDLE. Children and workers are seen June 19, 2018 at a tent encampment recently built for migrant children near the border in Tornillo, Texas.
Since April 19, more than 2,300 children have been separated from their parents, according to official figures.
Immigrants who enter the United States illegally across the Mexico border, as well as those seeking asylum, are sent to a border patrol "processing center."
There, they are separated by age and gender — with young siblings split up — and put in cage-like enclosures for up to 72 hours, until their case is resolved or the children are sent to shelters run by the Department of Health and Human Services.
But as these centers begin to overflow with new arrivals of children separated from their parents, new government solutions are emerging.
Most recently, authorities have built a camp for "unaccompanied" children in the austere Chihuahua desert near Tornillo, Texas. According to immigration lawyers, separated children are routinely reclassified as unaccompanied minors.
In this new camp, enclosed by numerous fences, there are at least 18 white tents. For now, it houses 16- and 17-year-old boys, with its 360 beds expected to reach 4,000. A delegation of US mayors will visit the facility on Thursday.
– Toxic stress –
The outcry has been so great that Trump, until now an unyielding defender of the anti-immigrant crackdown, signed an executive order to put a stop to the practice.
The US House of Representatives also is planning to vote Thursday on a bill that would keep families together while they are being processed by the courts.
Meanwhile, doctors warn that separation can cause "toxic stress" in detained children, among them minors who travelled alone, and others separated from their parents.
Griffin confirmed to AFP that even toddlers and babies are being held.
"Separating children from their parents contradicts everything we stand for as pediatricians," said the president of the American Academy of Pediatrics (AAP), Colleen Kraft.
The AAP said in a statement that "toxic stress, which is caused by prolonged exposure to heightened stress, has detrimental short- and long-term health effects … that can contribute to chronic conditions like depression, post-traumatic stress disorder and heart disease."
"These children go through a process of toxic stress and trauma, because they don't know what's going to happen to them and they are not with their primary caregiver," Griffin said.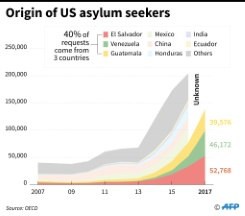 AFP / Cecilia SANCHEZ. Origin of US asylum seekers.
As a result, pediatricians are calling for these centers to employ specialists trained in childcare, to comfort children and explain what is happening — but it's a struggle to get the message across.
"When we tell that to the agents, they get upset," Griffin explained. "They say this is not their work, they are law enforcement, they don't have time for this."
As pediatricians, "we know the severe damage this is causing right this minute on hundreds and hundreds of children," she added.
"I think we are better than that. As a country, certainly we hold all children are valuable."
Featured Photo: US Customs and Border Protection/AFP/File / Handout. Detained immigrants are separated by chain-linked fencing according to age and gender — with young siblings split up — for up to 72 hours.