Los Angeles (AFP) – Otilia Asig-Putul's voice breaks when she recalls the interminable 45 days she was separated from her son.
The nightmare began when she crossed the Mexican border into the United States to seek political asylum during the "zero tolerance" policy imposed by US President Donald Trump.
She had completed a long and exhausting trip from Guatemala City, accompanied by her 11-year-old son, whom she is calling "Geremy," and a nephew.
She left behind three other children: boys of 10 and four, and a girl aged six. She had separated from her husband, who stopped giving her money, and decided to emigrate to the US in order to be able to support the children better.
She offered few details of the trip, though she said she came with other families — not in the infamous immigrant caravan that Trump warned about — and that they were helped by "a guy."
At a border post in San Luis, Arizona, they turned themselves in to authorities, the first step to requesting asylum.
It was a hot day in May, as both Otilia and Geremy remember well.
Immigration officers placed them in a car; its windows were closed tight.
"It was hot, so hot," the 31-year-old mother told AFP in a telephone interview. "I didn't know what to do. I started crying."
They were the first tears she would shed in the long and painful days to follow — but not the last.
"I never imagined what was going to happen," said the housewife, who has been studying to become an accountant.
"If I had known it was going to turn out like this, how would I ever have put my son's life at risk?"
– 'Say goodbye to your son' –
Otilia and Geremy were moved from the blistering heat of the car to what migrants call "la hielera," or the cooler, a jail run by the federal authorities.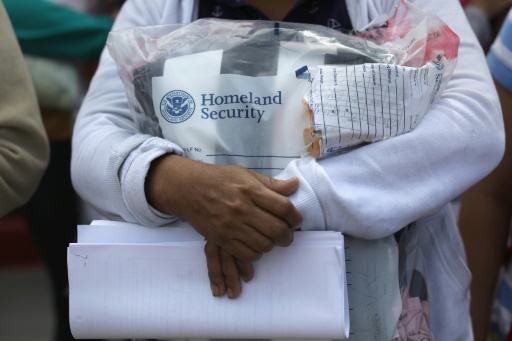 GETTY IMAGES/AFP/File / JOHN MOORE. Central American immigrants are freed from US custody in a Texas facility, pending future immigration court hearings.
"They kept us for three days in the cold, on the floor, and gave us nothing," she said. "The officers made fun of us in English."
Geremy said he has one image etched in his memory from those first days in captivity: "They took her away chained at the feet, at the hands, and at the belt."
"I felt very bad, I started to cry," the boy recounted.
It was worse when the immigration official told Otilia to "say goodbye to your son."
"He started crying too and we told each other goodbye."
She was sent to the Eloy detention center in Arizona, while he was taken north to Chicago, 1,750 miles (2,800 kilometers) away.
"I didn't know what to do," Otilia said. "What if I was deported? How would I know where my son was? I was very scared."
In the shelter in Chicago, Geremy was attacked by a 14-year-old boy and suffered a head injury that required hospital treatment.
The Nexus Human Rights law firm, which took up the case, has sued the shelter for negligence.
"My social worker treated me badly," the boy said. "She did not want to have anything to do with me."
– Finally, a reunion –
With the help of other detainees, Otilia was able to figure out where her son had been taken and speak to him on the phone.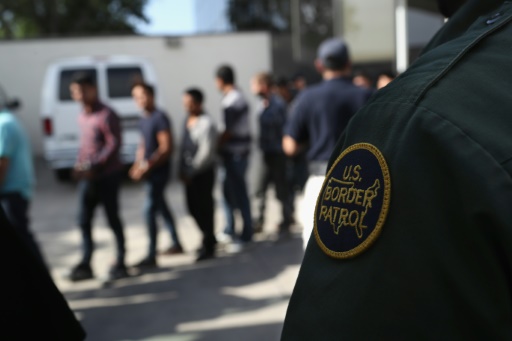 GETTY IMAGES/AFP/File / JOHN MOORE. Undocumented immigrants, wearing shackles, are seen in a detention center in McAllen, Texas.
"I felt sad, but he was strong. I was the only one telling him to be brave, that everything would turn out in the end."
She was freed a month later after making bail of $20,000, which Nexus paid after deciding to represent her pro bono. That allows Otilia to remain in the US until her asylum application is resolved.
Nexus represents about 60 of the more than 2,500 cases of children separated from their parents or relatives at the border in the few weeks the policy was in effect.
Nexus finally managed to get Geremy released by late June.
Now he and his mother live with the boy's paternal aunt in Miami Beach, and her son — the nephew they crossed over with.
Together — free at least — Otilia and her son ponder the future.
Nexus said she will not be deported unless an immigration judge orders her removed.
A first priority is to get a job, Otilia says.
"I left my three children behind and I have to fight for them and fight until the end."
Meanwhile, she hopes Geremy will work hard to have a better future of his own.
"For all that we've been through," she said, "it will be worth it."
Featured Photo: US Customs and Border Protection/AFP / Handout. This recent photo from the US Customs and Border Protection agency shows border crossers waiting to be processed at a facility in McAllen, Texas.