Washington (AFP) – Tensions are mounting between Donald Trump and Iran — the US president's raw tweet threatening Tehran was met Monday with a similarly bilious reply, upping the ante in the high-stakes game of diplomatic chicken.
Trump's tweeted warning late Sunday to Iranian President Hassan Rouhani — all in capital letters, the digital equivalent of shouting — sparked questions about Washington's strategy towards the Islamic republic.
The US is regularly suspected of backing the idea of regime change, but analysts say its current stance may simply be an attempt to pivot after a week of dire headlines over Trump's much-maligned summit with Russia's Vladimir Putin and a relative lack of progress on North Korea.
The saber-rattling began when Iranian President Hassan Rouhani cautioned Trump not to "play with the lion's tail," saying that conflict with Iran would trigger the "mother of all wars" — prompting the furious salvo from the US leader.
The Republican leader's response was reminiscent of the belligerent tone he took with North Korea last year.
"NEVER, EVER THREATEN THE UNITED STATES AGAIN OR YOU WILL SUFFER CONSEQUENCES THE LIKES OF WHICH FEW THROUGHOUT HISTORY HAVE EVER SUFFERED BEFORE," Trump warned Rouhani on Twitter.
"WE ARE NO LONGER A COUNTRY THAT WILL STAND FOR YOUR DEMENTED WORDS OF VIOLENCE & DEATH. BE CAUTIOUS!"
A few hours later, Iranian Foreign Minister Mohammad Javad Zarif fired back.
"COLOR US UNIMPRESSED," Zarif wrote in English, mimicking Trump's caps-lock message.
"We've been around for millennia & seen fall of empires, incl our own, which lasted more than the life of some countries. BE CAUTIOUS!"
While Trump's "tough stand" was hailed by Israeli Prime Minister Benjamin Netanyahu, it also provoked an avalanche of questions about its exact meaning and impact.
When asked about the president's motivations, White House spokeswoman Sarah Sanders said he was focused on "the safety and security of the American people" and ensuring Tehran did not acquire nuclear weapons.
But she seemed to downplay concerns about his aggressive posturing, saying Trump has been "pretty strong since day one in his language toward Iran."
– Concerns? 'None at all' –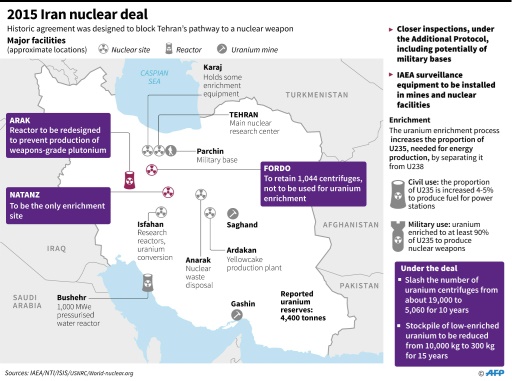 AFP / AFP. Map and factfile on the 2015 Iran nuclear deal — US President Donald Trump withdrew from the accord in May 2018.
In May, Trump — who has made Iran his public enemy number one — announced the US withdrawal from what he called a "defective" multinational nuclear deal with Tehran, and moved to reinstate punishing sanctions.
For some analysts in Washington, Trump's harsh words were a political smoke screen.
"Frustrated by no progress w/NK; angered by negative push back post Helsinki, Trump is looking to vent, act tough, and change channel," said Aaron David Miller, a former US diplomat and Middle East negotiator for several administrations.
"If nothing else, Trump's ALL CAPS tirade reflect(s) reality that US has no Iran policy. Empty/ridiculous US rhetoric in response to same from Iran."
After speaking with European officials about Trump's warnings, International Crisis Group president Rob Malley said diplomats on the continent were not "really taking it seriously."
In Europe, Trump's tirade is seen as a way to distract from controversy over his summit with Putin and special counsel Robert Mueller's investigation into possible collusion between the Trump campaign and a Russian effort to sway the 2016 election.
But the president stood by his remarks. Asked by reporters at the White House whether he had concerns about provoking tensions with Iran, Trump said "None at all."
– Saber-rattling –
While US ties with Iran and North Korea are different on several fronts, the words used by Trump to denigrate Tehran are similar in tone to those he directed last August at North Korean leader Kim Jong Un.
Several observers noted the similarities between the threats on Iran, and Trump's "maximum pressure" campaign towards Pyongyang.
In September 2017, in his first speech to the United National General Assembly, Trump threatened to "totally destroy" North Korea.
Nearly a year on, Trump has met Kim — who he once called "Rocket Man" on a "suicide mission" — for a landmark summit, and follow-up talks are underway between the two sides.
However, concrete progress has been scant so far on denuclearization of the Korean peninsula.
Democrats have expressed alarm about Trump's Iran bluster.
"Reckless Iran rhetoric creates risks — especially if words are unbacked by actionable strategy," Senator Richard Blumenthal said.
Featured Photo: AFP/File / Nicholas Kamm, HO. A war of words has erupted between US President Donald Trump and Iranian President Hassan Rouhani.