By Thomas WATKINS | –
Washington (AFP) – A year since President Donald Trump unveiled his strategy for Afghanistan, a fresh wave of violence and bloodshed has assailed the war-torn nation and overshadowed some small glimmers of progress.
Each successful attack represents a massive setback not just for the Afghanistan government, which is pushing for peace talks with the Taliban, but also for the Pentagon, where officials insist things are finally improving.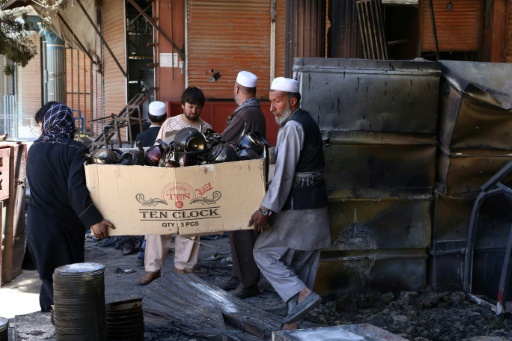 AFP / ZAKERIA HASHIMI. Shopkeepers salvage what they can from a shop after the Taliban burned a market area in the city of Ghazni.
In just the last few days, the Taliban and the Islamic State group have unleashed a series of deadly operations where civilians have borne the brunt of the bloodshed, including an IS attack inside a school that killed dozens of students.
Before that, Taliban militants launched a high-profile attack on the strategic city of Ghazni, forcing US-backed security forces to struggle for days to repel them, and challenging the Pentagon narrative that the Taliban is struggling to effectively target larger cities.
Such headlines are surely not what Trump envisioned when on August 21 last year he announced that — despite his instinct to pull out — he was doubling down on the US commitment to Afghanistan and indefinitely prolonging America's longest war.
Fed up with President Barack Obama's notion that America could somehow pull out of Afghanistan without leaving a security vacuum, military brass welcomed Trump's decision to deploy thousands of additional US troops, loosen rules of engagement and cancel the promise of a timetabled withdrawal.
"The consequences of a rapid exit are both predictable and unacceptable," Trump said as he revealed his strategy, which also sought to pressure Pakistan do more to tackle the Taliban.
– Looking bleak –
Just months later, the top US commander in Afghanistan, General John Nicholson, claimed the war had "turned the corner" and predicted the Afghan security forces would expand government control of the population from about 64 percent now to 80 percent over two years.
But according to a US government watchdog, the percentage of people under government control has only risen to 65 percent, with insurgent groups holding steady.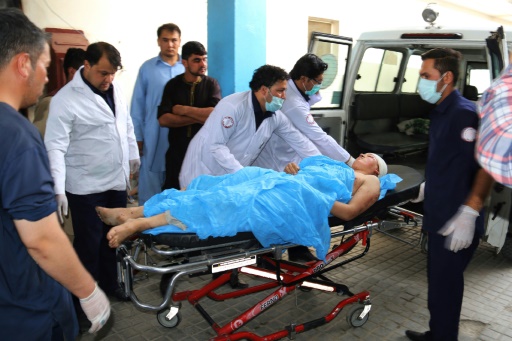 AFP / – Afghan volunteers carry an injured youth on a stretcher to a hospital following a suicide attack in Kabul.
"We've turned so many corners in Afghanistan that we've probably made multiple circles," Bill Roggio, an Afghanistan expert and senior fellow at the Foundation for Defense of Democracies, told AFP.
"Things look pretty bleak," he said.
"Without a US presence in Afghanistan you would quickly see large areas of the country… fall under the control of the Taliban," he added, pointing to the horrendous casualty rates and other problems that have beset the Afghan security forces.
A core part of Trump's Afghanistan plan was to force the Taliban to the negotiating table and to support peace talks between Kabul and the insurgents.
An unprecedented country-wide ceasefire between the Taliban and government forces in June gave some relief to civilians and sparked hopes the truce could clear the way for talks to end the war.
– Game changer –
Alice Wells, the senior official for the State Department's Bureau of South and Central Asia Affairs, reportedly met with Taliban officials last month in Qatar.
And on a visit to Kabul last month, US Secretary of State Mike Pompeo said there was now hope for peace talks between the Afghan government and the Taliban.
"Many of the Taliban now see that they can't win on the ground militarily. That's very deeply connected to President Trump's strategy," Pompeo said.
US-backed Afghan President Ashraf Ghani hailed Trump's strategy as a "game changer."
However, the recent attacks have led many to question how such negotiations could move ahead.
Observers have suggested the Taliban may be trying to strengthen their position before any potential talks.
"This is what we've seen before (in) insurgencies, when there's going to be a negotiation or a cease-fire, trying to up the ante," Defense Secretary Jim Mattis said Thursday.
White House spokeswoman Sarah Sanders said the US remains committed to finding a political solution to end the Afghanistan conflict.
"We're exploring all avenues for dialogue in close coordination with the Afghan government, and we're going to continue to do that," she said.
Still, amid the chaos, one sign of progress is that the Taliban have been unable to hold cities they've invaded for more than just a few days at a stretch.
But signs are emerging that Trump is growing frustrated with the pace of progress in Afghanistan, where the US taxpayer has already spent more than $1 trillion and American soldiers are still dying.
NBC News reported Friday the president is showing fresh interest in a proposal by Eric Prince, the former head of a controversial private military firm once known as Blackwater.
His idea, loathed by the Pentagon, would essentially privatize the Afghan war by replacing most US troops there with private contractors.
Currently, about 14,000 US troops are in Afghanistan, providing the main component of the NATO mission to support and train local forces.
Featured Photo: GETTY IMAGES NORTH AMERICA/AFP/File / MARK WILSON. President Donald Trump delivers remarks on Americas military involvement in Afghanistan.