Tehran (AFP) – Iranians are hunkering down for the return of US sanctions on Monday with a run on gold and hard currency as they scramble to protect their savings, and sporadic protests over the already troubled economy.
State news agencies reported "scattered protests" of a few hundred people on Thursday in the cities of Shiraz, Ahvaz, Mashhad and Karaj, which police had brought under control.
Videos posted on social media — whose authenticity could not be verified — have shown days of demonstrations in Iran's third city Isfahan and minor protests in the capital on Thursday night.
So far, they have not been on the scale of the violent unrest that gripped dozens of towns and cities in December and January.
But anxiety is everywhere, especially over the collapse of the rial, which has lost nearly two-thirds of its value in six months.
"We are seeing protests and they will continue," said Adnan Tabatabai, head of the CARPO think tank in Germany.
"The establishment knows they are legitimate but my biggest concern is they will be hijacked by groups inside and outside the country and turn violent."
A decision to fix the exchange rate in April and arrest unlicensed currency dealers backfired spectacularly and triggered a boom in the black market.
The consequences have sometimes felt absurd. One expat described having to meet a trader under a bridge in central Tehran to change $2,000 (1,700 euros).
"He told me to wear a red scarf and came up to me whispering: 'Show me the money' like we were in a spy film," she said.
Many wealthy Iranians are leaving the country, while others have been gripped by a bunker mentality, stocking up on provisions, dollars and gold in order to ride out the storm.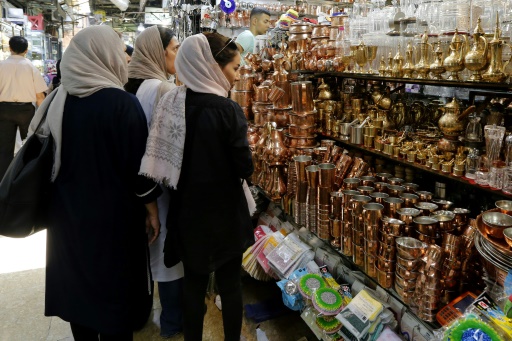 AFP / ATTA KENARE. Iranian women shop at Tehran's ancient Grand Bazaar in Tehran on July 28, 2018.
Customers were cheek-to-jowl in the narrow alleys of Tehran's Grand Bazaar this week.
"People are worried that if they don't buy things today, they won't be available tomorrow," said Ali, who runs a kitchen store in the bazaar, adding that wholesalers were hoarding new stock while they waited to see how the crisis unfolded.
The US walked out of the 2015 nuclear deal in May and is bringing back "maximum pressure" sanctions for most sectors on August 6, and the energy sector on November 4.
Multinational firms that rushed to cash in three years ago — such as France's energy giant Total and carmakers Peugeot and Renault — are already packing up.
– Loopholes –
But many smaller firms are hunting loopholes and counting on protection from European governments who are determined to keep the nuclear deal alive.
"No one really knows how the sanctions will be. The Trump administration is doing that on purpose to keep everyone feeling threatened," said a Western businessman in Tehran working in the oil and gas sector.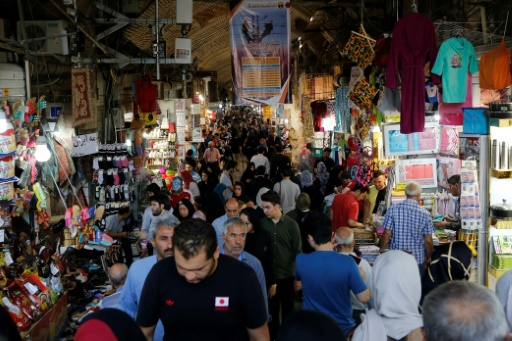 AFP / ATTA KENARE. Iranians walk inside Tehran's ancient Grand Bazaar in Tehran on July 28, 2018.
He said US threats are making some Europeans more furious than afraid.
"I've heard of four German pharmaceutical firms who are looking to come to Iran specifically to piss off the US."
The return of sanctions will make things only slightly harder for them, as major international banks were already too scared of US penalties to work with Iran even before Trump tore up the agreement.
"The nuclear deal was good for the oil sector but didn't help the financial and banking sectors," said Farid Dehdilani, international affairs adviser for the Iranian Privatisation Organisation.
"We did everything we could to attract foreign investment but without the banks it was limited. The US election in 2016 was always a cloud over the agreement, and in the end it produced the worst possible result."
– Hitting oil sales –
A major blow for Iran will be the loss of oil sales, which Facts Global Energy analysis firm says could drop from 2.4 million barrels per day to as low as 700,000 by the end of the year.
Some countries like India, China and Turkey say they are too dependent on Iranian crude to obey US orders, but many refiners, particularly in Europe, are already cutting back.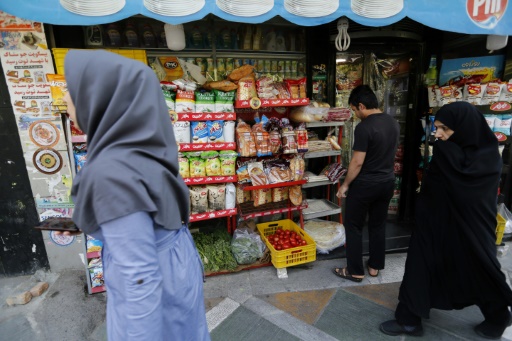 AFP / ATTA KENARE. Iranians walk past a food shop in the capital Tehran on July 31, 2018.
Ironically, Iran's government may regret cracking down on black market operators that facilitated oil sales during the last sanctions regime, such as billionaire Babak Zanjani who was sentenced to death for corruption in 2016.
"Because (President Hassan) Rouhani went after his opponents and targeted people using the black market… now the US Treasury knows exactly how they bypassed the system," said Mohammad Reza Behzadian, former head of the Tehran chamber of commerce.
There have been positive signs, with a new central bank governor pledging fresh currency policies in the coming days, and an unprecedented transparency push that has seen dozens of arrests of profiteers with political connections.
But many say it is all too late, with the government never putting a convincing economic plan together when it had the chance.
"It failed to take advantage when conditions were good," said Behzadian. "It's much more difficult to act in a crisis."
Featured Photo: AFP / ATTA KENARE. A man withdraws Iranian Rials from an automated teller machine in the capital Tehran on July 31, 2018 Iran's currency traded at a fresh record-low of 119,000 to the dollar on today, a loss of nearly two-thirds of its value since the start of the year as US sanctions loom.