by Sebastian Smith | –
Washington (AFP) – President Donald Trump said Monday he was apologizing on behalf of the whole country to his new conservative Supreme Court justice after one of the most contentious confirmation processes in US history.
At a White House swearing-in ceremony, Trump stood next to Justice Brett Kavanaugh and said he'd been "proven innocent" of the sexual assault allegations that threatened to derail him in a Senate confirmation process revealing the depth of the left-right split tearing through American politics.
"On behalf of our nation, I want to apologize to Brett and the entire Kavanaugh family for the terrible pain and suffering you have been forced to endure," he said at the ceremony in the ornate White House East Room.
Trump showed he still considers the nomination row a political battle. Before the ceremony, he'd described opposition Democrats as "evil" and the sexual assault claims as a "hoax."
But after being sworn in, Kavanaugh struck a markedly more conciliatory tone.
He told an audience that included the entire Supreme Court and a Who's Who of Republican movers and shakers that he had "no bitterness" and would never bring politics into the top court.
"The Supreme Court is a team of nine. And I will always be a team player on the team of nine…. The Senate confirmation process was contentious and emotional. That process is over," he said.
– Fight for votes –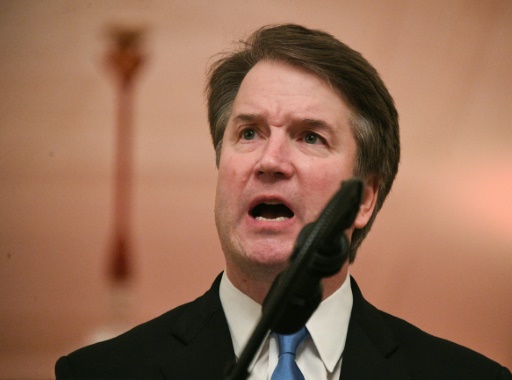 AFP / Jim WATSON. Kavanaugh speaks in the White House East Room after being sworn into office.
Trump sees his success in getting Kavanaugh onto the court — tilting the crucial body to the right for potentially years to come — as one of the major successes of his turbulent two-year administration.
It also comes in the final run-up to midterm elections on November 6.
The president — whose Republicans fear losing at least the lower chamber of Congress — predicted that Democrats would pay for their attempts to block the confirmation, especially during the lurid debate over decades-old sexual assault allegations.
"I think a lot of Democrats are going to vote Republican," he said in his earlier comments outside the White House. "I think you're going to see a lot of things happening on November 6."
Democrats had fought tooth and nail to stop Kavanaugh's candidacy, claiming that the accomplished, conservative-minded judge was not suited to the Supreme Court.
Then, just as his confirmation seemed inevitable, 11th-hour allegations emerged that Kavanaugh sexually assaulted a 15-year-old girl while at high school and exposed himself to a female classmate at an alcohol-fueled dorm party at Yale University.
No concrete evidence was produced to back up the searing accusations, which Republicans described as a dirty tricks campaign.
After an extra FBI probe — which media reports say was drastically curtailed by the White House — also found nothing new, Kavanaugh was finally voted into the coveted post.
Kavanaugh officially took the oath in a more hurried, private procedure Saturday, but the White House version late Monday gave the Trump administration a chance to perform the equivalent of a victory lap on live television.
– Lighting a match –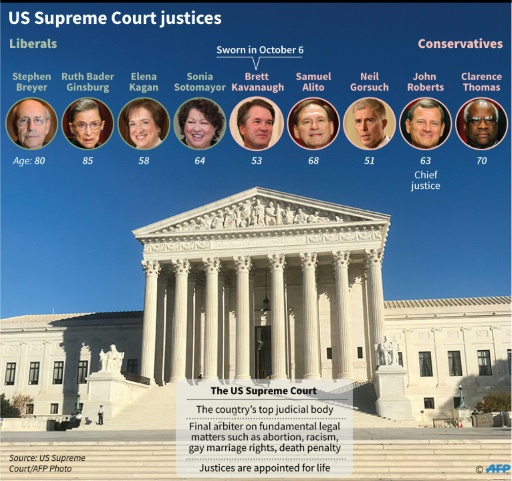 AFP / Gal ROMA. The make-up of the US Supreme Court.
Trump has repeatedly said that putting conservatives on the court — Kavanaugh is his second appointment — was among the top goals of his presidency.
"I've always been told it's the biggest thing a president can do and I can understand that," he said.
He called the Kavanaugh row "a disgraceful situation brought about by people who are evil," and said that the result was "very exciting."
"I'm doing rallies and people are loving that man and loving that choice," he said.
In reality, Kavanaugh's confirmation lit a match under existing tensions ahead of the midterm elections.
The two-vote margin of victory in the Senate made it the closest Supreme Court confirmation vote since 1881 — and by far the most contentious since Clarence Thomas in 1991. Only one Democrat voted for Trump's nominee.
Featured Photo: AFP / Jim WATSON. Brett Kavanaugh, left, is sworn in as associate justice of the US Supreme Court by his predecessor Anthony Kennedy (R) before wife Ashley (2nd-R), daughters Margaret (2nd-L) and Elizabeth (C), and US President Donald Trump on October 8, 2018.