Istanbul (AFP) – Turkey on Saturday accused Saudi Arabia of failing to cooperate with a probe into the disappearance of a journalist inside its Istanbul consulate, as US President Donald Trump threatened Riyadh with "severe punishment" if it turns out he was killed.
Comments by Turkish Foreign Minister Mevlut Cavusoglu represented a hardening of Ankara's hitherto circumspect tone over the the case of Saudi journalist Jamal Khashoggi, who has not been seen since since he stepped inside the consulate on October 2.
Turkish officials have said they believe Khashoggi was killed inside the consulate and lurid claims have been leaked to media that he was tortured and even dismembered.
Saudi insists Khashoggi, a Washington Post contributor whose writings have been critical of powerful Crown Prince Mohammed bin Salman, left the building safely but has yet to offer visual evidence of this.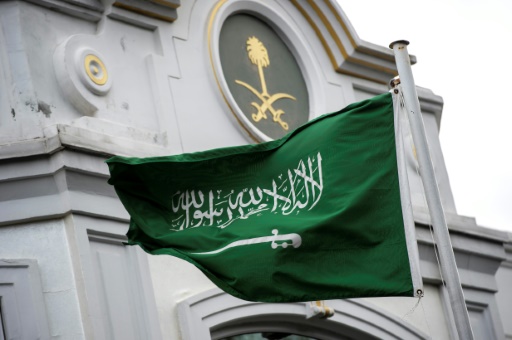 AFP / Yasin AKGUL. The missing Saudi journalist disappeared after entering the Saudi consulate in Istanbul.
The outcry surrounding his disappearance threatens to not just harm brittle Turkey-Saudi relations but also alarm the kingdom's supporters in the West and tarnish the reform drive spearheaded by the crown prince.
"We're going to get to the bottom of it and there will be severe punishment," Trump told CBS's "60 Minutes", according to an extract of an interview that was released on Saturday.
"As of this moment, they (Saudi) deny it and they deny it vehemently. Could it be them? Yes," Trump said in the interview, which was conducted on Thursday.
But he again voiced his reluctance to limit US arms sales to the kingdom, which analysts see as one of Washington's key potential levers.
– 'We want cooperation' –
Ankara had said that a search of the consulate had been agreed but this has yet to materialise amid reports the two sides are at odds over the conditions of entry into what is Saudi sovereign territory.
"We still have not seen cooperation in order to ensure a smooth investigation and bring everything to light. We want to see this," Cavusoglu said.
He said Riyadh must let Turkish "prosecutors and experts enter the consulate" to carry out their investigation.
"Where did he go missing? There, at the consulate," the Turkish foreign minister said, adding that "talks are continuing" with Saudi officials in a bid to resolve the impasse.
A Saudi delegation was in Turkey and due to have talks this weekend in Ankara and take part in a working group on the disappearance, official Turkish media said.
Khashoggi's fiancee Hatice Cengiz, who was waiting outside the consulate when he went inside to sort out marriage paperwork, echoed the call, urging Saudi on Twitter to "officially reveal what happened" to him.
Interior Minister Prince Abdel Aziz bin Saud bin Nayef slammed claims that the kingdom ordered Khashoggi to be killed inside the consulate as "baseless allegations and lies".
Ankara has so far trodden carefully in the controversy, with the most sensational allegations splashed in the pro-government press but President Recep Tayyip Erdogan has so far stopped short of directly accusing Riyadh of wrongdoing.
Turkey and Saudi have an uneasy relationship, with disputes over the ousting of the Islamist government in Egypt and the blockade imposed on Ankara's ally Qatar.
– 'Recorded by Apple Watch' –
The latest claims reported by the pro-government Sabah daily said that Khashoggi had been wearing an Apple Watch when he entered the consulate which was synced with an iPhone left outside with his fiancee.
It said that the watch had recorded what happened inside the consulate and this was uploaded to his cloud, although Saudis sought to partially delete it.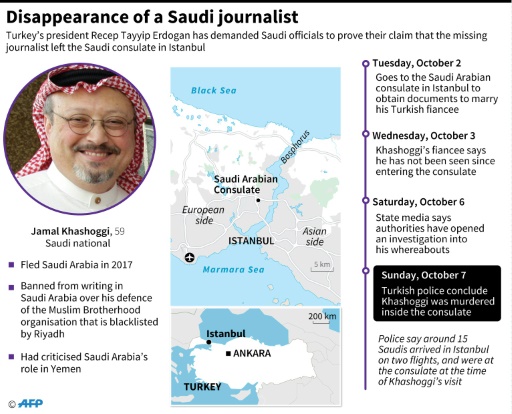 AFP / Thomas SAINT-CRICQ. Disappearance of a Saudi journalist.
"The moments of Khashoggi's questioning, torture and killing were recorded on the Apple watch," said Sabah.
Analysts say that Turkey is hoping to find support from its NATO ally the United States in the case, although Ankara-Washington have been in crisis over the detention for the last two years of a Protestant pastor.
But the pastor, Andrew Brunson, was freed on Friday and allowed to fly home by a Turkish court, in a move that could help normalise ties.
Meanwhile Prince Mohammed's big October conference — the Future Investment Initiative dubbed by media as the "Davos in the Desert" after the annual conference in the Swiss resort — has suffered a litany of cancellations over the controversy.
Key business figures like the chief executive of ride hailing app Uber — into which the Saudi's own investment fund injected money — are no longer showing up while media groups like the New York Times, Financial Times and Bloomberg have pulled their sponsorship.
US Treasury Secretary Steven Mnuchin said Saturday that he still planned to attend, as did IMF chief Christine Lagarde although she said she was "horrified" by the case.
Featured Photo: AFP/File / MOHAMMED AL-SHAIKH. Saudi Arabia has hit out at accusations Jamal Khashoggi was murdered inside its Istanbul consulate.