Dubai (AFP) – The murder of Saudi journalist Jamal Khashoggi has triggered a diplomatic and public relations crisis for Saudi Arabia, but little may change for the victims of the Yemen war.
On Wednesday, at least 24 civilians were killed in strikes on Yemen's Hodeida province, the Red Sea district at the heart of a fight between a regional military alliance led by Saudi Arabia and Yemen's Iran-backed Huthi rebels.

AFP / ESSA AHMED. The conflict in Yemen has struggled to garner international attention even as 14 million of its citizens face imminent famine.
Among the locations hit was a facility where labourers were packing vegetables, the United Nations said.
But the bombings went largely unnoticed by statesmen around the world.
Saudi Arabia and its allies are mired in the conflict in Yemen, which has struggled to garner international attention even as 14 million of its citizens face imminent famine.
In September alone, the country was hit by at least 154 air raids, according to the Yemen Data Project.
Children have been killed in air strikes, while blockades and corruption leave entire cities unable to find food and clean water.
Saudi Arabia is now under nearly unprecedented scrutiny following the murder this month of Khashoggi, the former royal court insider-turned-critic who wrote a column for the Washington Post.
But analysts say it is unlikely the Khashoggi killing will turn the spotlight on Saudi Arabia's broader policies — leaving Yemenis fighting to survive war, famine and a failed economy that may prove as fatal as the violence.
– Killing, maiming children –
"Saudi Arabia has been called out on the murder of Jamal Khashoggi more than they have been over the past years of the Yemen war," said Farea al-Muslimi, associate fellow at Chatham House.
"For a government, it's an easy public relations play — even if you yourself have been involved for years in Yemen," Muslimi said.
Under the order of Crown Prince Mohammed bin Salman — now heir to the Saudi throne, then his country's defence minister — Saudi Arabia led a regional coalition into Yemen in 2015 to aid the government in its fight against the Huthis.
While both sides stand accused of acts that could amount to war crimes, Riyadh and its allies have been blacklisted by the UN for the killing and maiming of children.
The Saudi-led alliance also controls Yemen's airspace and has imposed a blockade, fluctuating in severity, on the country's ports, a measure they say is aimed at curbing the smuggling of Iranian arms to the Huthis.
But it is unlikely the crown prince — whose country is also the world's top donor to Yemen — will be called out for his role in the war there, analysts say.
"Jamal's murder is a clear-cut scenario… Western states had no immediate role in this," Muslimi told AFP.
"Yemen, however, is complex. There's no black and white. It requires thinking."
Since the Saudi-led coalition intervened in the conflict, nearly 10,000 civilians have been killed, according to the World Health Organization.
Other rights groups estimate the toll could be as high as 50,000.
– Each victim 'worthy' –
Europe and the United States supply over 98 per cent of weapons imported by Saudi Arabia, according to the Stockholm International Peace Research Institute.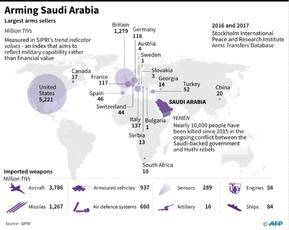 AFP / John SAEKI. Europe and the United States supply over 98 per cent of weapons imported by Saudi Arabia, according to the Stockholm International Peace Research Institute.
While Germany last week said it had suspended its arms sales to Saudi Arabia over the Khashoggi murder, French President Emmanuel Macron initially dismissed the idea as populist.
Macron later said he backed a "coordinated European position" on potential sanctions.
Washington has likewise refused to let go of Saudi Arabia as a trade partner which had, according to President Donald Trump, bought "$110 billion" in arms from the United States.
In August, reports emerged that US firm Lockheed Martin had manufactured the laser-guided Mk 82 bomb that hit a bus in rebel-held northern Yemen, killing 40 children.
Under Trump's predecessor Barack Obama the US military expanded its operations in Yemen, home to Al-Qaeda in the Arabian Peninsula.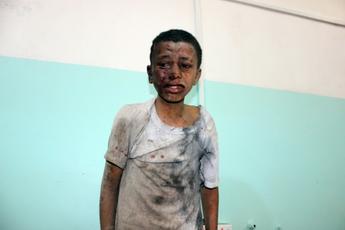 AFP/File / STRINGER. A Yemeni boy at a hospital after he was wounded in an air strike in Saada province on August 9, 2018, which killed 40 children.
And since Saudi Arabia and its allies intervened in Yemen in 2015, US armed forces have provided aerial targeting assistance, intelligence sharing, and mid-flight aerial refuelling to the Saudi-led coalition.
Khashoggi's role writing for one of the US' most high-profile newspapers gave his murder global prominence. But rights groups fear those trapped in a war in which Saudi Arabia plays a central role will remain relegated to the margins.
"Each victim of an unlawful Saudi coalition strike in Yemen is as worthy of concern as a Washington Post columnist," said Kristine Beckerle, Yemen researcher for Human Rights Watch.
"A groom and his wedding party. A child locked in jail. Villagers digging a well. Crowds shopping at a market. All killed or wounded in bombings by the Saudi-led coalition," she said.
"None of these apparent war crimes in Yemen were able to provoke the type of international outrage that the murder of Khashoggi has these past few weeks."
Featured Photo: AFP/File / Ahmad AL-BASHA. Yemenis form a human chain to pass food aid, supplied by the UAE Red Crescent, to mountainous towns on the outskirts of the city of Taiz on October 16, 2018.