Washington (AFP) – Robert Bowers, accused of massacring 11 Jews in a Pittsburgh synagogue, spewed extreme anti-Semitic invective openly on social media, and had 10 guns registered in his name.
Cesar Sayoc, who sent 15 pipe bombs to anti-Trump Democrats and media, tweeted threats to dozens of public figures, including sending a TV commentator a picture of a decapitated sheep.
One week after the Pittsburgh attack, Americans are asking why US law enforcement wasn't aware of either extremist.
The number of violent acts by white nationalists, neo-Nazis, racists and anti-Semites has steadily climbed over the past decade, in recent years killing more Americans than Islamic extremists have.
But security experts say the government refuses to pursue them problem with equal intensity.
"The United States has a problem with far-right extremism and terrorism that we have to face up to," said Peter Singer a security expert at the New America think tank.
"The number of attacks, combined with resistance to talking about the problem, dedicating resources to the problem — it is killing our fellow Americans at a rate greater than even ISIS."
– Over 70% of extremist murders –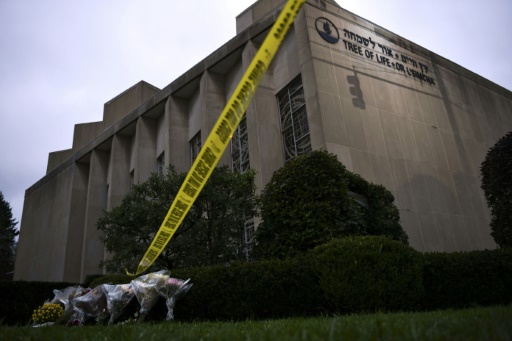 AFP / Brendan Smialowski. Police tape and memorial flowers outside the Tree of Life Synagogue after a shooting there by an alleged right-wing, anti-Semitic extremist left 11 people dead.
The threat from the right has been clear since extremists killed 168 in the bombing of a federal building in Oklahoma City, Oklahoma in 1995.
After the September 11, 2001 Al-Qaeda terror attacks, US law enforcement concentrated their focus to Islamic extremism.
Yet today, more than 70 percent of nearly 300 murders by ideological extremists in the United States in the past decade were by far-right actors, according to data compiled by New America.
In 2017, 20 of 34 such killings were perpetrated by the far right.
In the same October week as the bombs and the synagogue shooting, a white supremacist shot dead two African Americans at a Kentucky supermarket, and a Wisconsin conservative activist was arrested trying to buy radioactive material to kill someone.
Daryl Johnson, formerly a domestic terrorism analyst in the Department of Homeland Security, says there is a conscious political blind spot toward the extremists on the right.
In 2009, he warned in a DHS report of a resurgence of right-wing extremism, after the economic crash and the election of Barack Obama, the first African American president of the United States.
The report drew an intense political backlash, he told AFP. Nobody wanted to hear about the problem, or give it a name. His unit was dissolved.
Since then, significant right-wing shootings, arson and bombings have slowly increased, with Democrats and Republicans both responsible, Johnson said.
The Obama administration feared antagonizing opponents. The Trump administration doesn't want to take aim at supporters.
"Republicans don't want to attack them," said Johnson, now a security consultant at DT Analytics. "That's part of their constituency."
– Charlottesville show of strength –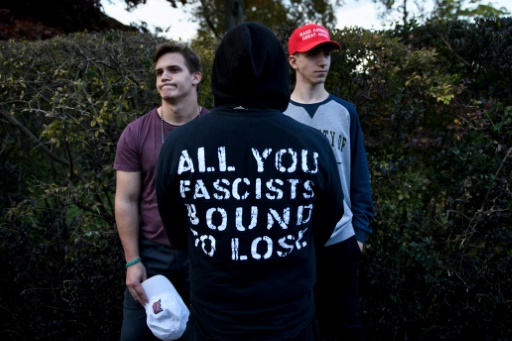 AFP/File / Brendan Smialowski. Trump supporters, faced by an anti-Trump demonstrator (C), watch as other people march past during a rally on October 30, 2018 after a mass shooting at a Pittsburgh synagogue.
As a consequence, last year the far-right made an unprecedented show of strength when white supremacists, neo-Nazis, anti-Semites and others joined hands in the Unite the Right rally in Charlottesville, Virginia.
The rally erupted into brawls with counter-protesters, one of whom was killed by a neo-Nazi.
Rather than criticize the extremists, Trump prevaricated, insisting that "both sides" were to blame and that there were "very fine people on both sides."
"We have the first president in modern history celebrated by these groups, that these groups believe is on message with them. The political tides are with them," said Singer.
After Charlottesville, Democrats in Congress demanded action, but Republicans refused to hold hearings on right-wing extremism.
Democratic Congressman Jerrold Nadler says that after Pittsburgh, Republicans are again avoiding calls to discuss the problem.
"14 pipe bombs mailed in unprecedented political assassination attempt. Deadliest massacre of Jews in US history. Murder of 2 African Americans in KY … All in 1 week," Nadler wrote on Twitter after the Pittsburgh attack.
"All linked by one hateful ideology: white supremacy. We must act."
– Civil liberties issue? –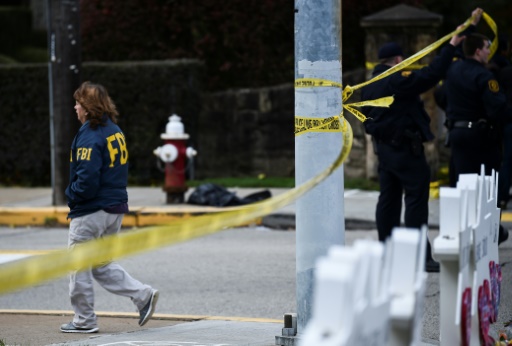 AFP/File / Brendan SMIALOWSKI. The FBI pursues violent extremists of any stripe.
The FBI pursues violent extremists of any stripe. Punishments for hate crimes have gotten tougher, such as the 25-year jail sentence handed to a Texas man recently for burning a mosque.
But the government still will not treat extremism as a singular nationwide threat, critics say.
"There is as much a threat from white supremacists and anti-Semites as there is from Islamic extremists. So resources should be allocated appropriately," said Heidi Beirich, who leads Intelligence Project at the Southern Poverty Law Center, which tracks extremism.
"It's not a question of one or the other; it's both."
The experts say the government has tied its own hands, by being wary of accusations that they are spying on US citizens online.
Monitoring potential jihadists is accepted because their acts fall under the official designation "terrorism." That isn't applied to other ideological extremists.
"There are legitimate civil liberty concerns" about the government monitoring of right-wing extremists, said Beirich. But, she noted, social media is a public place.
People "have no expectation of privacy when they post there," she said.
"If you were to try to look for these people or find warning signs about them, you know where they are."
GETTY IMAGES NORTH AMERICA/AFP / CHIP SOMODEVILLA. White nationalists, neo-Nazis, KKK and members of the "alt-right" march in the Charlottesville, Virginia "Unite The Right" rally on August 12, 2017.