Iraqi MP Ahmad Al-Assadi, senior leader of the Iraqi Construction Alliance, revealed on Friday parliamentarian moves to pressure the Iraqi government to evict US forces from the country.
Al-Assadi said that the previous Iraqi parliament had started the calls, but now the new parliament was calling for a clear timetable for the US withdrawal from Iraq, Arabi21 reported. He added that US forces had entered the country at the request of the Iraqi government for training purposes and assistance in fighting Daesh.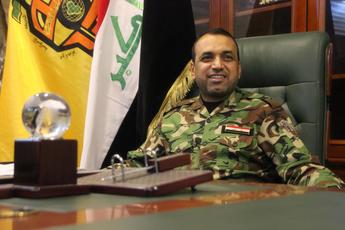 Yet Al-Assadi stressed that: "After the big victory against these gangs [Daesh], the Iraqi government has the right to evaluate the need for American forces to remain on Iraqi soil". He also said that the calls for US forces to leave would be doubled during the next parliamentary term, noting that the parliament was likely to accept the existence of advisors and trainers based only on the need specified by the authorities.
READ: Iraq army says 25 Daesh militants killed in Kirkuk, north
Regarding the position of the government, Al-Assadi said: "The government has the right to estimate its need for advisors and trainers. The parliamentary discussions, which called for revealing the number, places and need for the American forces were not closed".
He stressed however that the parliament is entitled to make the final decision regarding whether US forces remain in Iraq or are asked to withdraw.
This work by Middle East Monitor is licensed under a Creative Commons Attribution-NonCommercial-ShareAlike 4.0 International License.
Featured Photo: Iraqi MP Ahmed Al Asadi, senior leader of the Iraqi Construction Alliance [File photo]