Santa Cruz (Informed Comment) – Published in 1974, Marshall Hodgson's The Venture of Islam was a watershed moment in the study of Islam. By locating the history of Islamic societies in a global perspective, Hodgson challenged the orientalist paradigms that had stunted the development of Islamic studies and provided an alternative approach to world history. Edited by Edmund Burke III and Robert Mankin, Islam and World History explores the complexity of Hodgson's thought, the daring of his ideas, and the global context of his world historical insights into, among other themes, Islam and world history, gender in Islam, and the problem of Muslim universality.
When it appeared in 1978, The Venture of Islam: Conscience and History in a World Civilization was a towering achievement. Initially conceived as a textbook for the Islamic civilization core course at the University Chicago, VOI was that and much more. By casting Islam in a world historical frame and simultaneously asserting the moral vision of Islam, it proposed a radical response to the persistent cultural biases that had stunted the growth of the Islamic studies field. For Hodgson, Islam was not "other," it was a venture alongside others that marked human efforts to bring about a just and moral world.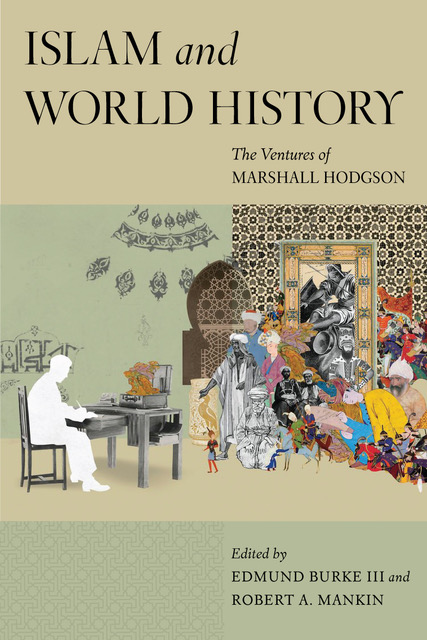 Islam and World History: The Ventures of Marshall Hodgson
Our edited book brings together essays by American, European and international scholars at various stages in their careers concerned with both the intellectual legacy and the enduring relevance of Hodgson's vision. The time is ripe for a Hodgson revival. The world of Islam is vast (1.6 billion persons) and complex beyond the imaginings of most Americans, Hodgson's world historical vision and moral engagement have never been more relevant. The first volume of critical essays on this important world historian and historian of Islam, Islam and World History: The Ventures of Marshall Hodgson will appeal to a broad audience of students, faculty and non-academics interested in locating Islam in a global frame, and in taking it seriously as a major community of faith.
To engage with Hodgson's thought is to apprehend the world of Islam through different spectacles. At present, the very idea of Islam as a monotheistic religion with a moral vision is impossible for most lay persons to imagine. It is also true that the knowledge about Islam uncovered by today's specialists includes a wealth of connections and details that the scholarship of Hodgson's time could scarcely have anticipated. In the meantime, the gap between the academy and today's public sphere has become all but insurmountable. Getting world history right for Hodgson was crucial to rethinking the place of Islamic civilization in the larger context of human history. The two projects, then, were intrinsically inter-related.
Marshall Hodgson was not just an innovative Islamicist, therefore. As the essays in this book demonstrate, he also played a major role in shaping the field of world history. Hodgson's world history began with the notion of the interconnectedness of societies in history and the indivisibility of human experience. From this perspective, the ascendancy of the West was not predetermined by its alleged moral and technological superiority, but drew upon the cumulative interaction of humans across Afro-Eurasia throughout history. Hodgson's humanistic conscience and commitment to a non-racialist, non-teleological world history based upon the brotherhood of all humans provides a powerful argument against epistemological nihilists and moral agnostics.
When Hodgson embarked upon his all too brief career (he died in 1968 at the age of 46) both world history and Islamic history were still deeply embedded in an essentially Eurocentric and present-centered intellectual world. This mental framework made it difficult for contemporaries to grasp the stakes in World War II, the horrors that attended it, or the necessity of the movement of decolonization that followed it. The essays in this book constitute a kind of necessary stock-taking that allow us to grasp Hodgson's brilliance and originality, as well as the extent to which he was still shaped by the ideas and presuppositions that affected his generation.
Read together, the essays in this book to make three things clear; the remarkable world of Hodgson's generation (and the daring of his ideas), the reasons why his writings both on Islam and on world history (after initially eliciting great praise) were pushed to one side and finally, the extent to which his ideas and especially his morally engaged stance are of relevance to us once again today.
In our post-9/11 world, Hodgson's historical vision and moral engagement have never been more relevant. A towering achievement, Islam and World History will prove to be the definitive statement on Hodgson's relevance in the twenty-first century and will introduce his influential work to a new generation of readers.