Ann Arbor (Informed Comment) – Trump's policy in Yemen might best be described as "malign neglect." The US is giving strategic and logistical support, and above all political legitimacy to a brutal war being waged on little Yemen by Saudi Arabia, the United Arab Emirates, and their coalition allies (though that group seems to be shrinking, with the departure of Morocco). The US is not deeply involved in the war, but its very neglect of the issue enables it to go on, disastrously.
In 1969 in the wake of race riots in the US, Daniel Patrick Moynihan, an adviser to Tricky Dick Nixon, coined the term "benign neglect" to describe his preferred way of dealing with race issues. Moynihan argued that giving them attention exacerbated them, so it was actually a mercy to ignore them. Needless to say, this premise is not true.
Just as "benign neglect" did not magically make race conflicts disappear, so malign neglect of Yemen doesn't make the war less bloodthirsty or disruptive.
On Monday Secretary of State Mike Pompeo insisted again that support for the Saudi-led war on Yemen is in the US interest. He also blamed the war on Iran, which is just a propaganda talking point. Iran's involvement is at the margins– the Yemen war is a local affair, pitting some Yemeni factions against others. The Houthis, who rule the north, are mainly armed with US weapons from Yemeni army depots. While they are Zaydi Shiites, they do not practice the religion that dominates in Iran, inasmuch as they do not have ayatollahs and are not Twelvers.
The US Congress even invoked the War Powers Act to forbid Trump from continuing US support for the wretched war, but Trump vetoed the measure, and opponents of the war could not muster the 2/3s needed to override the veto.
While Washington plays political games, the situation has become the most grave humanitarian crisis in the world, outstripping even Syria and Afghanistan.
Democratic Sen. Chris Murphy of Connecticut tweeted yesterday,
During my trip to Middle East, the Yemen humanitarian groups flew into Amann to give me urgent news.

Situation is so dire that 250,000 Yemenis who are currently starving now cannot be saved. And another 10m are on the cusp of that fate.

How can U.S. keep sitting on its hands??

— Chris Murphy (@ChrisMurphyCT) April 29, 2019
Meanwhile, a new United Nations Development Program report is apocalyptic, concluding that 233,000 people have died in the war, with 102,000 combat deaths and 131,000 indirect deaths owing to lack of food, exposure, etc. Over half the deaths consisted of children under 5. Mr. Pompeo, no "national interest" is worth that.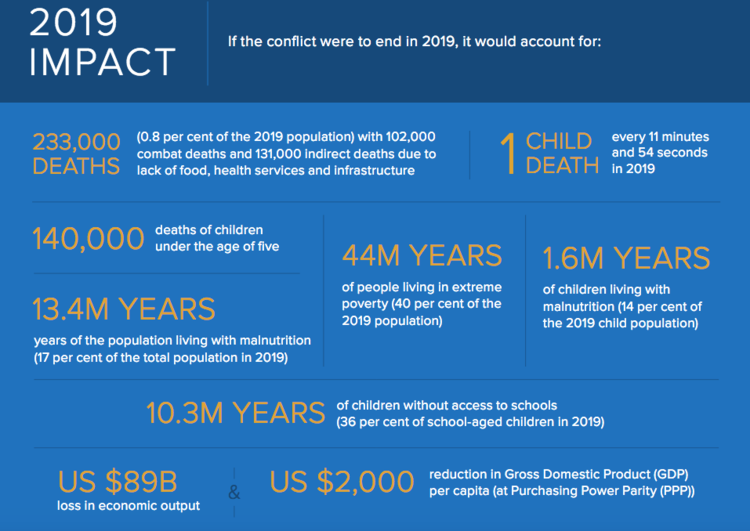 The UNDP says that even if the war ends within a couple of years, Yemen will have lost a whole generation worth of economic and social development. If it goes on another decade, that would set the country back 40 years. And it started out being one of the poorest countries in the world. That is why for the rich to play with its people's lives over paranoid plot lines like Iranian dominance of Sana'a is so monstrous.
—–
Bonus video:
France 24 English: "War in Yemen has set back its development by more than 20 years, UN report says