Ann Arbor (Informed Comment) – Former Australian prime minister Kevin Rudd has called for the break up of his country's media monopolies (almost all major media are owned by just two corporations). One of the two media monopolies he was slamming is Rupert Murdoch's Newscorp. In its incarnation as Fox News, the same company has an outsized influence on American news.
In Australia, Murdoch's Newscorp controls 60 to 70 percent of the metropolitan news market, provoking Rudd, a progressive, to say, "Murdoch has become a cancer, an arrogant cancer, on our democracy."
You may say that Rudd is a disgruntled Labour Party politician. But Murdoch's son James noisily resigned from the Newscorp board this year on the grounds that he couldn't stand the constant campaign of "disinformation."
In the US, Fox has what is often the most-watched cable news station in the country, which it runs as a propaganda mouthpiece for the Republican Party. It systematically takes an anti-science, anti-worker point of view. The station actively lies, falsifies video, and smears people, calling this activity "news." It also owns and operates 17 local TV stations, and has made affiliation agreements with 227. Fox News radio is syndicated to over 500 AM and FM stations throughout the US. Businesses with public waiting rooms often insist on tuning the television to Fox so as to indoctrinate Americans.
Embed from Getty Images
US President Donald Trump (L) is embraced by Rupert Murdoch, Executive Chairman of News CorpMay 4, 2017 in New York, New York. / AFP PHOTO / Brendan Smialowski (Photo credit should read BRENDAN SMIALOWSKI/AFP via Getty Images)
In 1975, the Federal Communications Commission had prohibited owning a major newspaper and a major television station in the same market. But in 2003, George W. Bush's FCC repealed that rule, against which media moguls had lobbied. This change allows Murdoch to own both the Wall Street Journal and The New York Post along with co-owning New York City's WNYW television station. Fox is one of 5 major media conglomerates that own 90 percent of news media outlets in the United States, which is far too few and is certainly a monopoly situation. In the 1980s, 50 major companies owned most of the US media, which was still too few. Now it is 5.
ATT, which bought Time Warner, promised Congress it would not deny other media companies the opportunity to license Time Warner shows. Then it pulled The Big Bang Theory and others from Netflix to launch HBO Max, doing exactly what it promised not to do. That merger should never have been allowed. How was the public in any way served by it? ATT now owns CNN, a major news channel, and has shown how sneaky it is with its properties.
US anti-trust laws, however, are dead, and were buried by our country's plutocracy, in which congressmen and senators need massive campaign contributions to buy advertising on major media, which allows major media billionaires to buy the congressmen and senators and have them gut anti-trust provisions.
It isn't just television. Joseph Shieber at Poynter says that "The 25 largest companies in the industry own two-thirds of all U.S dailies." The big media conglomerates close the outlets that aren't big money-makers, impoverishing local news. Shieber adds, that in US newsrooms, "overall employment fell by about 32,000 jobs nationwide from 2008 to 2017, according to federal figures. That's a nearly 45% decline."
The Murdoch media in Australia consistently support that country's arch-conservative party, sneakily camouflaged by being called the "Liberal" Party.
Newscorp media have also waged a disinformation campaign against climate science, and consistently misreported the extent to which global heating derived from humans burning gasoline, coal and natural gas contributed to the epochal Australian wildfires last year.
Embed from Getty Images
SYDNEY, AUSTRALIA – JULY 17: Rupert Murdoch, Executive Chairman News Corporation looks on during a panel discussion at the B20 meeting of company CEO's on July 17, 2014 in Sydney, Australia. Over 350 business leaders have gathered in Sydney for the 2014 B20 Summit to discuss and determine policy recommendations ahead of the G20 Leaders Meeting in Brisbane later this year. (Photo by Jason Reed – Pool/Getty Images).
In fact, global polling shows that publics everywhere in the world are deeply worried about the climate emergency, but the worry is less in those countries where the Murdoch media monopoly operates– the US, the UK and Australia. All three also are plagued by a particularly stupid and insidious form of right wing populism and racism, also actively promoted by Murdoch.
Murdoch grew up in an Australia governed by the "white Australia" policy and appears to be nostalgic for those days when non-whites were openly and actively discriminated against.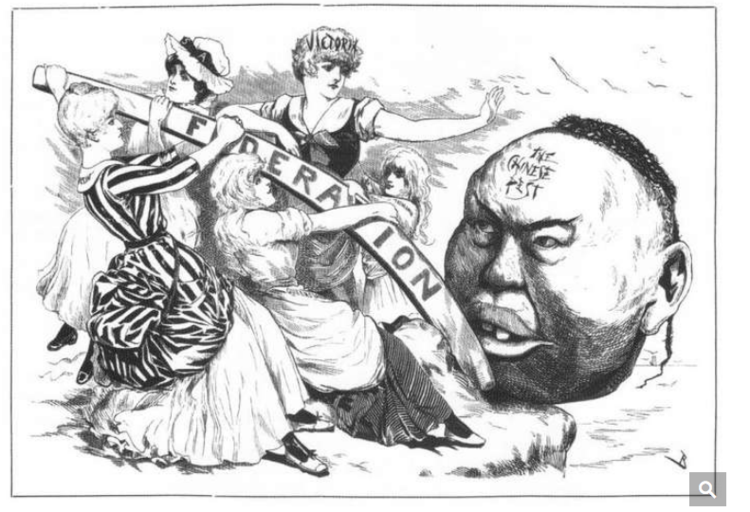 Anti-immigration cartoon with Victoria urging the Australian federation to rid itself of the "Chinese pest," Melbourne Punch, May 1888; h/t Encyclopedia Britannica.
Although the internet once offered arguments against media consolidation and media monopolies, major news outlets have bought up much of that real estate as well. Even indies like Informed Comment increasingly depend on Facebook, Twitter, LinkedIn and Google for distribution. (That is why you should sign up for our Newsletter to get IC by email, cutting out the middlemen).
Shieber at Poynter points out that a 1945 Supreme Court decision ruled that media companies are subject to anti-trust laws and regulations.
Fox and some others have been big enablers of the Trump catastrophe, and if the Democrats take both houses and the presidency they should urgently begin breaking up the media monopolies. Including Newscorp/ Fox.
The US was founded on diversity of viewpoints. Now we just have the viewpoints of six billionaires. And that is why the country is a mess.
—–
Bonus Video:
Second Thought: "Capitalism And Monopolies: How Five Companies Control All US Media"