Ann Arbor (Informed Comment) – African-Americans face aggressive policing in part because, on average, they lack resources. Household wealth allows a family to donate to political campaigns, to ensure a good education for their children, and to join influential civic clubs and organizations.
The Center for American Progress reports that in 2019, before the distortions of the pandemic year, the median wealth of white households was $189,100.
The median wealth of Black households? $24,100, or 12.7% as much as whites.
If you do average wealth, the absolute numbers are much bigger, but the percentage difference is very similar.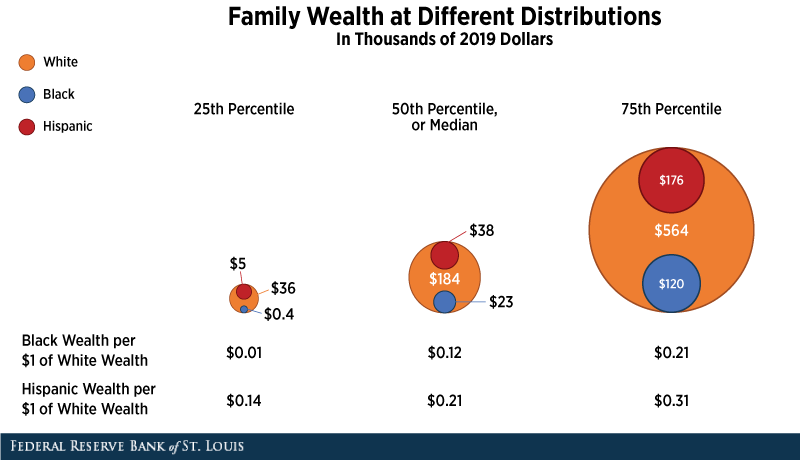 Contrary to what many whites believe, this wealth gap does not come from people being lazy. CAP points out that it comes from lack of access to topflight education and from being shunted off to poorly paying jobs with little job security and few fringe benefits. You can work a 48 hour week in the United States and still not be able to afford to pay both rent and groceries.
The problem also derives from bankers' unwillingness to lend to people of color, at least on the favorable terms they give whites. Many Black Americans don't have access to banking services or credit because of redlining. It takes money to make money.
Black families have trouble owning a home, and if they do get into one, it does not appreciate in value at the rate of a white-owned home.
The negative effect of racism is so powerful that it often overcomes positive achievements like education. The Federal Reserve of St. Louis points out that a Black family with a breadwinner who has a bachelor's degree makes much less on average than does a white family with a similar degree.
Worse, the St. Louis Fed concludes that "the typical Black and Hispanic families whose highest level of education was a bachelor's degree had less median wealth than the typical white family whose highest level of education was a high school degree." That is depressing.
President Biden and VP Kamala Harris clearly feel deeply about this issue. CAP correctly argues that they need to leverage the federal government to ensure that public sector jobs come roaring back and that people of color have a fair shot at them. CAP notes that public sector jobs are among the few that pay people of color fairly and give them job security and benefits. Unfortunately, they wrote, in "September 2020, 211,000 fewer Black workers had a job in the public sector than was the case in September 2019." African-American workers got hit especially hard by the Covid downturn.
Going back to having the Post Office offer banking services would help, as the ACLU argues. Until the late '60s when it was abolished, US postal banking handled 10% of banking in the US. Rahim Brooks at the ACLU writes that the big banks are closing their local branches and that
"Branches in majority-Black areas, in particular, were roughly 50 percent more likely to close than those in the rest of America. As a result, 63 percent of majority-Black census tracts do not have an active bank branch; 17 percent of Black Americans are unbanked; and 30 percent of Black Americans are underbanked.
He adds,
'Black consumers, like low income consumers generally, are prime candidates to be exploited by the payday loan industry. "The average unbanked family with an annual income of around $25,000 will spend about $2,400 per year, almost 10 percent of its income, on financial transactions," writes Mehrsa Baradaran in How the Other Half Banks. "This is more than these families spend on food.'
CAP also suggests revamping the Minority Business Development Agency. African-Americans are 12% of the population but have 2% of the businesses.
One thing is for certain. The wealth gap between the races has grown in the past few decades, and there is no sign of it being turned around. Unless we as a people pull out all the stops to address these problems, our grandchildren will still be dealing with them.
——-
Bonus Video:
PBS NewsHour: "What's behind America's inequality problem — and how to fix it"