Ann Arbor (Informed Comment) – Mohammed Haddad at Al Jazeera English reports that in June, at least 23 countries experienced at least 122° F. (50° C.). Haddad's article kindly provides several graphics under a Creative Commons licence, reproduced below.
The earth is heating up because we burn gasoline in our cars and burn coal for heat and electricity, and burn natural gas (though the latter is better than coal by a long shot for the moment).
The hottest year on record globally was 2016. The second hottest was just last year, 2020. The third hottest was 2019. Do you notice a pattern here? The top record-breakers are all recent. That is very not good. We can expect further record-breaking hot years as time goes on.
It is estimated that the climate crisis cost the U.S. $100 billion in 2020 alone.
In the Middle East, the Gulf is hot. I was in Doha, Qatar, once, in early June when it turned 114F. My wife and I had planned to go out to dinner when it was a mere 100F. But when we went downstairs a blast of the 114F hit us in the face, and we just went back upstairs and made something at home.
Haddad says that in June, the city of Nuwaseeb hit 127.7F (53.2C), the hottest temperature recorded anywhere in the world that month. In fact, most of the top 12 hottest Arab cities last month are in Kuwait. They are joined by Basra and Amara in Iraq.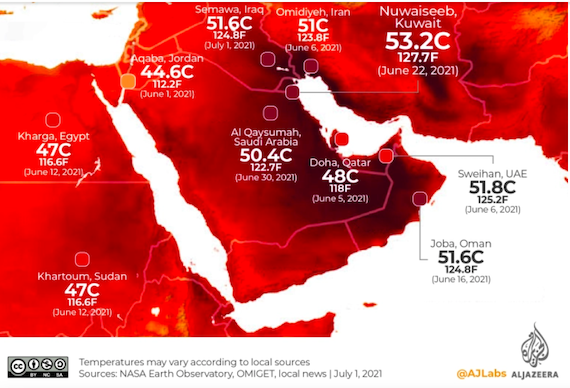 Iraq hit nearly 125F, but that was worse than Kuwait because Iraq has electricity outages. I can't imagine being at that temperature without air conditioning. Ancient Iraq and Iran had cellars to escape to, called sardab, since it is cooler underground. Modern apartment architecture doesn't have that feature. I can remember complaints in Iraq when it was under US occupation that there wasn't enough electricity, and people were saying it would take five years to build new electricity plants. The government never did build enough, though, and there are suspicions that it is because billions in government income disappeared owing to corruption.
Some climate experts are wondering if some places in the Gulf will become uninhabitable. Apparently 150F is kind of the limit for human habitation. People just start dying around that point.
But let's face it, it isn't strange that it is hot in Kuwait, though it is somewhat hotter than it used to be.
What is strange is that it is hot in Canada and the US Pacific Northwest.
The most tragic story here is the small town of Lytton, 95 miles north of Vancouver. When I visited Vancouver once, I was amused to hear it described as Canada's Miami. I found it unlikely that if I were living there, I would very often want to go to the beach (I like it at least in the 80s for that). But, well, silly me. Miami was balmy in comparison last week.
So poor Lytton hit 122F, the hottest temperature on record any place in Canada ever. And it was north of Vancouver. Note that that is only 5 degrees F. cooler than Nuwaseeb, Kuwait!
But then things took an even darker turn, as the high temperatures plus lighting storms sparked wildfires that headed straight for Lytton. People had to flee for their lives before the advancing flames. Two residents are confirmed dead, and more are missing.
It is like a horror movie. The place that used to hold the record for hottest temperature in Canada no longer exists, because it was burned up.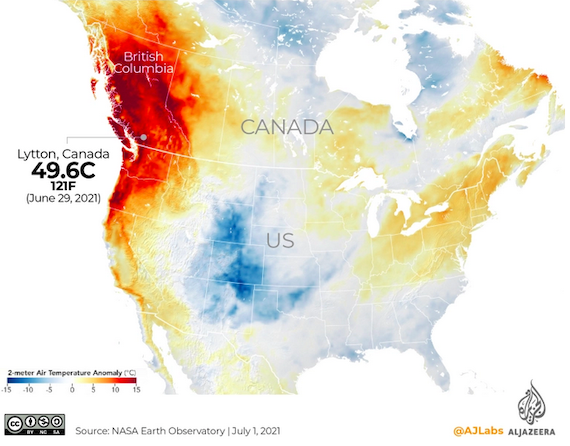 The heat dome that scorched Canada and the US Northwest was certainly intensified and made more likely by the human-caused climate emergency. The smartest man I know on this issue is Michael Mann at Penn State, whom I recently interviewed on his book, The New Climate War. Mann explained in the New York Times:
"Heat waves now occur three times as often as they did in the 1960s — on average at least six times a year in the United States in the 2010s. Record-breaking hot months are occurring five times more often than would be expected without global warming. And heat waves have become larger, affecting 25 percent more land area in the Northern Hemisphere than they did in 1980; including ocean areas, heat waves grew 50 percent."
He said that the warming Arctic allows long-lasting squiggles in the jet stream, forcing it into an "omega" pattern over the Northwest. When I was young, the jet stream used to flow in a relatively straight line from west to east across North America. I always regretted that it seemed to go over Toledo, Ohio, keeping the cold air north. I'm just north of Toledo. Now of course the jet stream has always wriggled and maybe even gotten bent out of shape for short periods of time. But to be pretzeled up into an omega-looking thing for a couple of weeks, that I don't remember.
And yes, as Mann's research shows, the Arctic is also heating up. Yes, the Arctic.
Then Mann said something that I found really scary. He said that our climate models aren't yet sophisticated enough even to have foreseen the omega heat dome. I conclude that lots of kinds of Frankenweather may be on its way that we don't even have the tools to predict.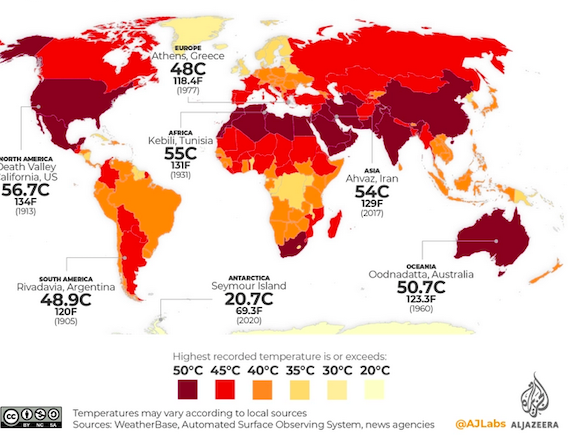 Another tragedy here is that Kuwait and Canada are both oil states, and neither has done much to reduce carbon emissions– the very greenhouse gas that is causing extreme heat and, in Canada, wildfires.
Our future, however, is on a spectrum. We can add an average of 3.6F extra heat, or we can add an average of 5F extra heat, or 15F. It is up to us. By the way, an extra 3.6F is much worse than it sounds–that is a global average including the oceans (which are cold) and the Himalayas and Antarctica. Any one city, say Phoenix, could shoot up an extra 15F if we go to the max. You wouldn't like Phoenix if it was significantly hotter than it already is; people die of the heat there even now, and sometimes airplanes can't take off because hot air is too insubstantial to give lift to the wings.