Ann Arbor (Informed Comment) – According to Al Jazeera, on Thursday, Iran announced the opening of a new petroleum export terminal near the port of Jask on the Gulf of Oman, which will allow its vessels to avoid what Iranians refer to as the Persian Gulf and its narrow outlet, the Strait of Hormuz.
Although the Strait of Hormuz is only about 25 miles across at its narrowest point, it has never been successfully blocked, nor would that step be easy. Iran is likely trying to avoid the Strait not for fear of its closure but because their ships passing through it can be spied on and tracked by its enemies, Saudi Arabia, the United Arab Emirates, Israel and the United States.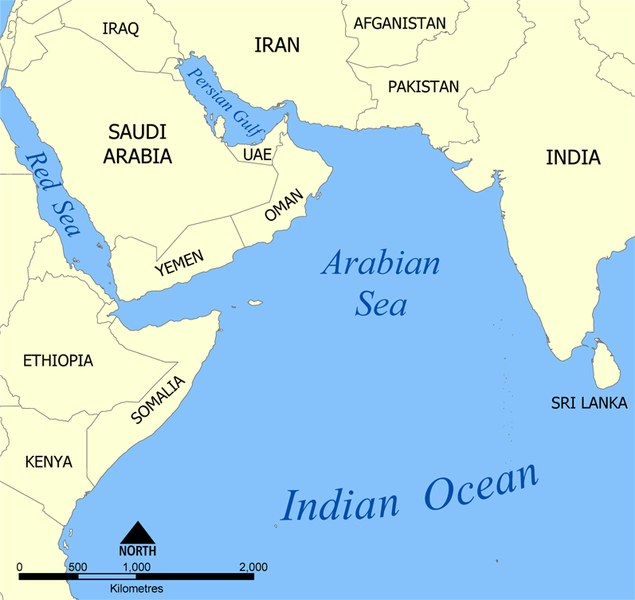 Iran built a six-hundred-mile pipeline to supply the terminal with petroleum, which, along with the terminal itself, cost some $2 billion.
The limits of the Draconian U.S. sanctions regime have been demonstrated by Iran and Venezuela, which have found ways around Washington's determination to stop their petroleum sales abroad, and by China, the leader of defiance against unilateral U.S. sanctions.
So far this year, Reuters estimates that through clandestine means Iran has doubled its petroleum exports to 600,000 barrels a day, despite the Biden administration's decision to leave the Trump financial and trade embargo in place while it negotiated with Iran toward a return to the 2015 nuclear deal. It is likely that the true figure is greater, since Iran is essentially smuggling oil to China and Syria, and concentrates to Venezuela, in ways likely not entirely captured by the tanker tracking data on which Reuters depends.
Reuters reports that the China Colonial Petroleum Co. has played a key behind-the-scenes role in ramping up Iranian petroleum sales to small private refineries in China in ways that have not been easy for the US to track. It has its own tanker fleet. The CCPC is also taking Venezuelan petroleum to China.
Iran also sells natural gas concentrates for diluents to Venezuela, which has not developed gas fields. The concentrates are key to refining raw crude, especially "sour" crude with high sulfur content, into gasoline. Venezuela used to import them from the U.S., but under severe sanctions can no longer do so. Iranian ships carrying the concentrates turn off their shipboard Automatic Identification System, or AIS, so that US signals intelligence cannot find them easily.
The U.S. in particular has since 2018 made it a mission to prevent Iran from exporting its petroleum, even though there is no international warrant or authority for this interference in the trade of other countries. Iran signed the 2015 nuclear deal in 2015 in return for a lifting of UN Security Council sanctions placed on the country in 2007 over its civilian nuclear enrichment program aimed at making fuel for nuclear plants. One of three such planned plants, at Bushehr, was begun by a German firm and finished by a Russian one and is now operational.
Iran lived up to the terms of the treaty, but never received sanctions relief. The UNSC sanctions were lifted early in 2016, but the Republican-controlled US Congress refused to let President Barack Obama lift US sanctions, which in turn use methods similar to those of organized crime, imposing harm on third parties that deal with Iran. This tactic kept Europe from trading with or investing in Iran. Then in 2018, despite Iran's adherence to the treaty, Donald Trump breached it and slapped a new round of extreme sanctions on Iran that amounted to a financial and trade embargo.
According to Jonathan Saul, Chen Aizhu and Marianna Parraga at Reuters, the Trump tactics drove Iran's oil exports down from 2.5 million barrels in the first quarter of 2018 to only 300,000 barrels a day in 2020 and devastated the country's economy.
China's imports have allowed Iran to expand its oil exports from that low number. The Biden administration is considering putting the Iran-China oil trade under sanctions if it proves impossible to negotiate a return of the US and Iran to the nuclear deal, which, it should be remembered, the U.S. destroyed spitefully and for no good reason, acting on its own in defiance of NATO allies.
The hope of some in the Biden administration that yet more sanctions will bring Iran to heel is misplaced. Iran is a big, productive country, with other things to trade besides oil, and anyway the international shipping and payment systems still have places in them to hide from the U.S. If sanctions are your first and main response to all diplomatic disputes, you will lose.
—–
Bonus Video:
TeleSur: "Iran: New terminal to export oil avoids Hormuz Strait"