Ann Arbor (Informed Comment) – A marine unit of the Israel Antiquities Authority diving off the ruins of the ancient city of Caesarea Maritima has announced two spectacular finds in the form of two shipwrecks. One was from the Muslim Mamluk era, around 1400. The other was an early fourth-century Roman ship from Italy. The wrecks yielded a rich harvest of artifacts and coins.
Among the objects found was a stunning, heavy gold ring with a green inset gemstone with an image depicting a young man carrying a sheep on his shoulders. This was an early Christian way of picturing Christ.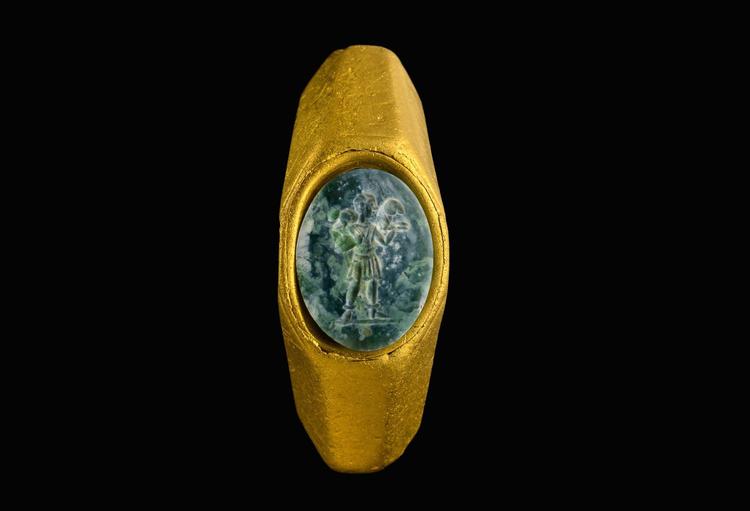 h/t Israel Antiquities Authority
The image may derive in part from John 1:29 and John 1:35-36 in the New Testament. John the Baptist described Jesus as the Lamb of God:
John 1:29 says of John the Baptist, "The next day he saw Jesus coming toward him and declared, "Here is the Lamb of God who takes away the sin of the world!"
John 1:35-36 seems to be a doublet: "The next day John again was standing with two of his disciples, and as he watched Jesus walk by, he exclaimed, "Look, here is the Lamb of God!"
There wasn't much surviving Christian art in the first two centuries after the death of Christ. It starts appearing in the 200s and 300s.
Personal checks should be made out to Juan Cole and sent to me at:
Juan Cole
P. O. Box 4218,
Ann Arbor, MI 48104-2548
USA
(Remember, make the checks out to "Juan Cole" or they can't be cashed)
Depicting Jesus as a shepherd carrying a lamb or sheep is probably a borrowing from a classical Greco-Roman theme. Hermes Kriophoros was shown carrying a sacrificial ram on his shoulders, having dedicated it so as to prevent an outbreak of plague at Tanagra north of Athens, as art historian Monica Bowen explains.
At her Alberti's Blog, Bowen says that Christians gave the image a new meaning, of the good shepherd, so that the animal was not being sacrificed but taken care of. The image may have been a hope for deliverance, she says, from Roman persecution. (Juan isn't so sure about that, since a lot of historians of late antiquity are concluding that Christians weren't nearly as persecuted under pagan Rome as they later alleged).
She gives this example of the Christian use of the image, "Christ as the Good Shepherd, first half of the 4th century, at Vatican Museums":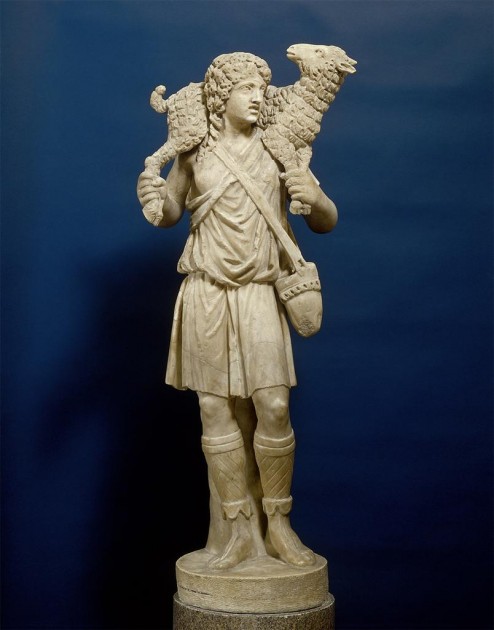 As she notes, the image may have been influenced by an early Christian work, The Shepherd of Hermas, which was revered by Origen and others and was bound with the New Testament in some early manuscripts, so that it may have almost become part of the Christian canon before later Church Fathers cast it out as apocryphal. The author had visions, and in one of them an angel appeared to him in the form of a shepherd.
It is not clear whether the ship sank before it could dock at Caesarea Maritima or whether it was hit by a violent storm on its way back to Rome. If the ship was 1700 years old, as the Facebook entry of the Israeli Antiquities Department said, that would have been about 320. There were Christians in that city. From 312, Emperor Constantine had begun favoring Christianity, though in a more ambiguous and less thoroughgoing way than once thought, as my colleague David Potter has shown. Constantine's panegyrist, Eusebius, hailed from there. So this ring may have been made very early in the Constantine era, when Christians were becoming free to display such open signs of their faith on their person. Though it is also true that, as Bowen implies, a casual pagan observer may have taken the image for a reference to Hermes Kriophoros.
Caesarea Maritima was made the capital of First Palestine in 390. It was conquered by Sasanian Iran in 614 and retaken by Heraclius around 630. It later fell to the Muslim Arabs, after which its Christian elite gradually emigrated and it declined. It is now a park in Israel.