Ann Arbor (Informed Comment) – Sen. Kyrsten Sinema (D-AZ) is reported to have signed on to the Schumer-Manchin energy bill, accurately termed the Inflation Reduction Act (IRA), on Thursday, after tinkering with a few of its revenue-raising features, writes Tony Romm at WaPo.
A key piece of information in Romm's report is that Sinema wants more money for drought relief, given that the Southwest is facing a 20-year megadrought partly driven by human-caused climate change. That is, she is making the bill even more green in some ways, focusing on climate resilience, which has to be a part of any climate strategy.
The bill isn't perfect, but the $369 billion it devotes to promoting green energy and green transportation is the largest sum ever set aside for that purpose by any government in history. Early estimates are that it will reduce US carbon emissions by 37% – 40% by 2030, taking us an important distance toward President Joe Biden's goal of reducing carbon dioxide output in the US by 50% over 2006 levels by that year.
The bill can now be submitted to the Senate parliamentarian to ensure that it is such that it can be passed by budget reconciliation, a method that allows a majority vote and sidesteps the usual requirement of 60 votes in the Senate. The parliamentarian is expected to give this bill the nod, and it may begin being debated in the Senate as early as Saturday. The Senate Democrats can pass it with the help of Vice President Kamala Harris, who as president of the Senate can break ties. The Democrats have 50 seats out of the 100 in the Senate.
It is a sad commentary that the Republican Party is so dedicated to wrecking planet earth that not a single one of its senators will vote for this bill.
To underline the importance of the IRA, Jesse D. Jenkins at Princeton University's Zero-carbon Energy Systems Research and Optimization Laboratory (ZERO Lab) led a team of scholars from other institutions in evaluating the impact of the IRA on green energy, producing the study, "The Climate and Energy Impacts of the Inflation Reduction Act of 2022."
h/t to Ryan Kennedy at PV Magazine for tipping me to the ZERO Labs report; his analysis is well worth reading.
As for the fighting inflation moniker, Jenkins and his team find that it is perfectly justified, writing, "Enacting the Inflation Reduction Act would lower annual U.S. energy expenditures by at least 4% in 2030, a savings of nearly $50 billion dollars per year for households, businesses and industry."
They point out, "That translates into hundreds of dollars in annual energy cost savings for U.S. households."
ZERO Labs found that the act will leverage the $369 bn. government investment to "drive nearly $3.5 trillion in cumulative capital investment in new American energy supply infrastructure over the next decade (2023-2032)." Although, unfortunately Manchin managed to put in money for boondoggles like carbon capture, the scientists are clear that the the bill would only drive about $20 bn of fossil fuel industry investments.
They are clear, however, that by far the biggest impact on investments of the bill would be felt by the wind and solar industries. It would goose private investment in those two to $321 billion in 2030. Under current policy and conditions, we would only have seen $177 bn. invested in those sectors by 2030, so this bill acts to almost double that.
The report concludes that the IRA will galvanize "record-setting growth" in wind and solar. In 2020, the US added 15 gigawatts (GW) of wind capacity and 10 GW of utility-scale solar. By 2030, with this piece of legislation passed as an Act, we will be adding 49 GW of solar every year by 2030, nearly five times the 2020 pace, as Ryan also underlines.
Then they let the real kicker drop, saying, "with solar growth rates increasing thereafter." 50 new gigawatts of solar a year is only the beginning!
We'll see solar outstrip wind as time goes on and panels become more efficient and cheaper, since there just is so much energy to be had from the sun's rays. Energy experts have long said that the medium and long-term future belongs to solar.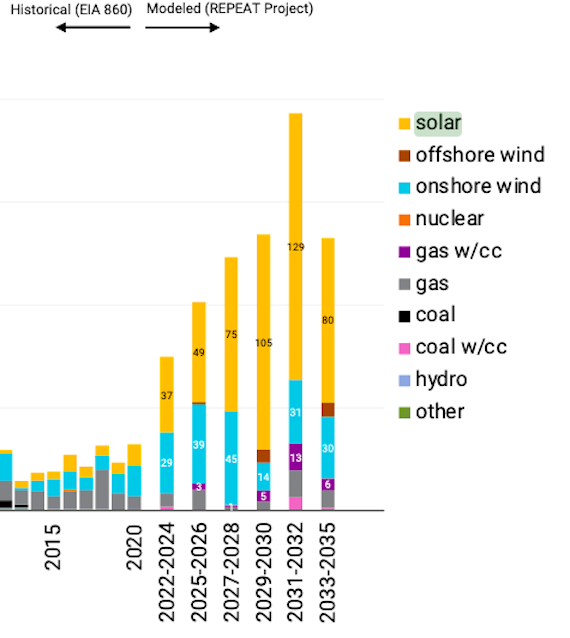 Courtesy ZERO Labs
Moreover, the ZERO Lab team says, "The Act will drive substantial additional investments by households and businesses on the demand side of the energy system, including purchases of more efficient and electric vehicles, appliances, heating systems, and industrial process."
The report cautions that its results do not capture the effect of the "tens of billions of dollars in grants, tax credits and loan programs," aiding in establishing solar and wind component factories, parts, batteries and essential minerals, as well as electric vehicles.
That means that the $321 billion of new investments in wind and solar in 2030 doesn't even count all these other things that the bill will turbocharge. This is huge, folks.
Although the IRA has some provisions that seem favorable to Big Oil, there are some poison pills in that regard. It increases the fees and royalties oil companies must pay for drilling in federal territories or waters, which they say may actually reduce future oil production. Moreover, there are fees on methane production. Since most oil and gas drilling produces a lot of methane, this provision could also disadvantage the fossil fuel sector.
As for green energy and transportation, ZERO Labs reports,
"The Act contains robust support for the development of American manufacturing of solar, wind, battery and electric vehicle components and assembly as well as critical minerals processing. The bill ties bonus tax incentives for clean electricity and credits for consumer clean vehicles purchases to domestic content sourcing standards, providing strong demand for U.S. materials and manufacturing. It also provides $2 billion in grants and $30 billion in loans to retool American auto manufacturing to produce clean vehicles and $37 billion in new tax credits to spur investment in America's capacity to produce and assemble wind and solar PV components, batteries and clean vehicles, and process critical minerals."
Note that China already has all those things, which the US now either lacks or of which it only has the rudiments. This bill is the last best hope for the US to remain a significant industrial economy and to compete with China in the rest of this century.
And look, the IRA is not the Green New Deal, but it also doesn't ignore the needs of the working class. Zero Labs notes that:
"A variety of programs will direct funding to cut pollution in low-income communities and areas burdened by the worst air pollution in the country. This includes $3 billion for block grants for community-led environmental and climate justice projects and more than $4 billion in funds to reduce air pollution at America's ports, replace dirty heavy duty vehicles like garbage trucks and city buses with zero-emissions vehicles, and improve interior air quality in schools in low-income communities."
There is also money for equitable access to clean technologies, earmarking $27 bn. to greenhouse gas reduction and devoting over half of this sum "to deploy clean energy and pollution-reducing technologies in low-income and disadvantaged communities and to establish 'green banks' to provide financial assistance for clean energy projects benefiting disadvantaged communities."
Native and Hawaiian communities get help with climate resilience. There are even special tax rebates for low- and middle-income families who can't profit from other tax credits.