Newark, Del. (Special to Informed Comment) – In the summer of 1993, I went to Iran to visit my parents who at the time were living in Tehran on and off. We had left Iran six months after the Iranian Revolution of 1979 and I had not returned until 1993.
I remember the atmosphere at the time, which was quite gloomy. The hejab of course had already been put in place and one could not wear anything other than dark colors.
As a young woman, I was not in the habit of putting any make-up on (I still don't), but sometimes I would put a lipstick on. My mother and a male cousin decided to take me to the rug exhibition, which was held in a large, confined area in Tehran. It was a huge exhibition depicting the art of rug making and showing off an enormous rug destined for one of the emirs of the Persian Gulf, the largest one ever made.
As we were walking inside this large compound, a white van approached and stopped. Three women and a man came out. They came toward us and told my mother, tell your daughter to lower her scarf for it is not covering all of her hair, and to wipe her lipstick off. My head cover was a colorful silk scarf and I presume that is what drew their attention. My mother replied by telling them, my daughter doesn't even wear any make-up and her head is covered, but they insisted. Finally, they left but I, as a young woman, was shaken by this encounter. On that same trip while leaving to return to the U.S., I had to go through the female security line, and, again, one of the "sisters" as they are called, said to me, you have too much lipstick on. Take it off. I obeyed. I was scared and I just wanted to leave Tehran as soon as possible.
Embed from Getty Images
TEHRAN, IRAN: An Iranian policewoman (L) warns a woman about her clothing and hair during a crackdown to enforce Islamic dress code on April 22, 2007 in Tehran, Iran. Police issued warnings and conducted arrests during an annual pre-summer crackdown, which was given greater prominence this year, according to officials. (Photo by Majid Saeedi/Getty Images)
On a different occasion during the same trip, my two female cousins and my young daughter and I went to the mountains. It is customary for Tehranis to go on such outings; the mountain range is very close and on clear days, you can see the beautiful snow-capped peaks from anywhere in Tehran. Depending on how strong and athletic you are, you can engage in serious climbing, but we had just wanted to go and get some fresh air and on the way stop at one of the tea houses. There I noticed that many young girls had taken off their scarves and were airing their hair and necks in the fresh air after a long walk up the hills. It was the only time that I had seen women feeling free in an outdoor setting. This freedom soon ended after newspaper reports began to speak of girls and boys getting together up the mountains, mingling and playing music.
By doing so, these young people had committed a most horrible sin according to the officials.
On that same trip, while having lunch at my parents' house, one of our relatives showed up. He was shaking telling a scene he had witnessed in Meydan Tajrish, a central square in northern Tehran. He told us how shocked he had been watching a young woman enter a telephone booth. A young pasdar (revolutionary guard) had asked her to get out and she had refused and told him to go to hell. He drew his weapon and shot at her right there. Our relative was not sure whether the girl had survived, but no one dared to do anything. The revolutionary guards had all the power and all the weapons. They ruled Tehran.
Many equally dramatic and distressing scenes of violence against women have been recorded.
In 2003, Zahra Kazemi, an Iranian Canadian photographer, was taken in by security forces while taking photos of Evin Prison. She had been also hit on her head by a prison guard. She later died of hemorrhage.
A military staff physician who used his knowledge of Kazemi's case for seeking asylum in Canada in 2004, stated later that he examined Kazemi's body and observed that Kazemi showed obvious signs of torture, including a skull fracture, broken nose, signs of rape and severe abdominal bruising.
In 2011, Haleh Sahabi, the daughter of the late religious/nationalist leader, Ezatollah Sahabi, after having been granted a leave from prison for her father's funeral, died at his burial site. It was claimed that she had cardiac arrest but Ahmad Montazeri , the son of the Grand Ayatollah Montazeri, said that he witnessed a guard hitting her so hard that she fell down.
And now the world has witnessed the beating and murder of a young, 22-year-old Kurdish woman who, terribly scared had reacted by screaming why she was being taken away. When her 17-year-old brother had objected, he had been beaten as well. She and other women were surrounded by the same "sisters" at one of Tehran's metro stations. She was tall, beautiful and had an angelic face.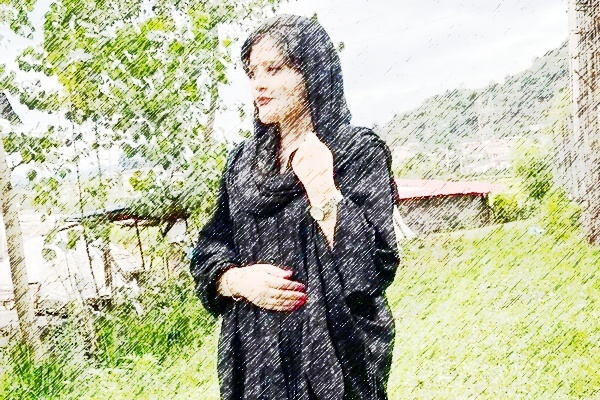 Mahsa Amini. H/t Lunapic
At the time of the confrontation, Mahsa Zhina as she was called at home, had a long black robe with her dark scarf covering almost her entire hair. She did have red nail polish on. Perhaps the fact that she was a beautiful young woman drew the attention of the morality police or perhaps this was because of harsher measures introduced since Ebrahim Raisi had become President of Iran— an ex-guard in the infamous Evin prison who has been accused of ordering the murder of more than 4000 political prisoners.
Whatever the reason, Mahsa was hit hard on her head, causing her to fall and when she came to, the head of the interrogation room, a hardline Pasdar Colonel, hearing her screams, pushed her to the ground and hit her even harder on the head, until two women(sisters) noticed that she was not moving, and blood was coming out of her ear. The colonel who was about to leave for Iraq, for Arbain (the ceremony remembering Imam Hussein's martyrdom some 1400 years ago) called her a bad-kareh, which means a whore.
The circumstances in which all this happened remain murky, but the father of Mahsa Amini told the press that his daughter had no previous ailments. She was healthy and she had come to Tehran to have some fun with her brother and cousin.
She ended up in the ICU section of the hospital and died two days later. No autopsy was done and lies upon lies came out of the mouth of government officials who have always denied their role in any crime.
Mahsa Amini was buried in her hometown of Saqqez, a city in the Kurdish region of Iran. A note was written next to the roses left on her burial place in the Kurdish language, which read, "Dear Zhina, you will not die, your name shall become a symbol."
Violence against women, and especially young women began soon after some 43 years ago when Khomeini announced that the mandatory hejab would be among the laws implemented in the newly formed Islamic Republic. Thousands of women reacted by demonstrating against this mandatory rule, yet no one thought this would become the law of the land until it did. Yes, indeed the hair of women must be covered just as their bodies should be covered in dark long robes. Later, during various administrations, gasht ershad or the morality police was visible, to a lesser degree. Women were now wearing tighter clothes, showing off their bleached hair and even having plastic surgery to show their nose jobs, their full botox-treated lips and wide colored eyebrows.
But violence against women never stopped. And women have never stopped fighting back. Iranian women have stood up to these injustices by either showing off more of their hair or by expressing their views-always finding ways to confront the male-dominated rulers of the Islamic Republic. So many have faced arrest, torture and imprisonment.
So many unknown and known names come mind.
The Taliban of Iran are now in full force targeting the population they are most scared of: Women. Headed by the criminal Raisi, the regime's institutions have become emboldened. And now they are even monitoring people by newly bought Chinese-made sophisticated technology.
Embed from Getty Images
NEW YORK, NY – SEPTEMBER 21: People step on a poster of Iranian President Ebrahim Raisi as they participate in a protest outside of the United Nations on September 21, 2022 in New York City. Protests have broke out over the death of 22-year-old Iranian woman Mahsa Amini, who died in police custody for allegedly violating the country's hijab rules. Amini's death has sparked protests across Iran and other countries. (Photo by Stephanie Keith/Getty Images).
But the death of Mahsa, like that of Neda before her (shot during the Green Movement), shows that the Iranian population in general and women in particular have had enough. Even if more oppressive measures are taken which will most likely happen, an entire nation is up in arms against the Islamic Republic.
Embed from Getty Images
TEHRAN, IRAN – SEPTEMBER 21: Dozens of people stage a demonstration to protest the death of a 22-year-old woman under custody in Tehran Iran on September 21, 2022. (Photo by Stringer/Anadolu Agency via Getty Images)
While I was waiting to interview a famous American journalist at the Watergate hotel some years ago, a group of Iranian men were in the lobby, presumably to negotiate the nuclear issue with American officials. I knew what I was doing when I offered my hand to be shaken by them. They refused apologetically, one of them telling me we respect you but can't shake your hands!
They respected neither me nor women. For them, shaking the hand of women is sinful, just as women showing their hair is sinful; all while the regime commits unspeakable sins by any religious standard.
The Quran and the Hadith demands female modesty but neither command women to cover their hair or forbids them to shake hands with men. It is all made-up to cover a Republic which has put to shame the concept of human rights, women rights, or any rights.
In the hall of the United Nations, where Raisi spoke while attending the UN general assembly, lying to the world about Iran having the best record in social justice, the verse of Sa'di, the great Iranian poet of the 13th century is inscribed.
The sons of Adam are limbs of each other,
Having been created of one essence.
When the calamity of time affects one limb
The other limbs cannot remain at rest.
If you have no sympathy for the troubles of others,
You are unworthy to be called by the name of a Human.
The Islamic Republic, has, for forty-three years, trampled on the words of Sa'di.
Yesterday Mahsa would have turned twenty-three.