By Juan Cole | (Informed Comment) | – –
As always, we're coming to our loyal readers asking for funds to keep Informed Comment going. Our site is distinctive in covering, from a progressive point of view, developments in U.S. foreign policy, the Middle East, the climate crisis, and U.S. domestic developments.
We hope that our readers will continue to be generous in supporting our coverage of these beats. That support allows us to bring you our authors, including Dan Dinello, Fariba Amini, H. Scott Prosterman, Mohammed Semaana, H. Patricia Hynes, and many others, as well as curating the best of relevant progressive writing available on the Web.
Personal checks should be made out to Juan Cole and sent to me at:
Juan Cole
P. O. Box 4218,
Ann Arbor, MI 48104-2548
USA
(Remember, make the checks out to "Juan Cole" or they can't be cashed)
This year those who contribute $100 or more to Informed Comment by Paypal, will receive a copy of my translation of celebrated Lebanese author Khalil Gibran's Spirit Brides. Schuler Books in Ann Arbor has kindly agreed to send them out for me off the Paypal addresses. (If you blocked your address at Paypal, you have to provide it to me to get the book). Thank you to all of my supporters for your generosity and your encouragement of an independent press! The site is stronger if all fans participate. I sometimes get messages from readers doubting that a $5 donation would be welcome. Of course it is welcome! We just want 10,000 of them. 🙂 If everyone who appreciates Informed Comment donated even a small amount, we could turn it into a media giant. Moreover, giving in itself helps create community and commitment, and is welcome on those grounds alone.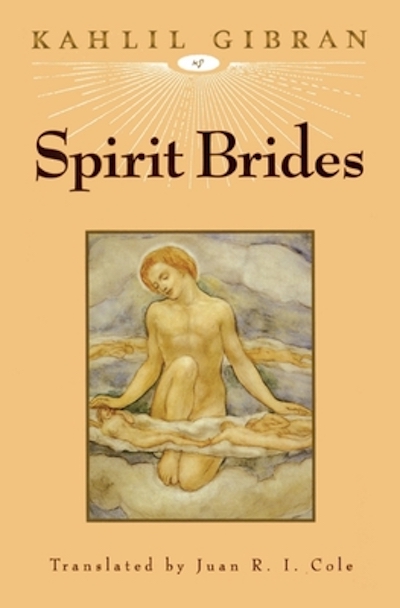 Kahlil Gibran, Spirit Brides, translated by Juan Cole.
All those who contribute to Informed Comment at any level will be included in an occasional private newsletter only for contributors with some additional big picture behind-the-scenes analysis which will be newsletter only. Remember that there are contribution buttons floating at the top of all the individual post pages.
If you agree that supporting independent journalism is important, be sure to share this posting on your own social media!
Given the right-wing turn that Twitter has taken and given that Facebook deliberately suppresses left journalism and uses the far Right cult site "Daily Caller" as an arbiter, it is more important than ever not only to support the site if you like its news analysis but to sign up for delivery of the daily postings by email so you don't miss even one.
As editor and chief cook and bottle washer, it has been brought home to me how fragile this enterprise is in a media environment owned and shaped by billionaires for their purposes.
The coming year is sure to be eventful, and we will report on it independently and knowledgeably. Our Middle East concerns require us, as well, to attend closely to the unfolding climate crisis and green energy, which are closely wrought up with the Middle Eastern and US economies. Iran bulks large for the US, as an ally of Russia in the Ukraine War, and because of its nuclear program, the US financial and economic blockade, and its domestic unrest– led, remarkably, by a new generation of young women. Cole is a lifetime Iran specialist and often writes on these issues. We are one of the few news outlets to consider Palestine from a progressive point of view, putting the subject under the rubric of human rights rather than of "security" or "terrorism." With the advent of the most far right-wing government in Israel's history, the Mideast is a powder keg that warrants watching closely. The future of oil states such as Saudi Arabia is in question as the developed world turns to electric transport. Dessication and climate-driven water crises promise massive population displacement and hold the potential for provoking water wars. There is never a dull moment here at Informed Comment, as we seek to keep an eye on all these developments and more. At home, progressive policies on women's and worker's rights need loud voices and mobilization if they are not to be rolled back by a Right wing emboldened by control of both the Supreme Court and the House of Representatives.
In 2022 we covered the most consequential shift in U.S. foreign policy in a generation, brought about by Russian President Vladimir Putin's launching of a war against Ukraine. We explored its impact on the Middle East and the U.S., and the way that most U.S. allies in the latter region declined to boycott Russia or take sides in the conflict. This was as true for Israel as it was for Egypt and Turkey. We also kept our eyes on the provision of drones by Turkey to Ukraine and by Iran to Russia. We reported on the epochal Inflation Reduction Act of the Biden administration, and what it means for battery and Electric Vehicle production in the U.S., along with its implications for petroleum as a stranded asset. We covered the dramatic extreme-weather events of the year, including the wave of dust storms in Iraq, the inundation of a third of Pakistan, and the mega-drought in the U.S. Southwest, drawing on the best in climate science to show the connection between these alarming developments and human carbon dioxide emissions from burning oil, fossil gas and coal. We reported on the Israeli invasion of the al-Aqsa Mosque, the third holiest site in Islam, in the spring and the unprecedented unity of Palestinians across their borders, whether in Gaza, the Palestinian West Bank, Palestinian East Jerusalem, or Israel proper. Few other U.S.-based news organizations gave insights into these events from Arabic sources that expressed a Palestinian point of view on them. We have as a regular beat the issues around Islamophobia and the demonization of the religion of 1/5 of humankind and of millions of our American citizens.
In the so-called post-truth era, we need independent, reality-based news media more than ever, and Informed Comment has never been more essential. Without your donations, this site could not hope to continue to provide a platform to expert and cogent voices who challenge the rank falsehoods that often now pass as news.
A new generation may not know that Informed Comment came to national prominence standing against the lies of the Bush administration over the Iraq War. Since 2002, Informed Comment has stood against lies and propaganda, against bigotry, against injustice, and for reasoned and fact-based public discourse about the pressing public policy issues facing our country. I write a column daily, even when sick, and on a few occasions from a hospital bed. Don't ask me how. In some large part, it is because I don't want to let you down.
How to Help
Donations can be sent to Informed Comment via the contribution link in this post (which takes Paypal payments or credit cards). Here is the direct link again:
Thank you to all of my supporters for your generosity and your encouragement of an independent press!
Personal checks should be made out to Juan Cole and sent to me at:
Juan Cole
P. O. Box 4218,
Ann Arbor, MI 48104-2548
USA
(Remember, make the checks out to "Juan Cole" or they can't be cashed)
Unlike other news outlets, it is a little unlikely that this site will be supported by right wing billionaires, and so if you want it to continue, it is up to you. The good news is that although they can attempt to "throttle" our stories at major social media sites, they can't just buy us and ruin us.
What we do for our Readers
At Informed Comment, I have tried to provide the historical background and the context to startling developments such as Trump's attempt to put Iran into a box, getting beyond the one-damn-thing-after-another rush of news reports.
My aim is to be even more comprehensive, and to provide insights on world developments not found elsewhere that challenge lazy conventional wisdom and inside-the-beltway tunnel blindness. I seek to provide visitors with one-stop access to high quality curated sources for research on the Middle East, including maps and key documents and translations. That endeavor obviously requires resources, and the more we have the more we can do. Your support allowed me to pay guest columnists and syndicators for some of our more popular entries this year. (Those who like the old weblog view and are mainly interested in my essays can still find it here (click on the underlined text).
Philosophy and Mission of Informed Comment
Despite rising costs of maintaining this site, years ago I decided that I did not want to put Informed Comment behind a firewall and charge a subscription fee for it. That just isn't who I am. In my own view, there has been a long crisis between the United States and perhaps much of the North Atlantic world and the Muslim world that I felt a duty to attempt to interpret and analyze for both publics, not just for well-heeled elites. This is a democratic blog, for the people and in dialogue with the people, for the common weal.
Plans for 2023
For 2023, we are aiming to have more independent, progressive columns of the sort that clearly please you. We will break the sort of news that will be useful in pushing new Biden administration further toward the Green New Deal, toward racial justice, toward a more just US policy in the Middle East, including rights and peace for both Palestinians and Israelis.
To make all these projects a reality, I do need your help. Our budget is a tiny fraction of any other news organization in the world. Given the wide online circulation of IC posts, your contribution here makes an incredible difference in the news ecology.
Smaller contributions are also very much appreciated! Paypal is convenient for small contributions and crowdsourcing is now the name of the game.
Independent Media
Your donation helps me keep Informed Comment independent and prolific. Together we keep independent media alive. I would like to thank all my readers and contributors again for your support in 2022 and look forward to an even more productive 2023 together. Thank you for supporting our independent thinking and dialogue!