Ann Arbor (Informed Comment) – Ladies and gentlemen, the results are in, and the winner of the 2022 midterms is . . . the earth's climate.
The Democrats have retained control of the Senate, according to projections of NBC News., which predicts that Nevada's Senator Catherine Cortez Masto will defeat her Republican challenger, Adam Laxalt.
Without the White House or the Senate those Republicans in the back pocket of the fossil fuel industry will be unable to mount a counterrevolution in favor of Big Carbon, as they had been planning to.
Indeed, quite an opposite scenario now could unfold. If Sen. Raphael Warnock (D-GA) can retain his seat against the somewhat addled Herschel Walker in the December 6 run-off, the Democrats would have 51 in the Senate.
They would then no longer need Sen. Joe Manchin (D-WVA) to pass energy legislation. Manchin, a coal magnate and a believer in relatively small government, has repeatedly intervened to whittle down the Democratic agenda and to give the fossil fuel industry what support he could. To be fair, Manchin in the end did not block the $369 billion for clean energy in the Inflation Reduction Act, and so he was not fatal to the Biden administration's commitment to meeting the US Paris Climate Treaty obligations. He is, however, an impediment to legislation that imperils coal and other fossil fuels on a short timetable, which is exactly the timetable humanity needs if we are to keep our climate from going ever more chaotic.
Scientists project that if we can get to zero carbon emissions by 2050, we can avoid the worst outcomes of global heating, which could turn our climate chaotic. As soon as new carbon dioxide stops being spewed into the atmosphere, the oceans will begin absorbing the excess amounts we have stuffed it with. Temperatures will immediately cease rising, and will slowly begin coming back down. During the Holocene, when human civilization grew up, there were roughly 280 parts per million of CO2 in the atmosphere during interglacial periods. It was like that until about 1750. That proportion is now 418 ppm. It will rise through 2050 to frightening levels, perhaps 600 ppm or more.
But if we can implement a low-carbon world by 2050, the oceans will absorb a lot of the excess and by 2150 we could be back down to 350 ppm. That would take us back to the levels of 1988 before the huge run-up of the past 30 years, all of which could have been avoided if Exxon-Mobil, BP and Saudi Arabia had not lied and conducted disinformation campaigns. The next 130 years are going inevitably to be hot, with many extreme weather events.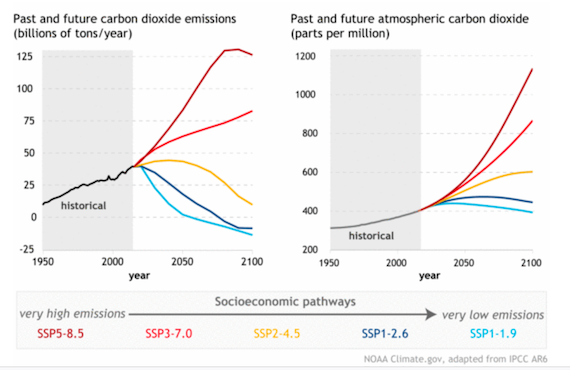 H/t climate.gov
The light blue line in the above illustration is the sane path that leads back down to 350 ppm.
If we go on putting billions of tons of CO2 into out atmosphere past 2050, we will outrun the capacity of the oceans to absorb it, and it will just stay up there for maybe 100,000 years, keeping the earth tropical, with super-storms and weather extremes that may interfere with maintaining civilization.
The problem is that Sen. Joe Manchin is the only Democratic senator who does not understand the enormous danger that burning fossil fuels represents for our planet. When President Biden pledged last week to close down coal plants all around the country, Manchin publicly feuded with him. Even Sen. Kyrsten Sinema (D-AZ) is much better than he on green energy issues, though she has a soft spot for the plutocrats. Some of the plutocrats anyway will increasingly get their money from green energy. Although she is a blue dog Democrat on social issues, Sen. Cortez Masto is a strong supporter of green energy.
So, with Warnock in place, the Democrats in the Senate could use reconciliation to expand the green energy provisions of the IRA over the coming two years. They just would not need Manchin's vote.
Of course, if the Democrats lose the House of Representatives, as seems likely at the moment, they would still face a hurdle in getting such a move past that body. Still, on the narrow issue of green energy there are perhaps some Republican House votes to be had. Certainly, Republican voters overwhelmingly support green energy. There are a few conservative climate warriors. Sarah E. Hunt and Michael Dorsey at The Hill point to Rep. John Curtis (R-Utah), Sen. Mike Braun (R-Ind.), and Rep. Garret Graves (R-La.).The GOP will have a narrow majority and even two or three defections on clean energy might put a Democratic bill over the top. Joe Biden is a master at trading horses and counting votes, and maybe some Republican representatives might like to have a gigafatory in their district, generating 21st century jobs.
In any case, a Democratic Senate and White House are a firewall to prevent fossil fuel recidivism, and they could well be an engine to help green America even more quickly than foreseen in the IRA, which it is estimated will get us 80% of the way toward our Paris climate commitments by 2030. Let's do 200% instead, and keep our coastal cities from sinking beneath the waves and our forests from going up in smoke.