By Hannah Kaviani
I'm Hannah Kaviani, a senior broadcaster and editor at RFE/RL's Radio Farda. Here's what I've been following and what I'm watching out for in the days ahead.
( RFE/ RL ) – Iran has publicly executed two young men over their involvement in the ongoing antiestablishment protests that have rocked the country since September. Moshen Shekari and Majidreza Rahnavard were both convicted of "waging war against God" and "corruption on Earth."
Shekari, who was hanged on December 8, was accused of "intentionally injuring" a security officer with a weapon and blocking a street in Tehran.
Rahnavard was hanged in the holy Shi'ite city of Mashhad on December 12. He was accused of killing two members of the Basij paramilitary force. Rights groups have said the men were tortured and forced to confess.
Why It Matters: Iran is one of the world's top executioners. But the recent hangings have triggered more anger and outrage than usual. Iranians have taken to social media and the streets to vent their fury. Some street protesters have chanted, "We will avenge the blood of the innocent" following the executions. In Tehran University, a noose was attached to a sheet of paper that read "Hope cannot be hanged," one of several symbolic acts of protest across the country.
The executions have also triggered criticism from senior clerics in Iran. Molavi Abdolhamid, an outspoken cleric, has said the death sentence against Shekari violated Islamic law. Morteza Moqtadaei, a member of the Assembly of Experts, an 88-member chamber of theologians which oversees the work of the country's supreme leader, also criticized the judiciary for handing down the death sentence to Shekari.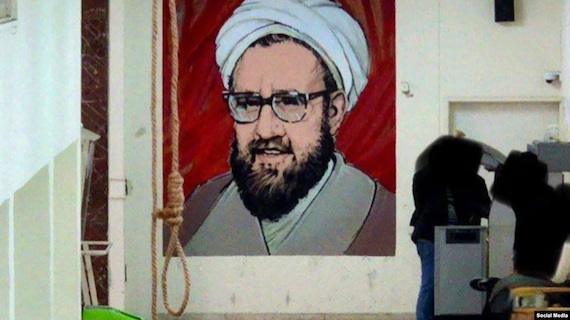 Via Social Media: University students in Tehran hang a noose in symbolic protest to the hanging of two protesters in Iran on December 13.
What's Next: Iran is likely to continue carrying out executions, which rights groups have said are part of the authorities' crackdown on the ongoing protests. Activists have warned that another young man sentenced to death over the unrest — Sahand Nourmohammadzadeh — is at imminent risk of execution. Iran's judiciary says it has issued death sentences to 11 people in connection with the protests, although campaigners said that at least 21 protesters could potentially face the death penalty …
That's all from me for now. Don't forget to send me any questions, comments, or tips that you have.
Until next time,
Hannah Kaviani
If you enjoyed this briefing and don't want to miss the next edition, subscribe here. It will be sent to your inbox every Wednesday.