Ann Arbor (Informed Comment) – UN News reports that 11,000 boys and girls are estimated to have been killed or wounded by direct violence in the Yemen War that has been going on since the Saudi air assault of spring 2015. The figure was released by Catherine Russell, the head of the UN children's fund, UNICEF.
The United States supported the war with strategic advice, in-air refueling of Saudi jets, and weapons sales until President Biden became president. He has stopped the direct US involvement in the war, and has directed that only defensive weapons be sold to the Saudis. Most contemporary munitions, however, are dual use and can be used for offense as well. Mr. Biden supported the two ceasefires this year but has not been able to get them renewed.
The world's attention is riveted on the admittedly very bad situation in Ukraine, so that there is an attention and sympathy deficit for poor countries in the global South like Yemen.
Children were largely spared from such violent deaths and injuries during the six-month-long ceasefire in summer-fall 2022, though 74 were among those killed by old land mines in that period. The ceasefire broke down in early October and already a further 62 children have died in the renewed fighting.
A Yemeni human rights organization, Intisaf, estimates that a third of displaced family households are led by women, and that over a fifth of them are led by a minor girl under 18 years of age. Displaced girls are at special risk of violence and exploitation.
Because of the war, 2.2 million Yemeni children are suffering from malnutrition or wasting, and 500,000 children under five are suffering from severe wasting.
So many schools have been destroyed in the war, with Saudi fighter jets apparently having routinely hit such civilian buildings, that 2 million Yemeni children are not in school, and that number could double in coming years. It is estimated that if a child is out of school for three years, they are unlikely ever to get back on track for a proper education. The problem has a gendered dimension, since a third of all Yemeni girls are estimated to be out of school.
With thanks to TRT World
About 10 million Yemeni children have no access to health care at all, with the war having closed or disrupted clinics. A lot of them are not getting the normal vaccinations, leaving them at risk of diseases, and many do not have access to clean water, so that they could contract cholera. Yemen is the site of the world's worst cholera outbreaks in recent years. Some 2.5 million Yemenis have been stricken with the disease and around 4,000 have died of it. I knew someone who had cholera when I was living in Eritrea in the late 1960s. Basically a person loses liquids constantly from both ends for days and risks dying of dehydration. Salt-and-sugar water given to children, who are most vulnerable to dying of it, can reduce their mortality.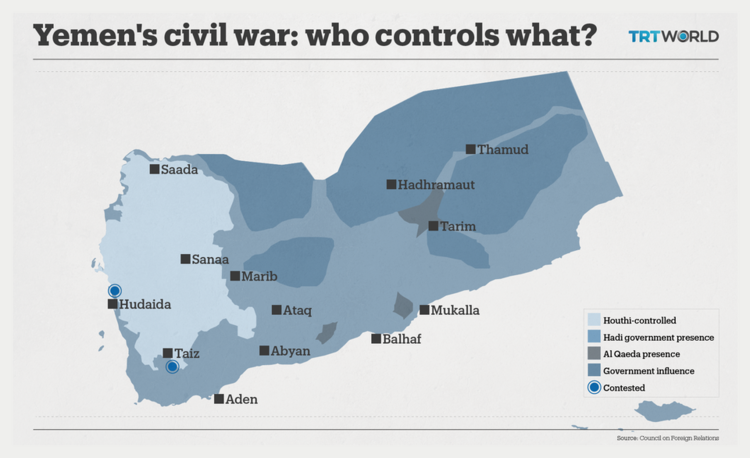 Yemen is a country in the southwest of the Arabian Peninsula abutting both the Red Sea and the Arabian Sea, with a population of some 30 million. It is the poorest country in the Arab world, and ranks 178 out of 189 countries in the world for hunger and nutrition. Put another way, it is the twelfth hungriest country in the world. On top of all that, the deadly war between Yemen factions, backed by outside powers like Iran, Saudi Arabia and the United Arab Emirates, has further driven people into penury, with jobs lost and massive displacement. Nearly one in five Yemenis lives in absolute poverty as the UN defines it, and 56% are below the poverty line.
The UN Development Programme gives even more dramatic figures about deaths from all causes that can generally be attributed to the war. That is, wars cause disease and famine as they displace people and interfere with growing, selling and buying food. The UNDP thinks that by the end of last year, 377,000 Yemenis would have died as a result of the war and that 70% of them were children. So that is actually about 263,000 dead children if we count all the deaths provoked by the war. This death toll of both children and adults would be 1.2% above expected mortality. That would be the equivalent of nearly 4 million excess deaths in the United States, or twice the toll here that COVID-19 took.