By Ardeshir Tayebi | –
( RFE/RL) – Demonstrators in the western Iranian city of Javanrud were set on by security forces and have reportedly faced a martial-style clampdown since gathering in a local cemetery on December 31 to mark the end of the 40-day mourning period for seven protesters killed by security forces in ongoing anti-regime unrest.
Reports from Javanrud on January 1 described harsh security conditions and the widespread presence of Islamic Revolutionary Guards Corps (IRGC) forces in the streets.
The IRGC and other hard-line enforcers have played a key role in suppressing dissent since the unrest was triggered by the death in custody of 22-year-old student Mahsa Amini in mid-September.
Local sources have accused government forces of using live ammunition and arresting protesters in Javanrud, in Kermanshah Province.
The protests there intensified after security forces stormed the city's cemetery on December 31 and tried to disperse people who had gathered to honor the dead protesters.
Security forces also used tear gas and live ammunition against protesters in and around the cemetery, reportedly leading to the death of 22-year-old Borhan Eliasi.
The Kurdistan Human Rights Network, a group that monitors the human rights situation in western Iran's Kurdish region, reported on January 1 that at least 15 people, including 16-year-old Arman Ahmadi, were injured by the firing of pellets and live ammunition by the IRGC.
Reports from the capital claimed the death of another protester who was recently temporarily released from prison, Mehdi Zarei Ashkezari. They said he was buried on December 31 in his hometown of Ashkezar.
Radio Farda was initially unable to confirm the specifics of those reports. The families of many detainees have avoided going public to avoid being targeted by authorities.
Anger over Amini's death has prompted thousands of Iranians to take to the streets to demand greater freedom and respect for women's rights.
Thousands of arrests have been made, and some protesters have been sentenced to death.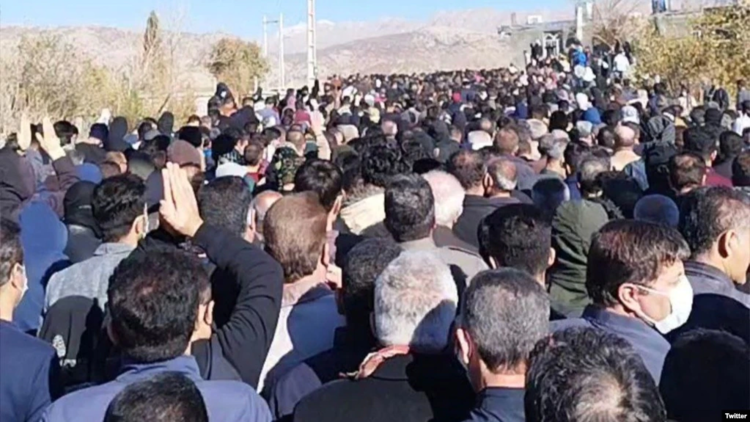 Protesters in Javanrud have accused government forces of using live ammunition. Via Twitter.
At least 58 journalists have been arrested, according to the International Federation of Journalists, including the most recent detainee, Mehdi Ghadimi.
Ghadimi's friends and colleagues say he was arrested at his home on January 1.
Iran's judiciary, which routinely withholds information including on trials in process, has not provided any information about possible charges against Ghadimi.
Written by Ardeshir Tayebi based on an original story in Persian by RFE/RL's Radio Farda
Via RFE/RL
Copyright (c)2022 RFE/RL, Inc. Used with the permission of Radio Free Europe/Radio Liberty, 1201 Connecticut Ave NW, Ste 400, Washington DC 20036.