By Ardeshir Tayebi –
( RFE/RL ) – Iranians in the western city of Sanandaj have marked the end of a 40-day mourning period for Homan Abdullahi, a protester killed by security forces in ongoing nationwide protests that have rocked the country since the death of Mahsa Amini, with renewed calls for regime change.
Videos published on social networks showed a large gathering at the grave of Abdullahi with people chanting "The martyr never dies!" and "Death to the dictator!," a reference to Iranian Supreme Leader Ayatollah Ali Khamenei.
Homan Abdullahi, 21, was shot and killed by the security forces during the December 7 protests in Sanandaj.
Hengaw, a Norway-based group that monitors rights violations in Iran's Kurdish regions, quoted eyewitnesses as saying Abdullahi was shot in the chest and died an hour later in a hospital.
Public anger erupted after the September 16 death of 22-year-old Amini, who was in custody after being detained by morality police in Tehran for "improperly" wearing a hijab.
Since Amini's death, Iranians have flooded streets across the country to protest against a lack of rights, with women and schoolgirls making unprecedented shows of support in the biggest threat to the Islamic government since the 1979 revolution.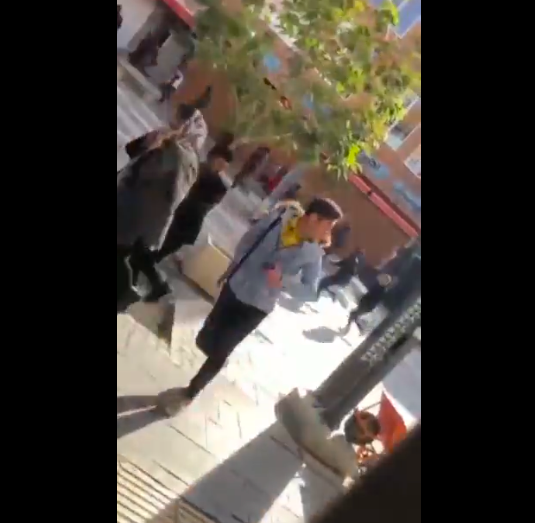 Screenshot from Iranian social media
In response, authorities have launched a brutal crackdown on dissent, detaining thousands and handing down stiff sentences, including the death penalty, to protesters.
The activist HRANA news agency said that as of January 15 at least 522 people had been killed during the unrest, including 70 minors, as security forces muzzle dissent.
In recent weeks, protesters have turned the end of the traditional 40-day mourning period following a protester's death into a stage for antigovernment demonstrations.
Sanandaj is the capital of the western Iranian province of Kurdistan. Amini was from Saqez, a town near Sanandaj.
Written by Ardeshir Tayebi based on an original story in Persian by RFE/RL's Radio Farda