Ann Arbor (Informed Comment) – The energy analysis firm Ember reports its latest findings about global energy trends, and it is relatively optimistic. Wind and solar had provided 10% of the world's electricity in 2021, but that went up to 12% in 2022, a 20% increase.
If we look at each source in its own right, solar electricity generation soared 24%, and wind was up 17%. These milestones were achieved not only in places like the US and Britain but throughout the world, with 60 countries now generating more than 10% of their electricity from wind and solar. In fact, if we take nuclear into account, 39% of global electricity was generated by low-carbon sources.
Lead author Dr. Małgorzata Wiatros-Motyka argues that the power generation sector must be decarbonized first, by 2040, because it affects other CO2-generating sectors that have to reach carbon zero by 2050, such as building heating and transportation. Moreover, the electricity sector produces over a third of all carbon dioxide emissions, and is the largest single emitter.
This leap ahead for wind and solar took place against the backdrop of the energy crisis provoked by the Russian invasion of Ukraine and NATO sanctions on Russia's oil and gas, which had the effect of increasing fossil gas prices. Still, Dr. Wiatros-Motyka notes, "Only 31 GW of new gas power plants were built in 2022, the lowest in 18 years." While fewer coal plants closed than has been the recent norm in 2022, that was because countries such as Germany were husbanding their back-up energy resources in the face of the energy crisis. There was not a significant turn to new coal, however, contrary to what some analysts had predicted. In my view that was because wind and solar took up the slack instead.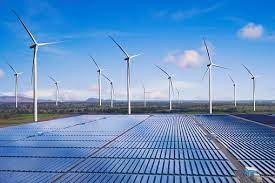 Via Unsplash.
The report suggests that 2022 may have seen peak fossil fuels. Wind and solar met 80% of demand growth in 2022 and they are clearly the wave of the future. Investment in wind and solar for the first time equaled that in fossil fuels. It may well be that the further growth of renewable energy in 2023 will finally lead to an absolute reduction in fossil-fuel-powered electricity in that and every subsequent year. Ember foresees a small fall in fossil fuel electricity generation in 2023, of .03%. Still, it would be the first such fall outside of an economic recession, and could well signal a reverse snowball effect, with fossil fuel use falling every year thereafter, as well. Those elusive reductions in carbon dioxide emissions may be upon us.
Ember agrees with the International Energy Agency that the Russian invasion of Ukraine helps explain the major turn to green energy. Fossil gas and petroleum shot up in price, and could only easily be replaced by cleaner sources such as wind, solar, heat pumps and electric vehicles. As gasoline in the US heads to $4.00 a gallon again, we electric vehicle owners are pretty smug, especially those of us who have our own solar panels so that we can run our cars off free sunshine. EVs are proven to be cheaper to keep on the road than internal combustion engine cars, and they are less polluting even in states where the grid depends on coal and other fossil fuels. But in addition, 1 in 7 US homeowners will have solar panels on their roofs by 2030, allowing them to fuel their EVs directly from their clean home production.
The Ember report underlines that while the increases in wind and solar electricity production are encouraging, and the fall in the number of new fossil gas plants is, as well, we are still not moving quickly enough to keep global heating under an extra 1.5 degrees C / 2.7 degrees F. above the pre-Industrial Revolution average. But heating up the earth more than that risks causing the world's climate system to go chaotic.
A lot of Asian countries are dragging their feet on the green energy transition. Japan and India are doing just all right, but are below the global average for wind and solar. But Thailand, Pakistan, Singapore, South Korea, Thailand, Bangladesh and Malaysia are real laggards.
The Middle East is the most backward area on green energy, with the exception of Morocco, as is central Africa. The north of Latin America such as Colombia and Venezuela are also dragging their feet.
Wind and solar need to generate 41% of the world's electricity by 2030 if we are to reach the Paris climate goals, and the IAE doesn't think that at current rates of growth they will reach that mark. They may still only account for 20% of electricity in the world by 2027. So everything depends on turbo-charging this transition, for which there is promising legislation in China, Europe and the US (Biden's IRA). Humanity is running on a knife edge.