By Mylène Ratelle, University of Waterloo | –
(The Conversation) – Behind each door and gate in Sinuni, Iraq, there is a different story of trauma and resilience. The Yazidi community is still coping with the trauma and mental health burden following the ISIS genocide of 2014, where thousands of men, women and children were killed, tortured and kidnapped for sexual slavery.
Eighty-one mass graves have been discovered, the most recent of which was found in June 2022.
The Yazidi community is based in Sinjar region, which is located in Nineveh Governorate, in northern Iraq. For thousands of years, this Mesopotamian-based population was persecuted for their unique ethno-cultural and religious beliefs, which promote harmony and peace.
After the genocide of 2014, members of the Yazidi community looked for safety in countries all over the world. However, a community core still stands with resolution on the land where their ancestors were born, around the Sinjar Mount. Some by choice, some because they were not able to leave.
A study from 2015 estimated that 2.5 per cent of the Yazidi population was either killed or kidnapped over the course of a few days in August 2014. Thousands were kept as sexual slaves. As such, it is not surprising that a study published in 2022 investigating the traumatic experience of displaced Yazidis living in a Kurdistan camp estimated that about four out of five respondents had PTSD symptoms, and that women had a higher rate and score of trauma and PTSD symptoms. Resilience strengthening is a key for the treatment of those survivors, especially for the Yazidi individual, collective and transgenerational traumatization.
Link between mental health and cultural identity
Research has indicated that a positive cultural identity contributes to better mental health. Cultural identity is a concept that encompasses personal, ethnic and social self-identity, which is critical for self-esteem.
In a longitudinal study with Asian and Latino youth, cultural identity was associated with lower levels of depression symptoms. In addition, for Syrian refugees, the sense of belonging to a social or cultural community was a predictor of lower levels of depression symptoms, as well as greater life satisfaction.
Historical colonialism, oppression and marginalization have contributed to poor mental health of Indigenous Peoples in Canada and Australia. However, cultural identity seems to have a role to play in health and well-being.
For example, for Australian Indigenous people in custody, their cultural engagement was associated with non-recidivism. Cultural continuity helped Indigenous communities of Canada to thrive, and promoting the sense of collective pride might contribute to positive mental health.
As such, the idea was suggested recently that mental health programs should support the development of cultural identities, with the potential to improve psychological well-being.
Since the genocide, some Yazidis report a renewed interest in their Yazidi cultural and political identity. They have a stronger will than before to protect Yazidi holy sites, preserve oral traditions and hymns and their unique cultural practices.
Humanitarian intervention
My work is usually done in collaboration with Indigenous Peoples in North America, who deal with systematic racism, exclusion and stigma, generational trauma, awful abuses from residential schools and thousands of unmarked graves of children.
The Yazidi issues are a different type of deliberate horror, and are still very recent in the memory of survivors. Médecins Sans Frontières warned the world in 2019 of the mental health crisis and of increasing suicide rates in the region.
I was recruited by Médecins Sans Frontières in summer 2022 to support a health promotion program in Sinuni, Iraq. The role of our health promotion team was to provide a bridge between the local hospital services and the population, as well as to implement preventive initiatives to improve physical and mental health in the community. In parallel, mental health professionals were offering support to the residents.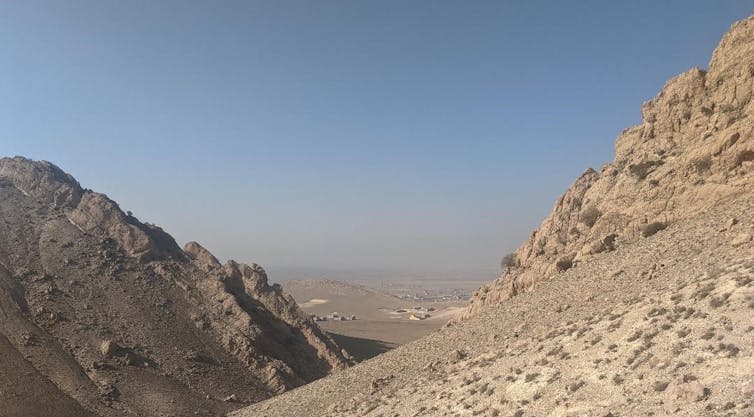 During our outreach activities, we often got a glimpse of the depth of the trauma of some community members, and witnessed their mental challenges. These included expressions such as:
How can I be stress-free while there are 21 members of my family who are still missing?
My father's house was destroyed years ago. Every time I see it, next to my house, it makes me sad.
I think about killing myself, day after day. We don't have skills, hobbies, hope.
Many of us have someone we don't let alone in the house because we fear they might kill themselves.
As part of the mental health activities, I developed the content of a series of workshops, with the aim to:
destigmatize mental health issues,

improve individual resiliency to stress by learning techniques to decrease anxiety at home,

increase community support, social capital and cultural identity to prevent and cope with mental health issues.
Those workshops were implemented by the team in homes and schools. As part of the last workshop, there were participatory activities on the importance of peer groups, on the role of cooking and traditional practices. One key activity was to invite participants to sing traditional songs together.
The aim of those activities was to bring awareness on the positive impact of cultural identity, and strengthen social relations between neighbours. Those activities were evaluated, with participants reporting immediate and lasting positive impacts.
Assessment of the workshops indicated increased happiness index: 58 per cent were above the threshold for depressive symptoms before the workshop while 92 per cent of participants were above the threshold immediately after. In addition, after two weeks post workshop, there were fewer participants self-isolating and meeting socially once a month or less (30 per cent versus 10 per cent post-workshop), and there was an increased average number of social activities.
Our team observed that the Yazidi are collectively strong, resilient and hopeful. However, the trauma is still acute, and the extent of the mental health issues is such that it could pass on a generational trauma.
As several NGOs cease their activities in the region, there are fewer organizations offering mental health care for the Yazidis, on the south and north side of Sinjar Mount.
However, more work needs to be done to improve mental health in the region via health promotion, counselling, therapy and psychiatry. There is also an opportunity to support cultural identity to reinforce mental health resilience.

Mylène Ratelle, Adjunct Professor, School of Public Health Sciences, University of Waterloo
This article is republished from The Conversation under a Creative Commons license. Read the original article.