Ann Arbor (Informed Comment) – The California Energy Commission reports that in the second quarter of this year, 25% of new vehicle registrations in that state were zero emissions electric cars.
Moving rapidly to electric vehicles makes the US more secure geopolitically, since oil states such as Saudi Arabia and Russia can no longer use their petroleum to blackmail the US and its allies politically.
There is also an immediate health effect, since particulate matter in gasoline and diesel exhaust is a dangerous carcinogen and is responsible for a certain proportion of cancer cases in the US.
And of course 28% of greenhouse gases causing the global climate crisis come from the transportation sector, and the sooner all transportation is electric and fueled by wind, solar, battery and hydro, the better off we will be as a species.
Note that some cars categorized as electric are hybrids, running on gasoline when the battery runs down. These are known as Plug-in Hybrid Electric Vehicles or PHEVs. The Commission is talking about zero-emission cars, so it is talking only about BEVs or Battery Electric Vehicles.
If we look at both quarters, i.e. the full first half of 2023, zero emission vehicles were still 24.1% in California. So this finding is not a fluke of the second quarter. Californians are going in for EVs in an unprecedented way.
Here's the Commission's chart: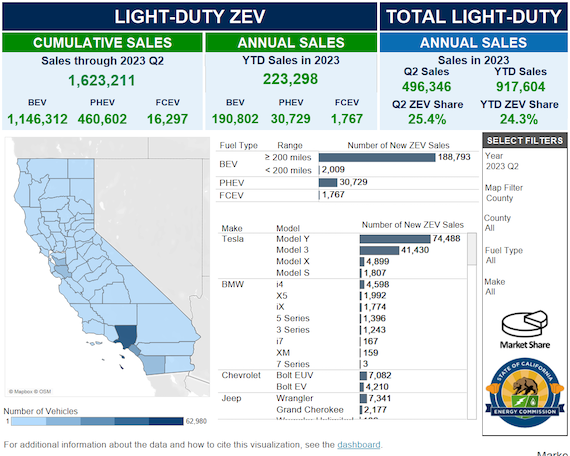 Even in Germany, where EVs are wildly popular, zero emissions or Battery Electric Vehicles (BEVs) were only 18.9% of new car registrations in June of this year.
Globally, BEVs are about 10% of new cars bought.
This high proportion of BEVs among newly purchased cars in the Golden State is several times the national rate. Cox says that in Q2 in the US as a whole, 7.2% of new car registrations were electric, down slightly from 7.3% in Q1.(I think this includes PHEVs.) Sales of EVs nationally were up in Q2 by about 8%. Cox expects that nationally a million new EVs will be put on the road in this country in 2023. It looks to me as though more than half of them will be registered in California.
Californians not only get a federal tax rebate of $7500 for certain models of electric vehicle, they also receive a $7500 state tax credit.
About 1.6 million electric cars have been sold in California, ahead of the state's goal by this point to be at 1.5 million. Governor Gavin Newsom set a goal of 5 million EVs on the road by 2030, and the state says it will ban new gasoline car sales as of 2035.