Review of Avi Shlaim, Three Worlds: Memoirs of an Arab-Jew (London: Oneworld, 2023).
Munich (Special to Informed Comment; Feature) – Avi Shlaim is an Israeli-British scholar who has authored six books on the history of the Palestinian-Israeli conflict and the role played in it by the Kingdom of Jordan. His work has earned him a reputation, alongside other authors such as Ilan Pappé and Tom Segev, as one of the leading 'New Historians' that challenged the official Zionist historiography on the creation of Israel and the occupation of Arab lands.
Shlaim's seventh and latest book is very different from his previous works but equally enlightening. With the title Three Worlds: Memoirs of an Arab-Jew, the book fits the memoirs genre in a loose sense, as it covers Shlaim's life only until he arrived at Cambridge University to read History.
In Three Worlds, the historical background of Shlaim's first two decades of life is at least as important as the particular story of Shlaim and his family. Shlaim was born in Baghdad in 1945 as the second of three children in an upper-middle-class Jewish family. His father, Yusef, was a prosperous businessman and twenty-three years older than his wife Saida. Their marriage was arranged against Saida's will. The Shlaims left Iraq for Israel in 1950. Down to only four Jews according to recent reports, in the 1940s the Jewish population in Iraq had over 130,000 members, perhaps even 150,000. Shlaim describes this Jewish community as integrated and Arabized, with Jews having a major role in the national economy.
By 1951, however, less than five percent of Iraqi Jews remained in the country, and most had migrated to Israel. For a majority of Iraqi Jews, the migration to the newly created state of Israel was not the fulfillment of a wished-for return to Zion as the standard Israeli narrative would have it. Rather, their departure represented a profoundly traumatic experience. As Shlaim writes, when the Jews left Iraq an entire community "was uprooted from a world in which it felt at home to one in which it had to make painful adaptations."[1]
What happened between the early 1940s and the early 1950s that introduced such a dramatic change to the lives of Iraqi Jews? Firstly, in 1941 a military coup by pro-Nazi Iraqi officers unseated the British-backed Iraqi government. British troops quickly regained control of Iraq and the mutinous officers fled. In a futile attempt to disguise what was obvious to everyone, namely that the deposed pro-British government had been returned to power on the shoulders of British soldiers, Britain stopped its troops from entering Baghdad.
Defeated Iraqi soldiers who remained in Baghdad vented their frustration on the Jewish population, widely perceived as pro-British, and engaged in property destruction, pillage, and rape, killing 179 Jews and leaving hundreds injured. Known as the farhud in Arabic (which Shlaim translates as 'the breakdown of law and order'), the pogrom left a deep feeling of insecurity in the Iraqi Jewish population. Still, the desire to migrate to the Jewish colonies in Palestine remained rare and migration was illegal.
After the Nakba that accompanied the creation of Israel in 1948 and the new state's victory against the Arab armies, the climate for Jews in Iraq significantly worsened. The defeat of the Iraqi army in Palestine was a deep humiliation for a nation that expected an easy military success. It was in this context, Shlaim remarks, that "the distinction between Jews and Zionists, so crucial to interfaith harmony in the Arab world, was rapidly breaking down."[2] Ella Shoat, who has researched the history of Arab Jews and provided feedback to Shlaim for his book, captures another side of the same problem when she writes that "as the Palestinians were experiencing the Nakba, Arab Jews woke up to a new world order that could not accommodate their simultaneous Jewishness and Arabness."[3]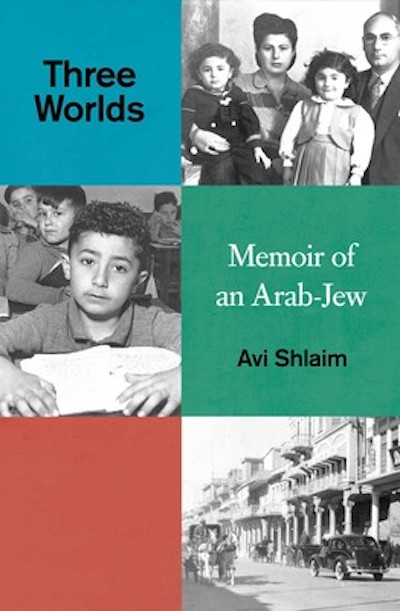 Three Worlds: Memoirs of an Arab-Jew.
By Avi Shlaim. Click here.
In March 1950, the Iraqi parliament passed a law that allowed Iraqi Jews to legally leave the country if they renounced their nationality and never returned to Iraq. One year afterward, the uncertain status of the property held in Iraq by those Jews who had renounced their Iraqi nationality was resolved in favor of the Iraqi state, which froze these assets and claimed for itself the considerable Iraqi Jewish wealth. These are well-established facts. What remained contested over decades, however, was the authorship of five bomb attacks carried out in Iraq against the Jewish community between 1950 and 1951.
In the worst of these attacks, a grenade was thrown at a synagogue and four Jews died while another twenty were injured. Over the years, Shlaim has sought to establish who was behind these attacks. Within Shlaim's family and the broader Iraqi Jewish community, it was a widespread belief that Zionist Iraqi Jews could be responsible for the attacks. Only recently Shlaim was able to confirm this, and he presents his findings in the book.
In 2017, Shlaim interviewed an Iraqi Jew, Yaacov Karkoukli, who had been a member of the Iraqi Zionist organization Hatenua. Karkoukli explained that he personally knew that the man responsible for three of the five bomb attacks was a fellow Hatenua member named Yusef Ibrahim Basri who was in contact with the Mossad. Karkoukli showed Shlaim an Iraqi police report that confirmed it.
According to Karkoukli, Basri was not guilty of the attack on the synagogue, the only one where there were casualties. The person responsible for the deaths at the synagogue was an Iraqi policeman who had been bribed by the Iraqi Zionists through another police officer to strike the synagogue. This explains four of the five bombs. The remaining one, writes Shlaim, was probably thrown by members of the Iraqi nationalist Istiqlal Party driven by their anti-Semitism.
The bombs achieved their main goal. Although the general environment for Iraqi Jews was already hostile, these terrorist attacks had an additional frightening effect, spurring many Jews to visit the Zionist offices operating in Iraq to organize their leaving for Israel. Shlaim's family followed a similar course, although they had an additional reason for concern. Just a few years before, a gang had threatened to kidnap Shlaim's elder sister Lydia if the family did not pay a ransom. The Iraqi police had intervened and captured those responsible for the threats, but the members of the gang were about to be released from prison and the family feared retaliation.
Once in Israel, the majority of Iraqi Jews were convinced that Israel had been partly responsible for uprooting them from their homeland, whereas the Israelis that received them believed that the Arab Jews should be thankful for having been saved from annihilation in Iraq. The Shlaims were relatively lucky as they managed to settle down in Ramat Gan, close to Tel Aviv, unlike many other Iraqi Jews who were given no other choice but to work in moshavim and kibbutzim in the desert.
Nevertheless, for the Shlaims their new life in Israel represented a move "down the social and economic ladder."[4] Shlaim's father tried his luck with some business deals that eventually failed, and he remained unemployed until he died in 1970. In Israel, he was "a shadow of the man he had been in Iraq."[5] Shlaim's mother, who had had a leisurely existence in Iraq thanks to several servants, was now not only in charge of the family home but also took a job as a telephonist. At school, Shlaim struggled to get good grades and felt discriminated against for being a Mizrahi (Easterner) Jew in a society politically and economically dominated by Ashkenazi Jews, whose origins lay in Europe.
This feeling of alienation, the author explains, might be what temporarily led him to feel interpellated by Menachem Begin, the leader of Herut (later renamed as Likud), who would become the first right-wing Prime Minister of Israel after the 1977 election. Although Begin's economic liberalism was hardly in the interests of the Arab Jews, who normally had a lower socioeconomic status than the Ashkenazim, the Herut politician knew how to appeal to the Mizrahim's feelings, explains Shlaim, who attended some of Begin's speeches as a teenager.
Shlaim's limited interest in his education shifted to enthusiasm and a sense of duty towards his family when his mother organized his departure to study in England, where he studied in a Jewish high school for three years. Here, it is clear that one of the most commendable traits of Three Worlds is the honesty of its author.
Shlaim reflects on how he was privileged over his sisters in terms of education opportunities because of him being the only son. Whereas Shlaim's mother had been saving and planning for him to continue his studies abroad, his sisters were forced into the job market. Moreover, one can hardly argue that Shlaim was in any way advantaged in England, having arrived there as a teenager who knew little English. Still, Shlaim explains that he continues to feel a certain guilt about the fact that his history teacher at high school, who had acquaintances at Cambridge University, interceded for him to secure a spot in such a renowned university.
Before returning to England to study at Cambridge, Shlaim had to complete more than two years of military service in Israel. He describes this period in the army as the moment when he felt closer to Israeli nationalism. Unlike before in Israel, "he did not have the feeling of being out of place."[6] During the following decades, however, Shlaim would dedicate his research to debunking some of the core elements in Israel's standard historical narrative. The Israeli-British scholar now espouses support for a one-state solution to the Israeli-Palestinian conflict.
Three Worlds is a captivating book. Shlaim is equally skillful in introducing to the reader the history of his family as he is when adopting the more detached perspective of the historian, which shines the brightest in his research about the bombings against Jewish targets in Baghdad. Three Worlds, together with the recently published The Loneliest Revolution: A Memoir of Solidarity and Struggle in Iran, written by the sociologist Ali Mirsepassi, are proof of the special value to be found in the memoirs of experienced scholars that combine their personal stories with broader history.
[1] Avi Shlaim, Three Worlds: Memoirs of an Arab-Jew (London: Oneworld, 2023), p. 7.
[2] Ibid., p. 101.
[3] Ella Shohat, "Seventy Years since the Departure of Iraqi Jews." Orient XXI, October 22, 2020. https://orientxxi.info/magazine/seventy-years-since-the-departure-of-iraqi-jews,4187.
[4] Ibid., p. 170.
[5] Ibid.
[6] Ibid., p. 292.