Israeli-Hizbullah Battles in Deep South
Israelis Bombed Qana while Relief and Rescue troops worked
Update: Israeli war planes conducted further air raids Monday morning, despite Israeli officials' earlier pledge to cease for 48 hours. The Israelis bombed a car with a Lebanese Army officer and soldiers, killing him. They have repeatedly bombed Lebanese army bases and facilities and have killed over a dozen Lebanese troops and officers, but this is the first time I remember them apologizing for it. What does this change of attitude mean?
The Israeli government announced a 48-eight-hour cessation of its air raids on Lebanon while it investigated itself for the killing of large numbers of innocent civilians, especially children, at Qana. During this time, it is also allowing a 24-hour window for Lebanese in the south to leave the area safely without fear of being bombed by the Israeli air force and they flee (a fate that befell some Lebanese refugees in the past few days). Since emptying south Lebanon of people is part of the Israeli war plan, it wasn't actually altruistic of them to allow people to leave.
Nicholas Blanford reports on the horror at Qana.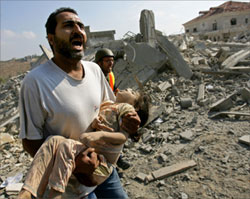 Courtesy al-Hayat.
Blanford reveals that Israeli warplanes actually continued to bomb the town while the rescue workers were pulling ragdoll-dead children out of the building. That's cold, man. Cold:
' An earth-mover ground down the lane and began clawing chunks of concrete away from the building. Even as the rescue team toiled to recover the dead, Israeli jets continued to roar overhead and the thump of air strikes and exploding artillery shells reverberated around the steep valley. '
Israeli forces and Hizbullah fighters continued to fight on land in the border regions on Sunday. Hizbullah also fired numerous rockets into Israel, though they appear mostly to have been ineffectual, they did cause some damages and injuries.