Israeli Bombers Hit Christian Areas
Israeli Massacre of Syrian Workers, Other Civilians
Death Toll of 38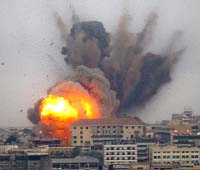 Courtesy the Daily Star
The Daily Star reports:
"Israeli warplanes destroyed five bridges along the main North-South coastal highway Friday, killing five people, wounding 19 others and completely isolating the capital from the North of the country.. . .The strikes destroyed the only remaining land outlet via Syria after the bombardment of other border crossing points."
Intrepid Israeli fighter jet pilots tracked down sinister terrorist cucumbers and other vicious vegetables being loaded onto a refrigerated truck by Syrian seasonal laborers. Unfortunatedly the wicked terrorist cucumbers were hiding themselves amidst civilian workers, and it was necessary to kill 26 of the latter to end the threat of pickling. Israeli ambassador to the United Nations Dan Gillerman castigated the cucumbers as "animals." Alan Dershowitz pointed out that vegetables cannot be considered civilians.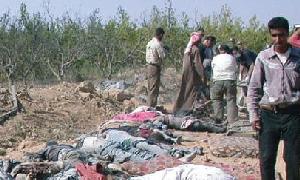 Courtesy al-Hayat
NaharNet writes, "Twenty-six of the civilians killed in Friday's air raids died when Israeli aircraft bombed the village of Qaa in the Bekaa Valley near the Syrian border, police and Red Cross officials said. Most of the dead were Syrian farm workers, some of whom had been loading a refrigerated vegetable truck."
The Israeli government has been destroying Lebanese factories in the Biqa' valley that have no obvious military value or particular connection to Hizbullah.
Naharnet writes: "More rockets slammed into Israel from south Lebanon early Friday, killing at least three people. Four were initially reported killed, but officials later revised the toll to three, saying one person was in a serious condition."
Displaced Lebanese in the South are facing several health problems, including lack of potable water and of fuel. Health conditions are so bad that they could generate epidemics.
Israeli bombing raids are interfering with the delivery of humanitarian aid in Lebanon.
Daniel Levy on ending the Neoconservative nightmare.
Amy Goodman's interview of me on Israel's war on Lebanon (transcript).
Thom Hartmann was kind enough to interview me on Friday at Air America.
A shout out to Al Franken with thanks for having had me on the show Thursday. Al does it with style and does it with humor.
I urge readers to support Amy Goodman and Air America– our political lives would be much poorer without them.